As scuba divers, we travel to dive. The two activities are perfectly suited to one another. Yet, cost is often a determining factor in where we can dive on a scuba diving vacation. Luckily, 70% of the world is ocean, giving us a lot of scope in destinations. No matter how far you can go, there's most likely an exciting underwater adventure waiting for you.
Whatever your budget and interests, you can experience mind-blowing diving. Those who want to splurge on the vacation of their dreams might enjoy a liveaboard through the Galapagos Islands in search of whale sharks or exploring some of the most pristine coral reefs in the world in Belize. These are absolutely bucket list vacations. Even if you can't afford them now, it doesn't hurt to dream for the future, right?
On the other hand, budget divers can save a few bucks by choosing less expensive destinations for their holidays. From shark diving in Sudan to wreck diving in Chuuk Lagoon, there are plenty of adventures to be had at a lower price point.
The fact is that it doesn't really matter how much money you have. Shark diving, wreck diving, coral reef diving and more can all be done at the high end or at the low end of the price scale.
No matter the amount of money you have to spend on your scuba diving vacation, the world's ocean treasures await you. Check out these incredible destinations that sit at the two ends of the budget spectrum.
---
1. Shark Diving
Although highly threatened around the world, sharks are beloved amongst most scuba divers. They're certainly fun to observe underwater. Plus, the predictability of the various species means traveling in order to see sharks is a possibility. However, shark diving can cost quite a bit due to the remote nature of many of the dive destinations. Yet, by identifying lower cost destinations for your scuba diving vacation, you can dive in with your favorite toothy friends on any budget.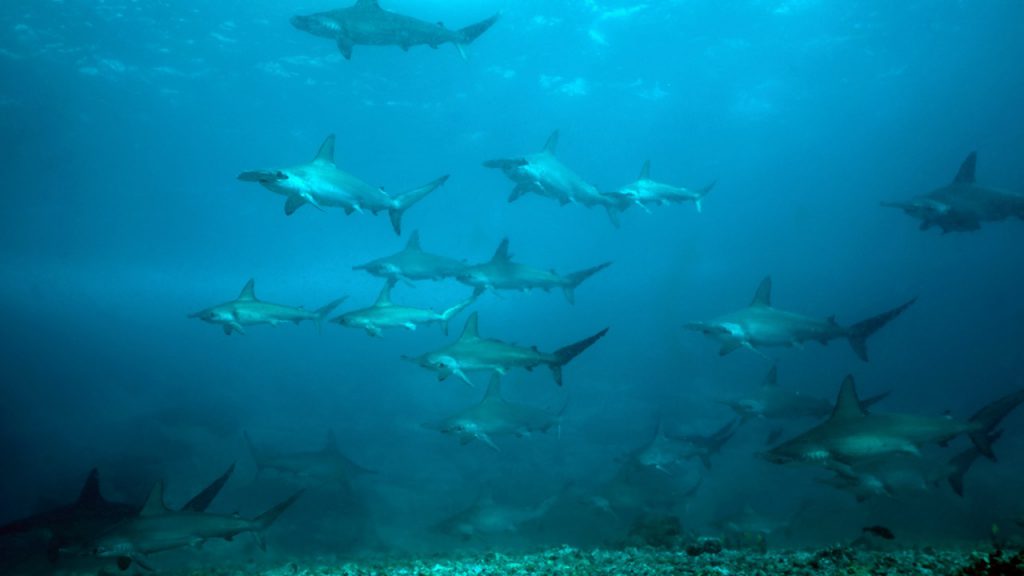 Splurge: Malpelo, Colombia
Malpelo Island, located 500 kilometers from the Colombian mainland, may look like a lonely rock in the eastern Pacific Ocean. However, the island's true treasures lie beneath the waves. At depth, scuba divers will find a huge shark population. On any given dive, you might swim with 200 to 300 hammerhead sharks and hundreds of silky sharks. Whale sharks, eagle rays, tuna, sailfish and even whales also visit this underwater ridge.
When to Go: Year-Round (January to May for Hammerheads, May to July for Silkies, July to September for Whale Sharks)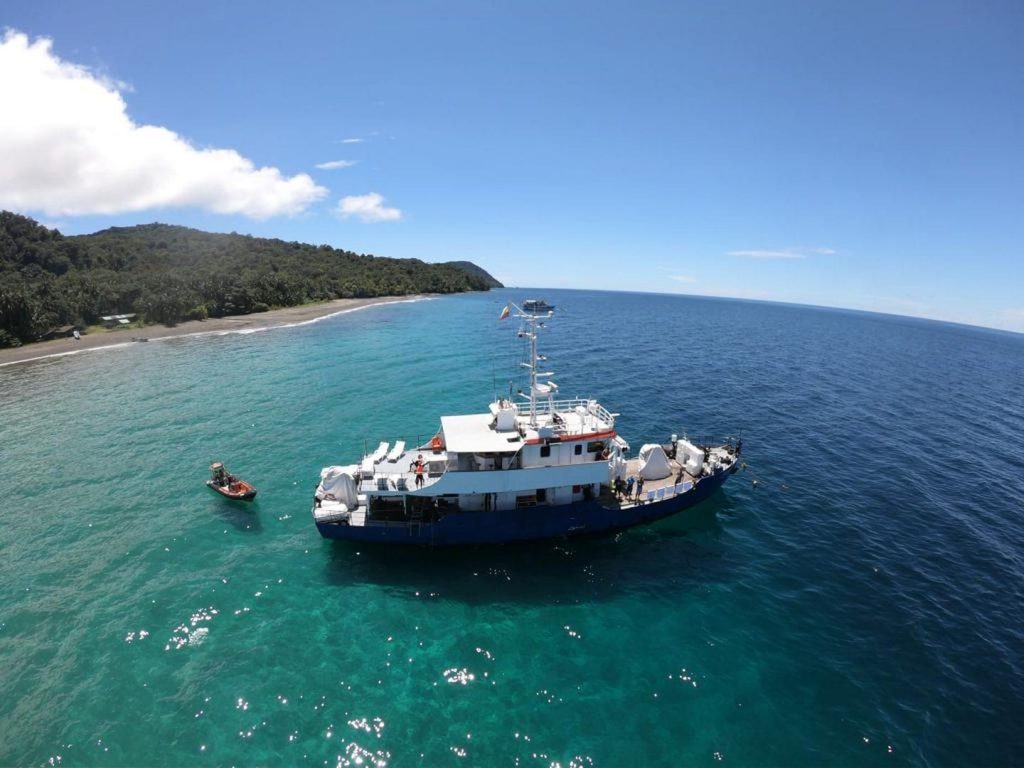 Try the Ferox
Currently the only liveaboard operating under the strict rules at Malpelo is the Ferox. This liveaboard can accommodate a maximum of 12 guests in 8 cabins, most of which boast ensuite facilities, comfortable beds and hypoallergenic towels. In addition, the bathrooms have all environmentally friendly toiletries.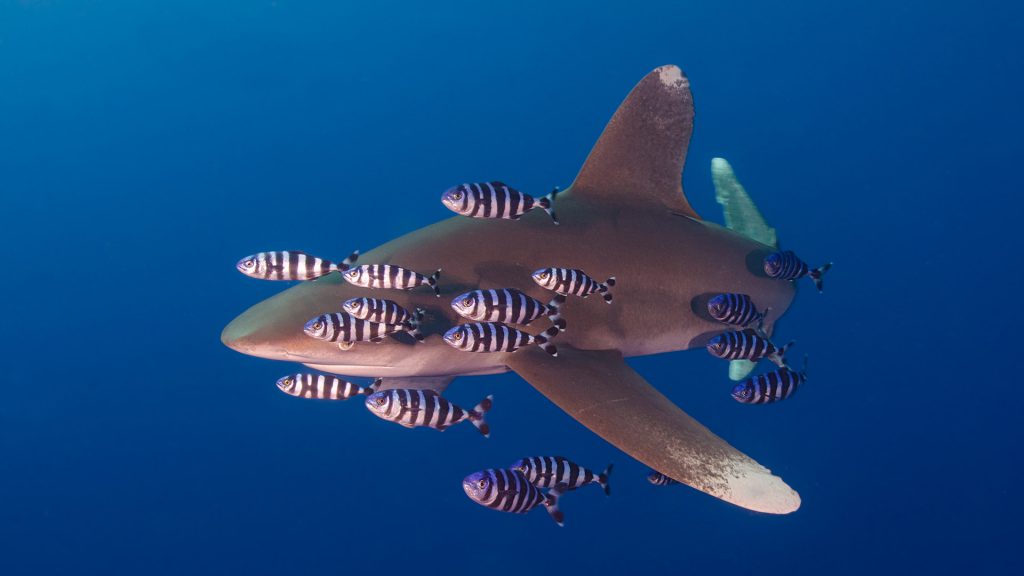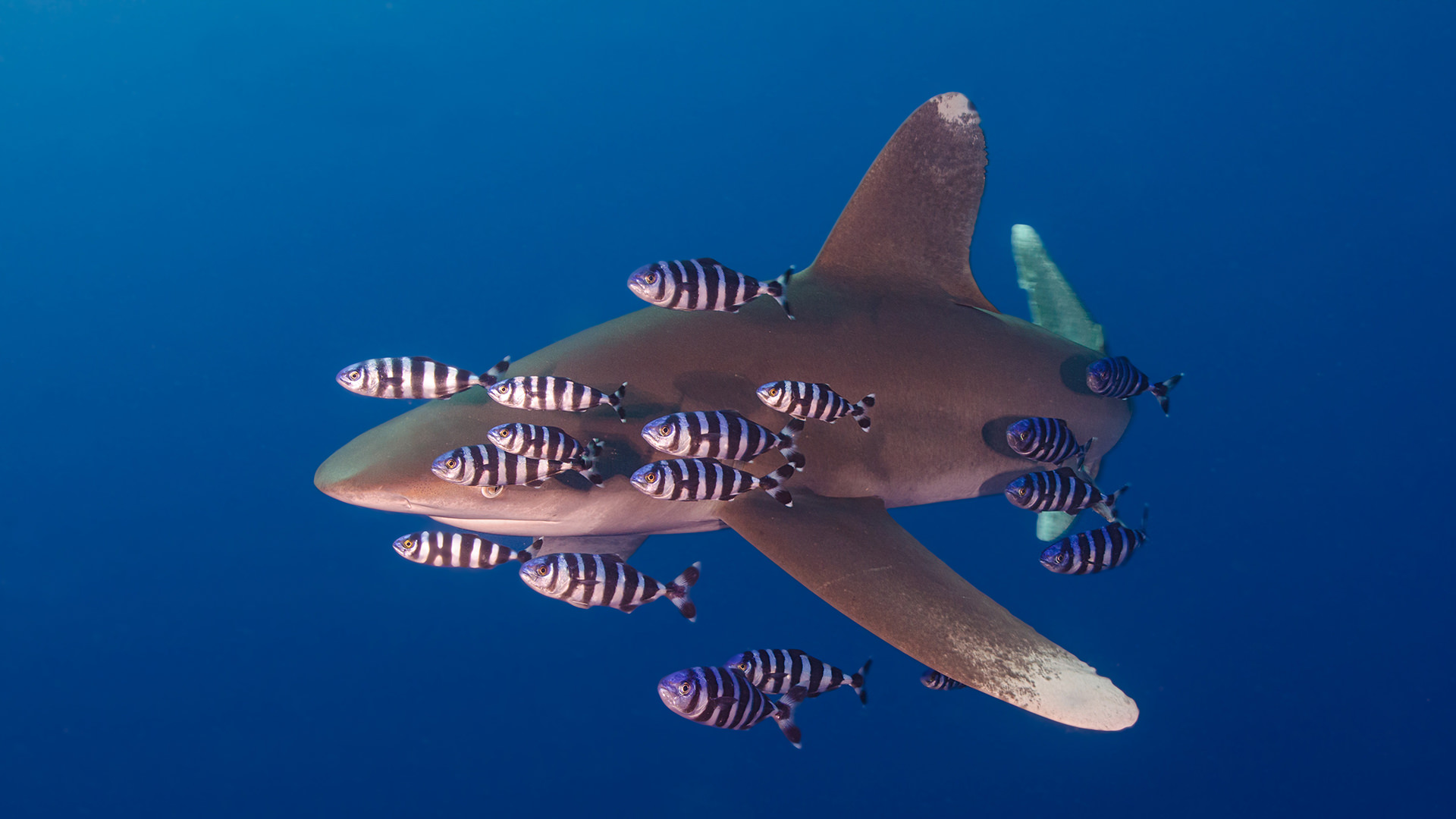 Save: Sudan
If you can't afford a blow-out shark diving liveaboard, there's still hope! Sudan offers a budget-friendly shark diving alternative. With magnificent coral reefs and an abundance of marine life, this liveaboard destination wows divers. Here you can jump in with hammerheads, reef sharks, silky sharks, oceanic whitetips, tiger sharks and more. Best of all, liveaboard safaris here usually cost between USD $1500 and $2000 for a seven-night trip. 
When to Go: October to July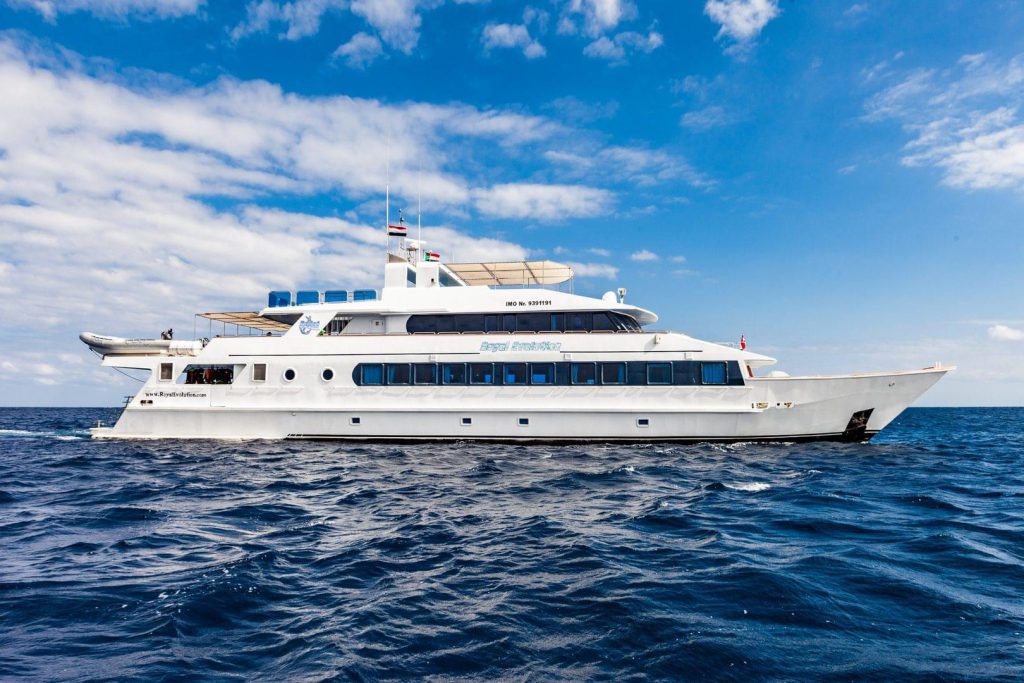 Try the MS Royal Evolution
The MS Royal Evolution is a sleek, purpose-built vessel boasting fantastic shark diving itineraries. On the four-deck boat, you'll find two sundecks, an enormous saloon, a bar and a jacuzzi to provide social space if you want to chat with your fellow divers or chill-out areas if you just want to relax. 
---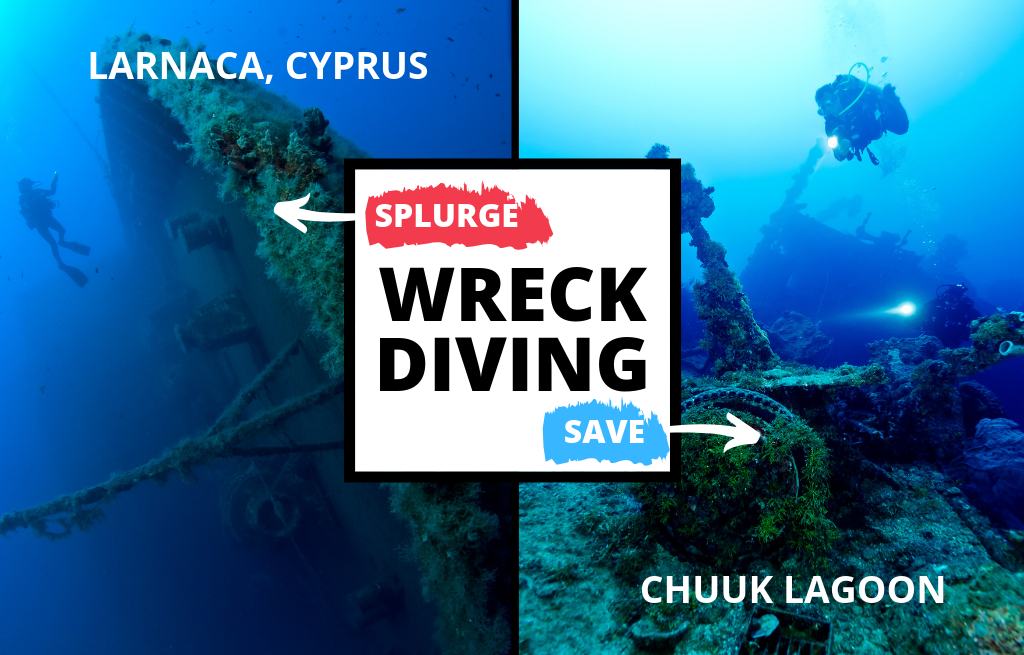 2. Wreck Diving
Underwater exploration is exciting in any form, but the added mystery a sunken ship brings is an irresistible draw for some divers. If you fall into that category, you'll likely feel the pull of the ships once great and mighty that now lay at the bottom of the oceans around the world. For many like you, wreck diving is a motivating factor for scuba travel, but budget often plays a determining role. Whether you have a million bucks or only a few hundred to spend, you can dive some of the best wrecks in the world when you travel to these destinations.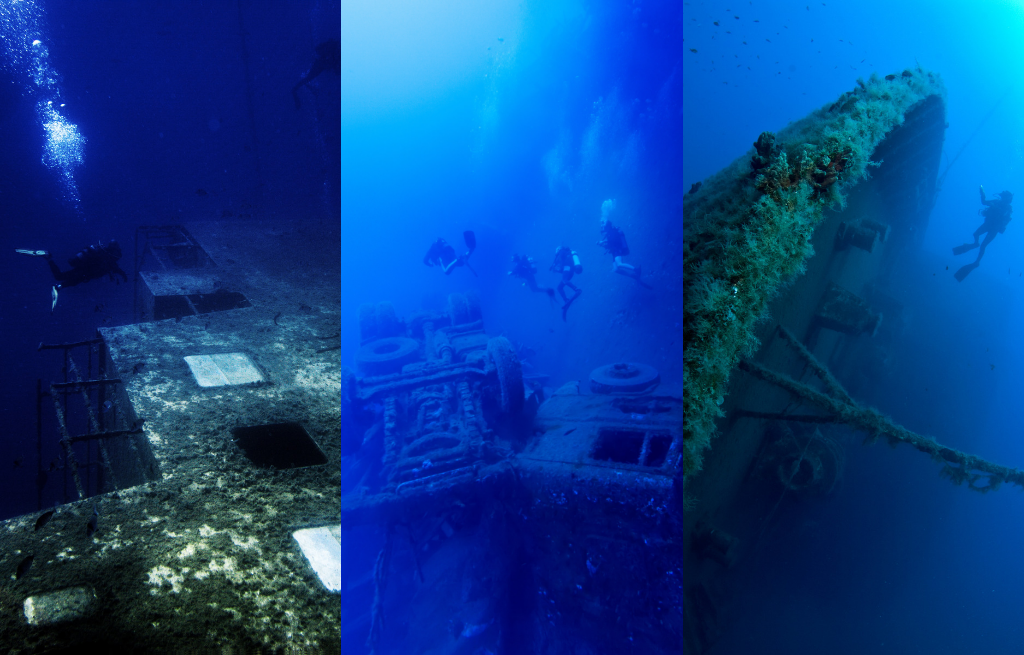 Splurge: Cyprus
Nestled in the northeast corner of the Mediterranean Sea, Cyprus seems as if it's straight out of a film with its long, sandy beaches that punctuate the predominantly rocky coastline. The island is surrounded by warm, clear blue water and its culture and cuisine are evidence of a long history. For centuries, seamen have frequented this isle, and they've left behind some pretty epic shipwrecks for scuba divers to explore. In particular, the Zenobia is one of the best wrecks in the world and the most famous dive site in Cyprus. 
When to Go: March to November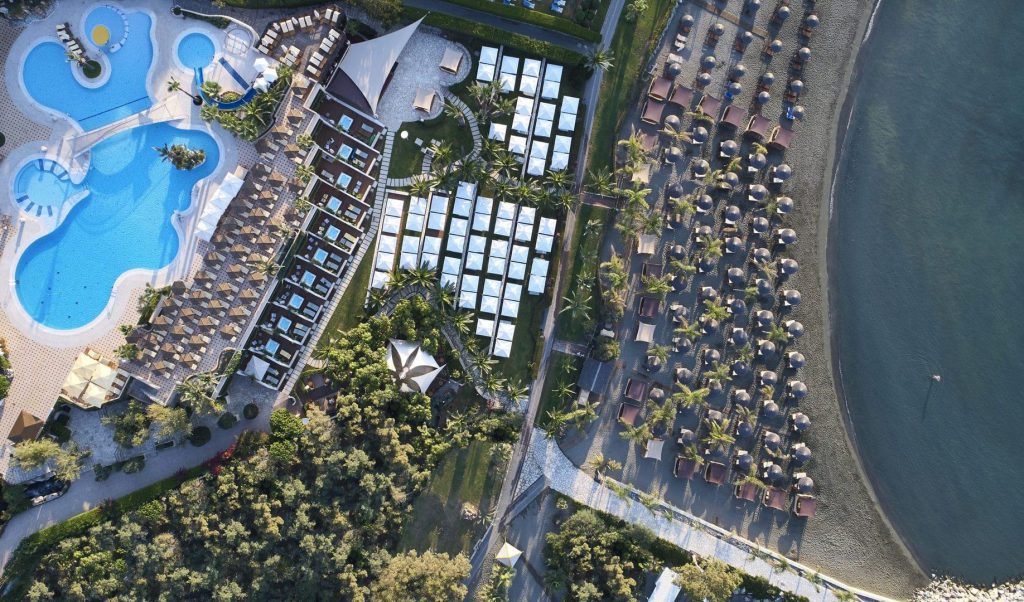 Try the Four Seasons Cyprus Hotel
While you can find bargain deals on Cyprus, this is a European island, and arriving with deeper pockets will result in a luxurious, relaxing vacation. The Four Seasons Cyprus Hotel boasts jacuzzis in every room, five gourmet restaurants and an infinity pool leading on to the sea. It doesn't get much better than this!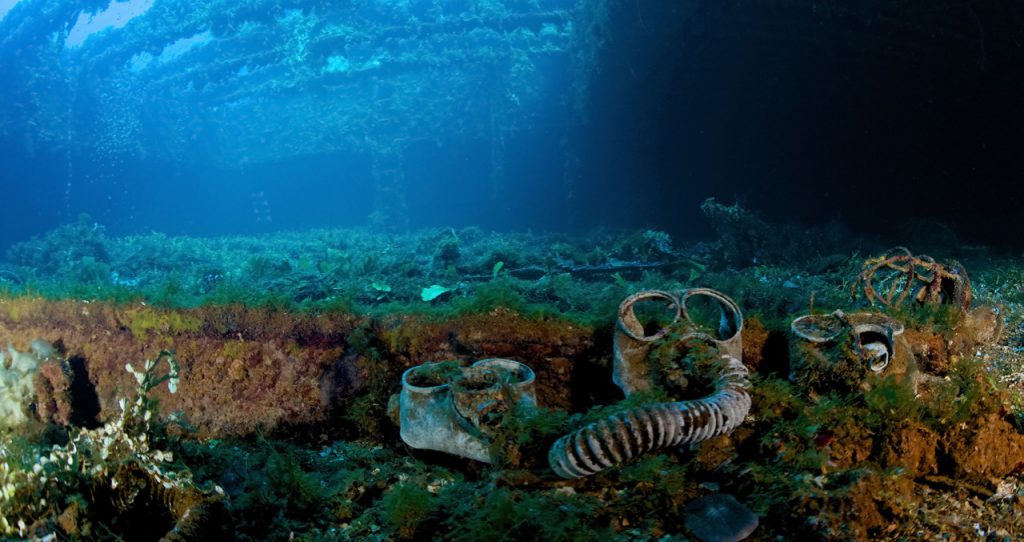 Save: Chuuk Lagoon, Federated States of Micronesia
You might think of the South Pacific as a luxury destination, but thanks to more locally run guesthouses popping up throughout the islands, there are now some great deals to be found. In particular, Chuuk Lagoon, home to the famous WWII Ghost Fleet, boasts amazing land-based operators that will take you diving on some of the best wrecks in the world for a comparatively cheap price. 
During World War II, the natural harbor known as Chuuk (Truk) Lagoon was the main base of the Japanese navy. As might be expected, this concentration of ships became a target for Allied forces who bombed the lagoon in 1944. This operation ultimately sunk 12 warships, 32 merchant ships and 275 aircraft. 
When to Go: October to April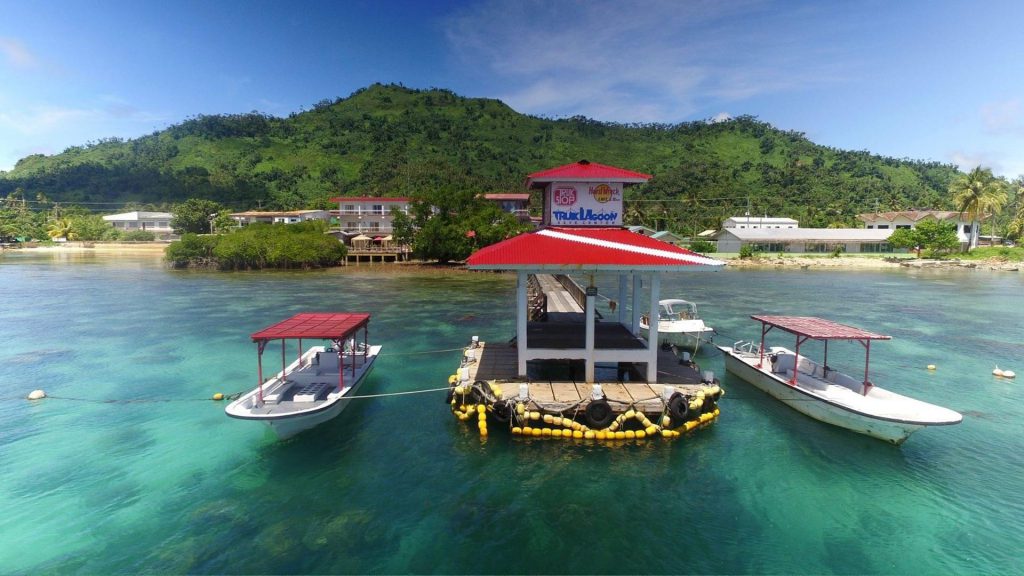 Try the Truk Stop Hotel
The Truk Stop Hotel offers the ability to dive the 60+ WWII Japanese wrecks in Chuuk Lagoon from a shore-based operation. This waterfront resort boasts an onsite dive center, a private pool, a restaurant and magnificent sunset views. This is one of the most affordable ways to explore the wreck capital of the world.
---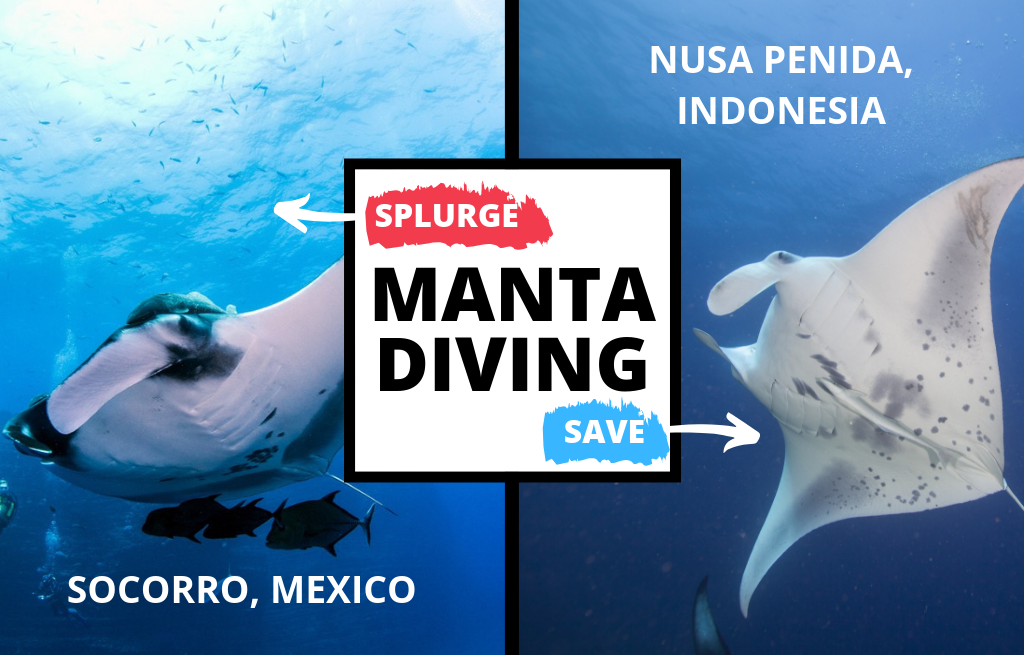 3. Manta Ray Diving
Diving with manta rays is an unforgettable experience on many levels. In fact, manta rays have the largest brain to body ratio of any fish, so it feels as if you can make a connection with them underwater. Many divers report manta rays approaching them to take a closer look. Imagine such majestic (and huge!) creatures gliding over and under you, checking you out as if to determine exactly what this strange creature making all those bubbles is. If you're keen for a scuba diving vacation that includes mantas, operators around the world have found cleaning and feeding stations frequented by the creatures. Some of these are more difficult to reach and more expensive than others, but diving with manta rays is a fairly easy goal to check off your bucket list.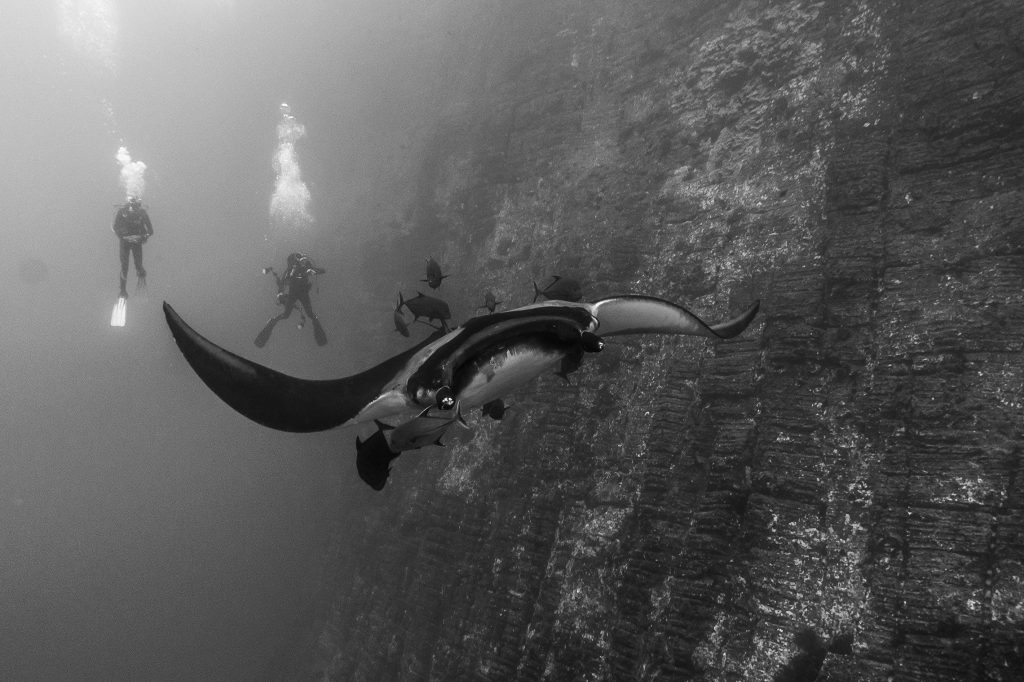 Splurge: Revillagigedo Archipelago, Mexico
The Mexican Pacific is a diving wonderland, and its crown jewel is the Revillagigedo Archipelago (a.k.a. Socorro). Here you can encounter pretty much every big marine animal of your dreams, including Giant Oceanic Manta Rays. Tiny Socorro Island sits 375 miles (600 kilometers) off the coast of Baja California in the open Pacific Ocean, so you'll need to take a long liveaboard journey to reach it. This volcanic island plays host to more than 500 individual manta rays from November to June. However, the best months for spotting them are May and June. Many of the manta rays found near Socorro display the rare all-black morph and enjoy a disc-width of more than 16 feet (5 meters)!
When to Go: November to June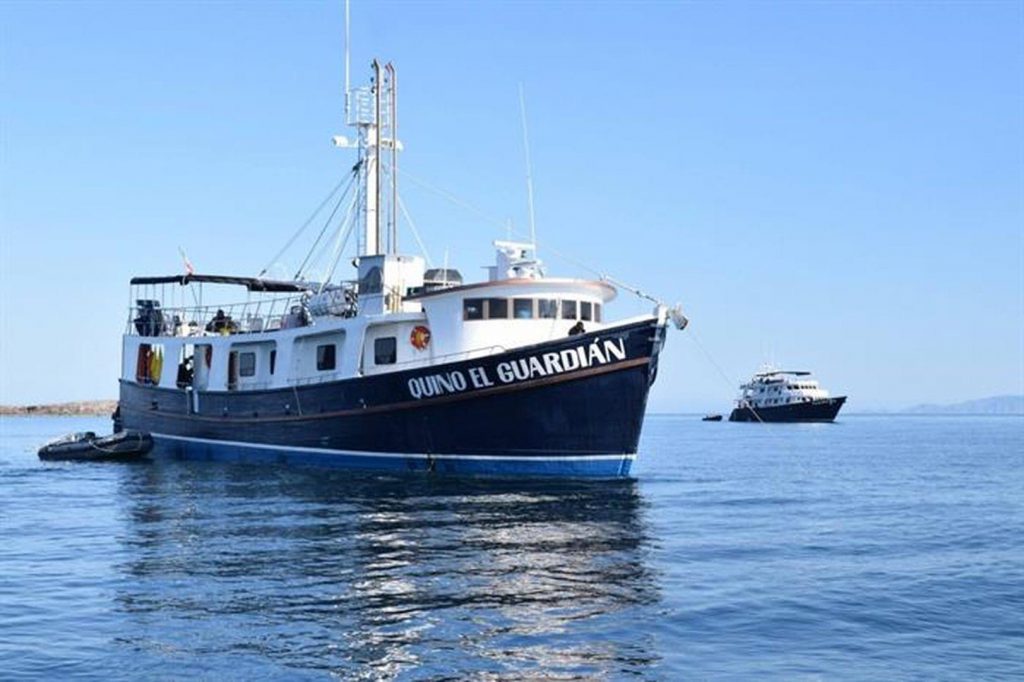 Try the Quino El Guardian
A popular vessel for citizen science adventures, the Quino El Guardian features prominently in PADI Eco Travel expeditions. It also offers quad sharing rooms and regularly runs trips to both the Sea of Cortez and Socorro.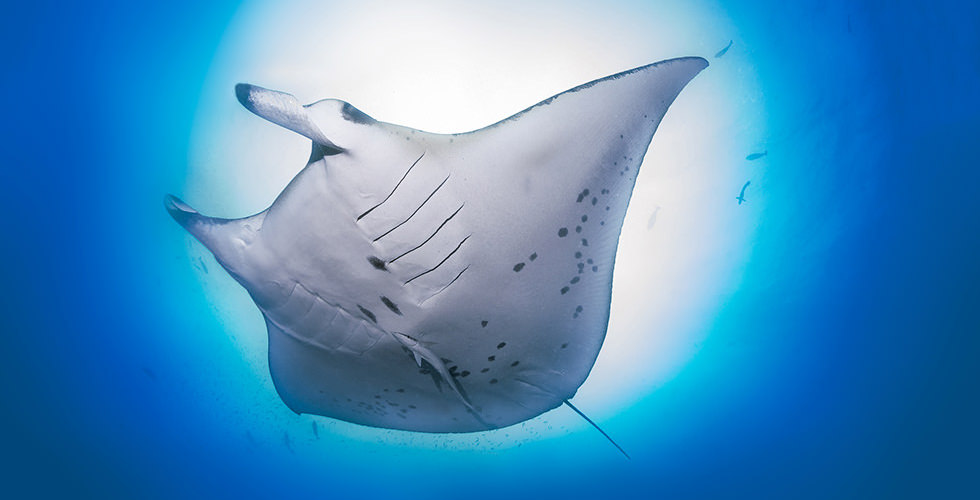 Save: Nusa Penida (Bali), Indonesia
If Socorro is a splurge-worth destination for spotting Giant Oceanic Manta Rays, Nusa Penida, near Bali in Indonesia, is a budget-friendly alternative. Instead of their more pelagic and larger cousins, Nusa Penida is home to hundreds of Reef Manta Rays, including those displaying the rare black morph. These creatures can be found throughout the year, but August to October is considered to have the best conditions. Manta Bay and Manta Point are the best dive sites for seeing mantas in the area.
When to Go: Year-Round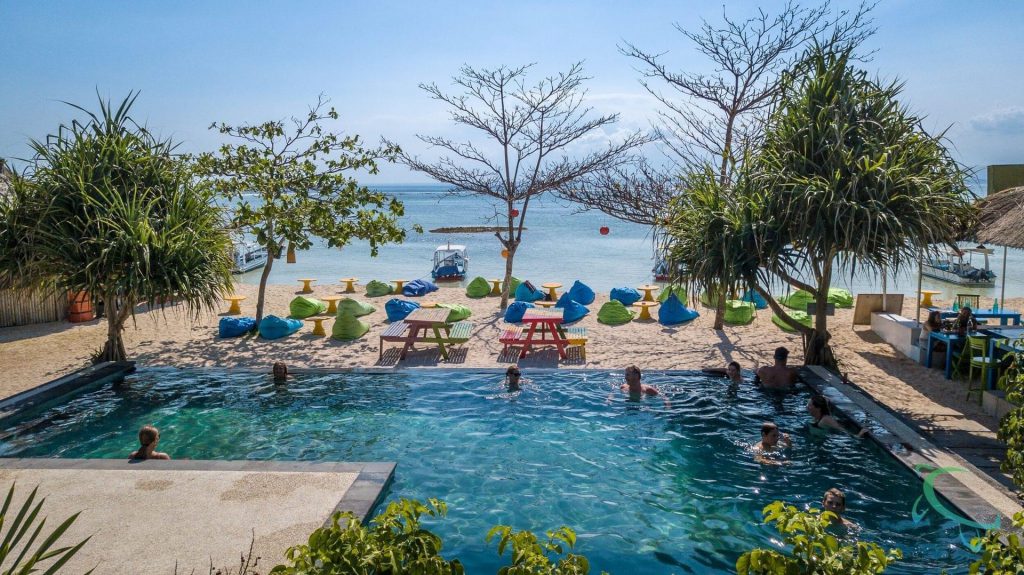 Try the Blue Corner Dive Resort
This relaxed, professional dive resort offers beachside bungalows and the chance to dive with mantas in nearby Nusa Penida Marine Park. While staying as a guest at this chilled out resort, you can also visit the local reefs and coral restoration site with the in-house marine biologist. Overall, Blue Corner Dive Resort boasts maximum convenience and relaxation.
---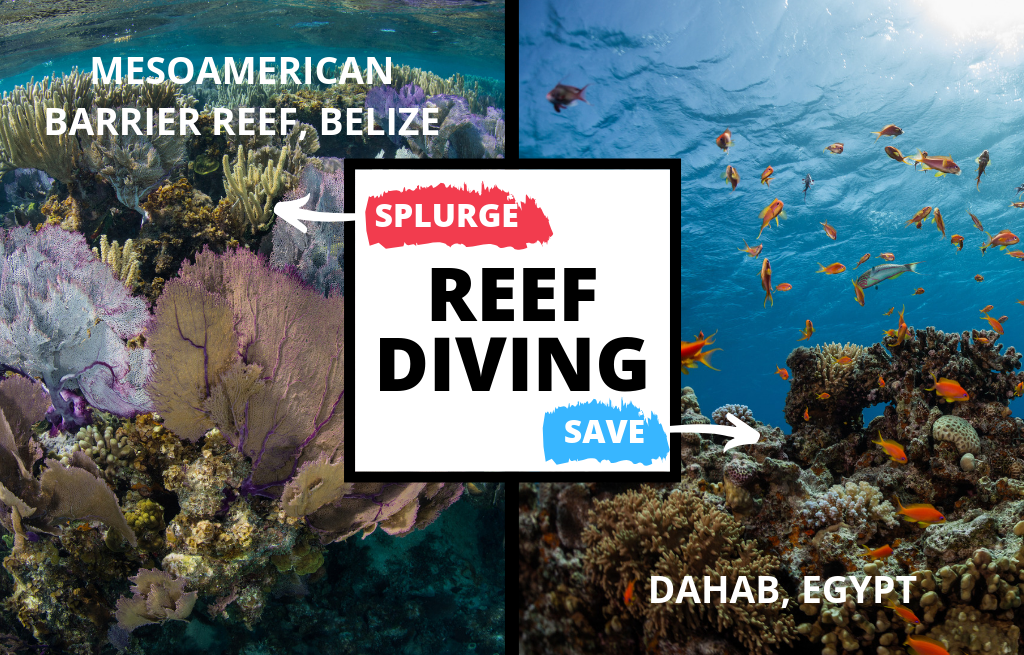 4. Coral Reef Diving
Almost every diver begins their scuba career dreaming about coral reefs. These colorful, marine life-filled ocean ecosystems are fascinating to explore. Fish of all shapes, sizes and patterns flit from coral species to coral species while tiny, incredible creatures move slowly along the polyps. For many, seeing healthy, thriving coral reefs is the reason they dive. If that's you, the good news is that there are dozens of reef diving destinations around the world at every price point. Read on to learn more about the most splurge-worthy reef for your scuba diving vacation and one where you can save a few dollars yet still enjoy the same type of coral-filled spectacles.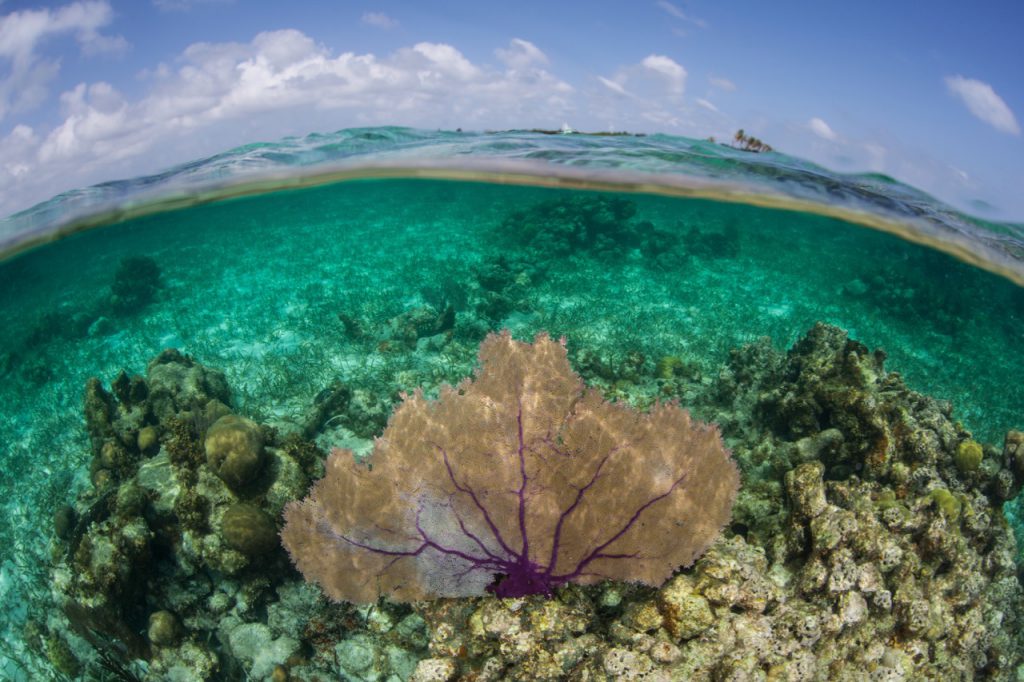 Splurge: Mesoamerican Barrier Reef, Belize
Belize can be a cheap or expensive destination, depending on how you go about it. However, if you are looking for a small island getaway and to dive the most remote reefs in the Mesoamerican Barrier Reef, splurge a bit, and you'll stay at a five-star resort on a private island, surrounded by the second largest barrier reef in the world. Nurse sharks, rays, whale sharks and lots more marine life populate these waters, and the addition of the world's largest blue hole make Belize a superb choice for any coral reef-centric scuba diving holiday.
When to Go: October to July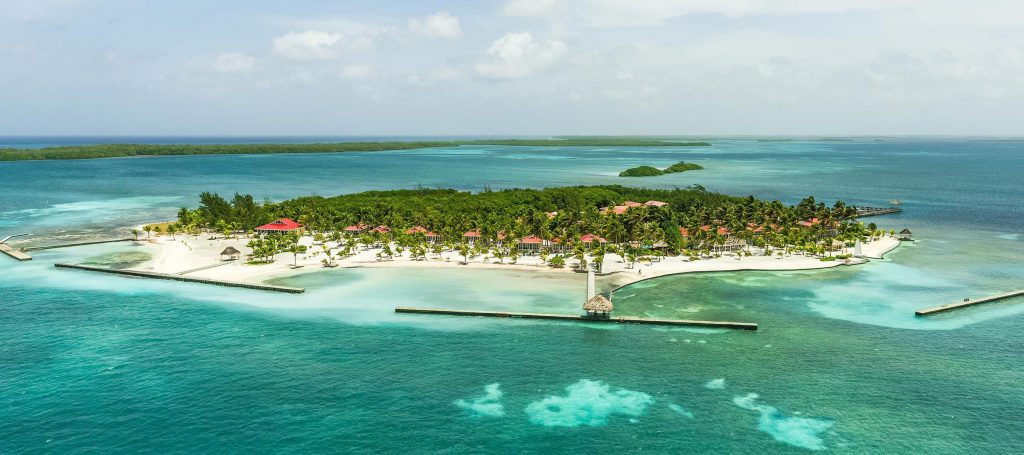 Try the Turneffe Island Resort
Turneffe Island Resort is a true diver's paradise on a private Caribbean island 30 miles off the coast of Belize. The colorful resort is characterized by traditionally painted wooden buildings, palm trees and white sand beaches. In addition, the onsite dive shop offers trips to the Blue Hole, and all guests can partake in the nightly happy hour.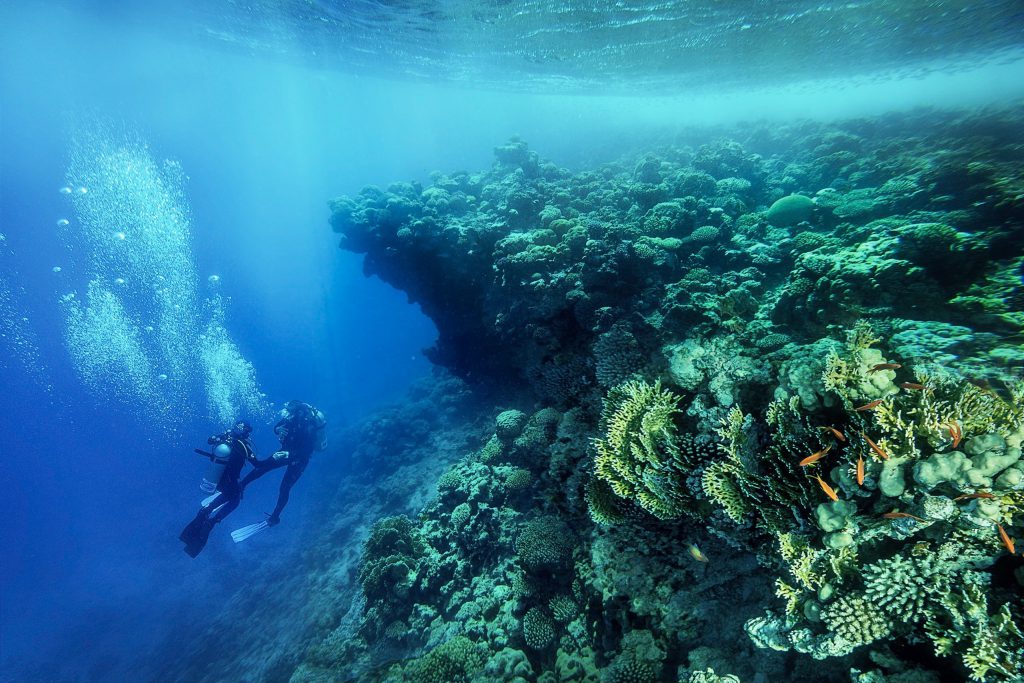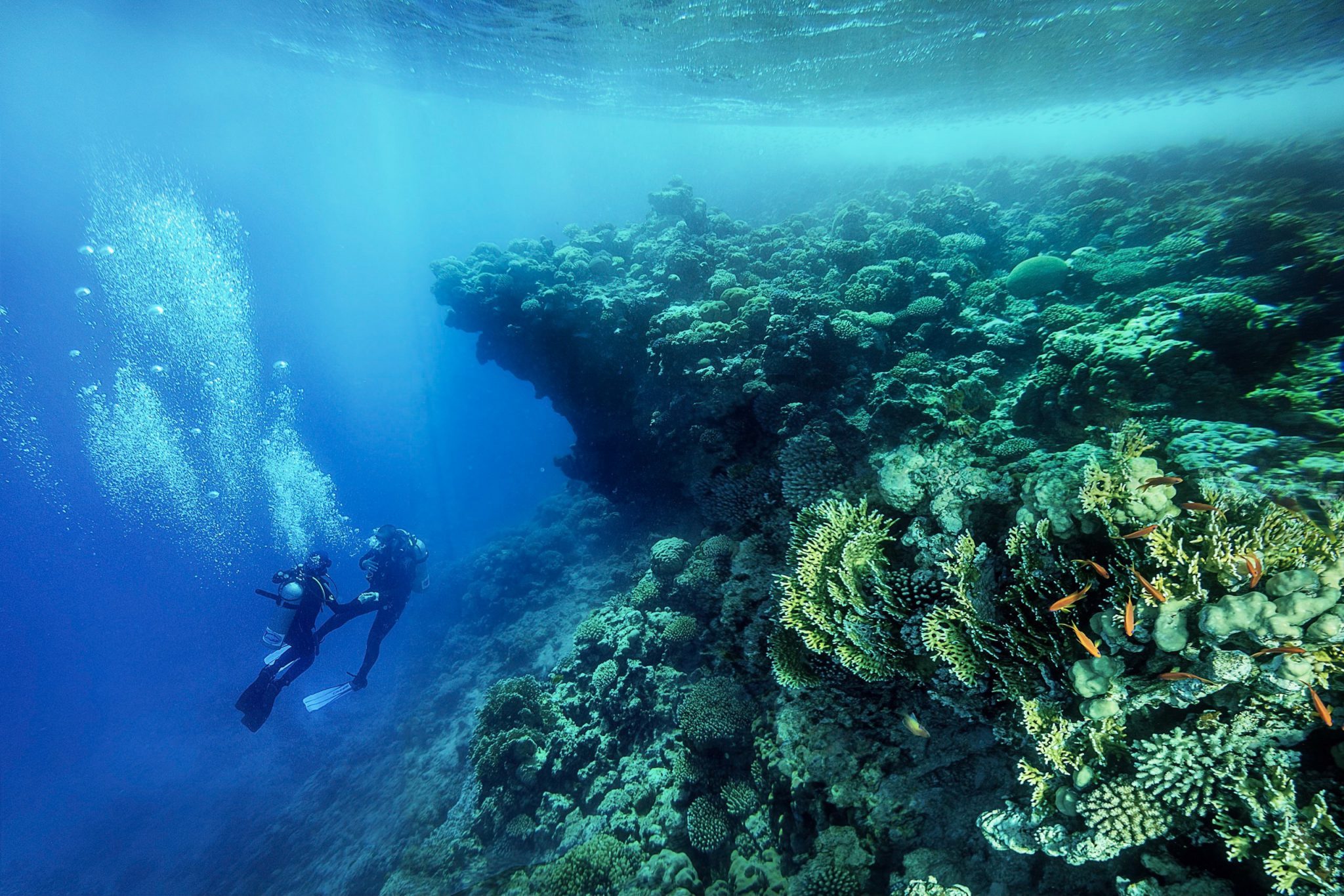 Save: Dahab, Egypt
With healthy coral reefs and a laid-back vibe, Dahab is a great budget coral reef diving destination for your scuba diving vacation. Most of the diving here is done from shore with a transfer via jeep to take you to the various dive sites. Exceptionally clear waters, gentle currents and colorful underwater inhabitants make this an ideal destination for divers of all levels. Plus, many of the local dive resorts cost less than USD $80 per night, including accommodation and two dives each day.
When to Go: April to November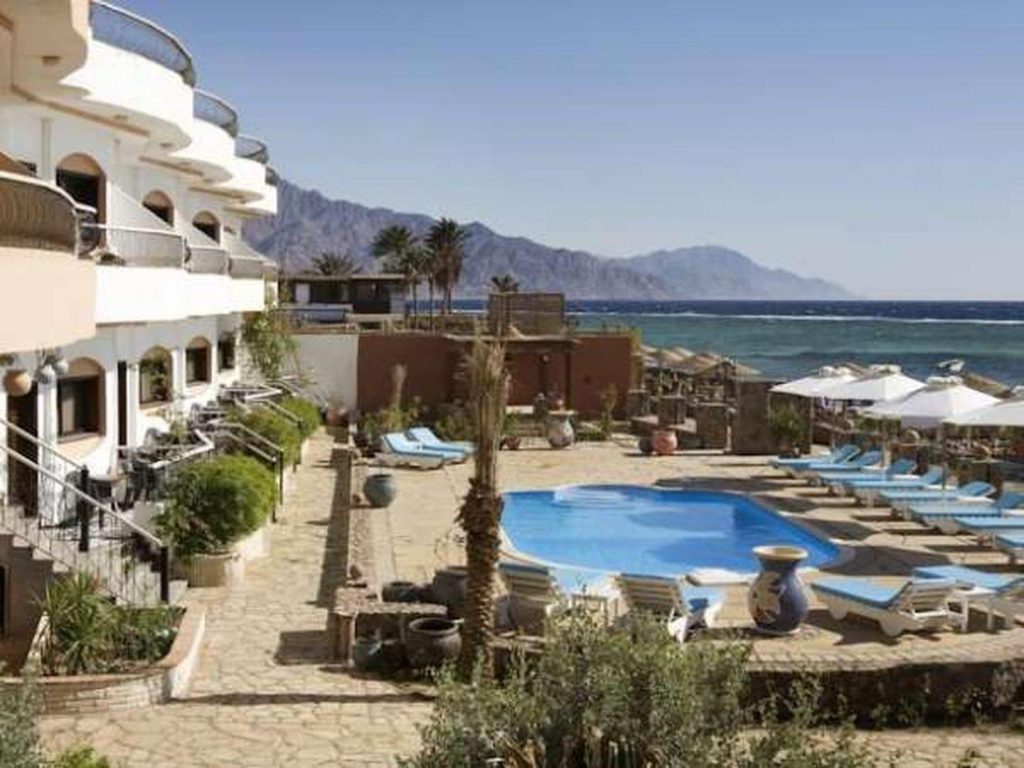 Try the Coral Coast Hotel
The Coral Coast Hotel is an idyllic boutique guesthouse on Dahab's gorgeous coastline. The setting allows guests to enjoy a private beach and dramatic views of both the Sinai and Saudi Mountains. Plus, the house reef and nearby Eel Garden are some of the best coral reef dive sites in the area.
---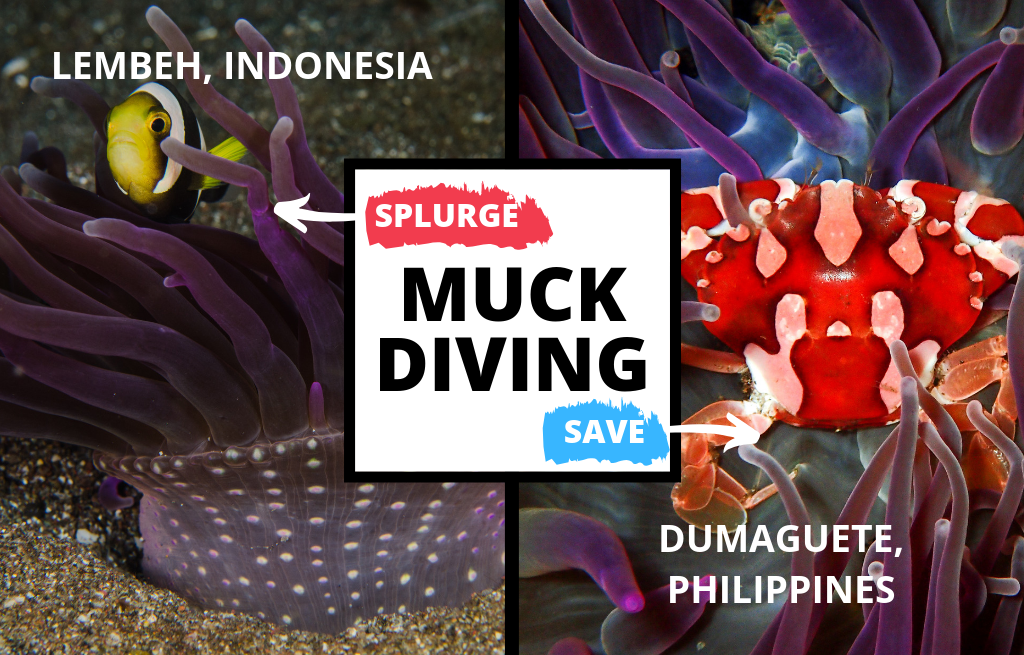 5. Muck Diving
Not all diving is beautiful in the colorful coral reef sense. Some dive sites are covered in a layer of sand, silt and debris. To muck divers, these are the most exciting types of adventures. These ecosystems are often home to weird and wonderful sea creatures, from mimic octopuses to hairy frogfish. And muck diving isn't so much about taking in the big picture of a glorious coral reef. Instead, it's more nuanced, searching for marine life hiding away or simply exposed but camouflaged on bare sand. If you are an avid muck diver or you want to try it, we've highlighted two of the best muck diving destinations below for your scuba diving vacation.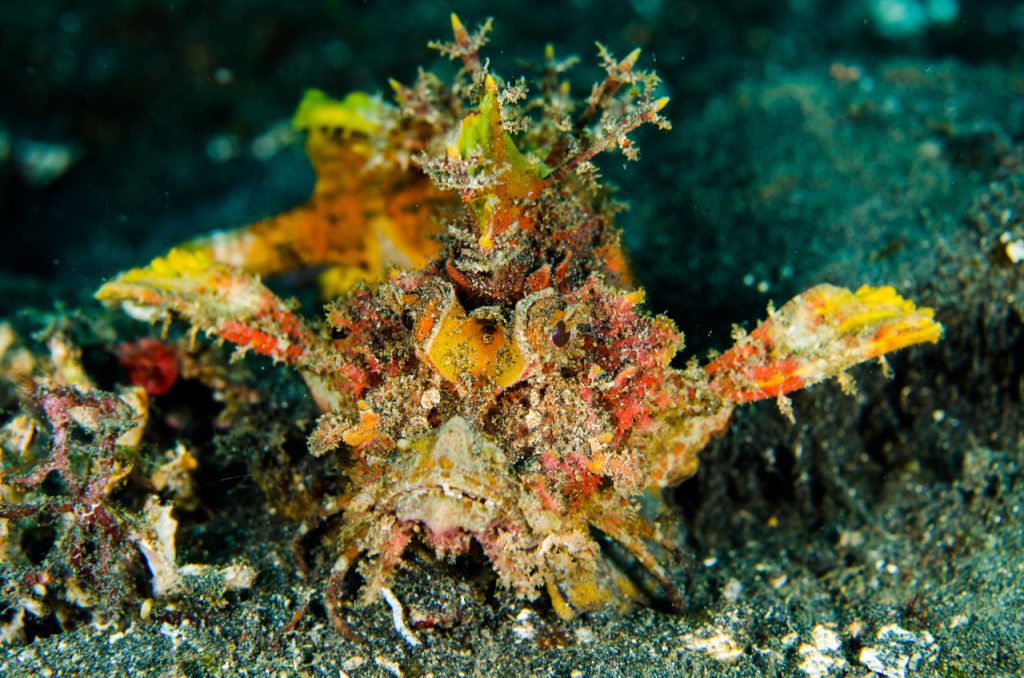 Splurge: Sulawesi, Indonesia
Home to Lembeh, Sulawesi could be called the "Muck Diving Capital of the World." Divers and underwater photographers flock to local dive sites filled with black sand and, well, muck. What makes this destination particularly magical is the plethora of incredible marine life found on any given dive. Hairy frogfish, mimic octopus, wonderpus, rhinopias, scorpionfish and flamboyant cuttlefish call the area home. If you love muck diving, Sulawesi and Lembeh should be at the top of your bucket list.
When to Go: March to October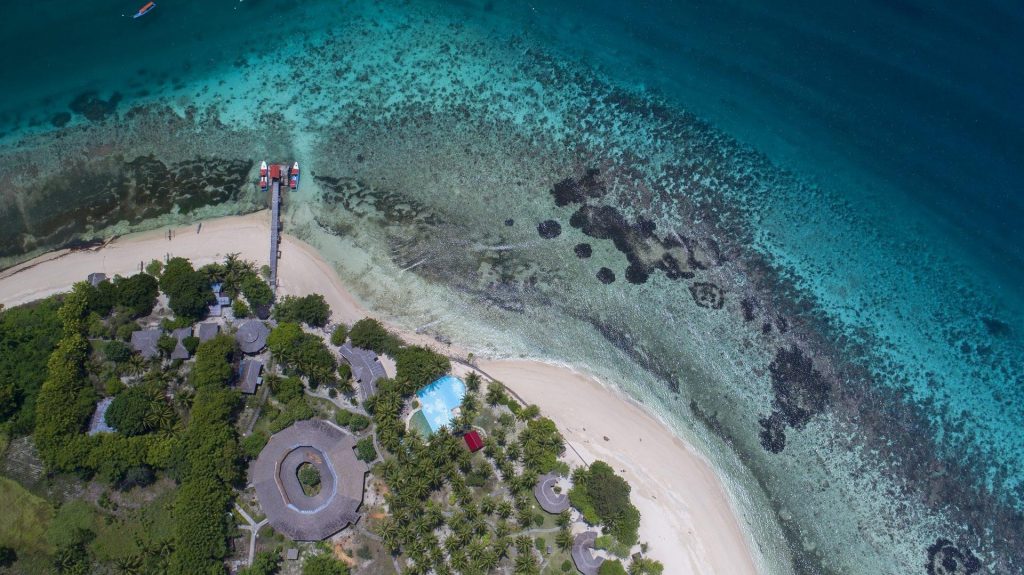 Try the Gangga Island Resort & Spa
Gangga Island Resort & Spa provides beautiful beachfront accommodation in North Sulawesi. It features a large, salt water pool overlooking the lagoon and fascinating local excursions. Because of its unique position, this dive resort offers access to more than 30 dive sites in Bunaken, Bangka and Lembeh.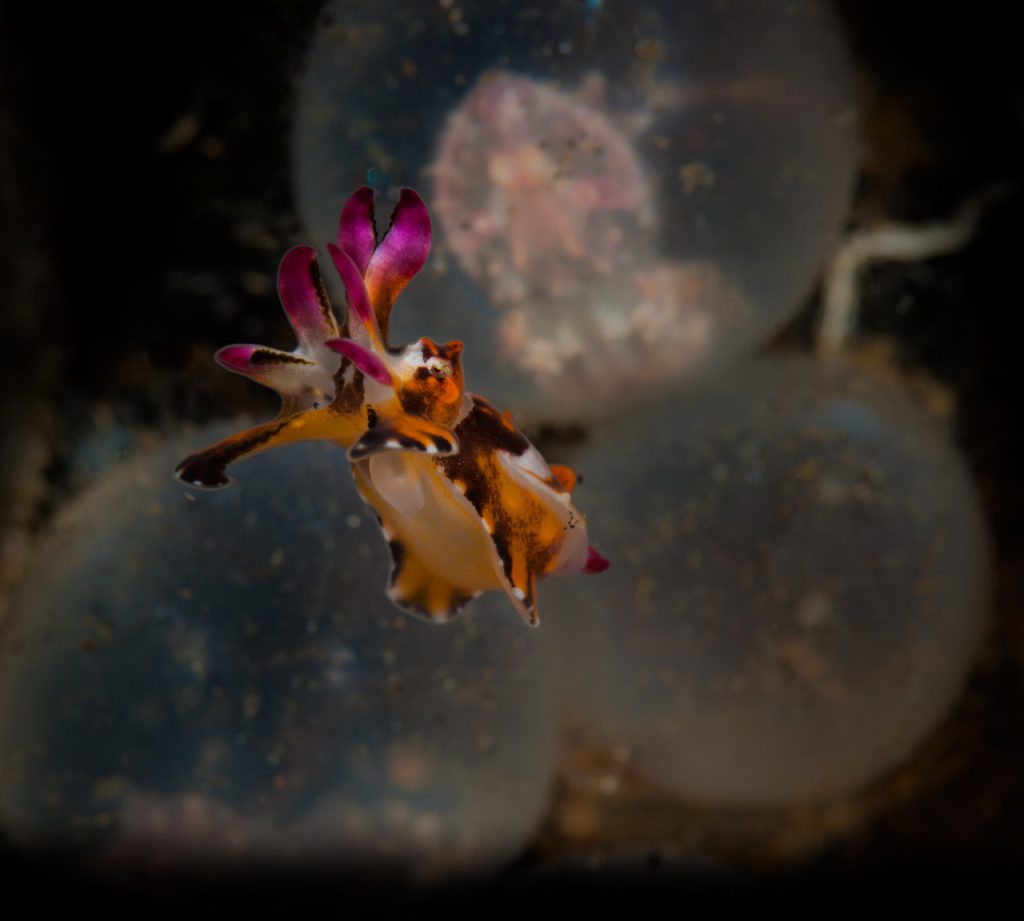 Save: Dumaguete, Philippines
Although many divers go to Dumaguete to explore nearby Apo Island and its fantastic reefs, the muck diving sites along the city's shores are well worth traveling for. Thanks to rare critter species, like the elusive flamboyant cuttlefish, this part of the Philippines is ideal for underwater photography. Manit, Masaplod North and Bonnet's Corner are just a few of the sites not to be missed. In addition, Dumaguete is a chilled out Asian destination that's ideal for those who want to partake in muck diving from shore and get to know the Filipino way of life at the same time.
When to Go: October to June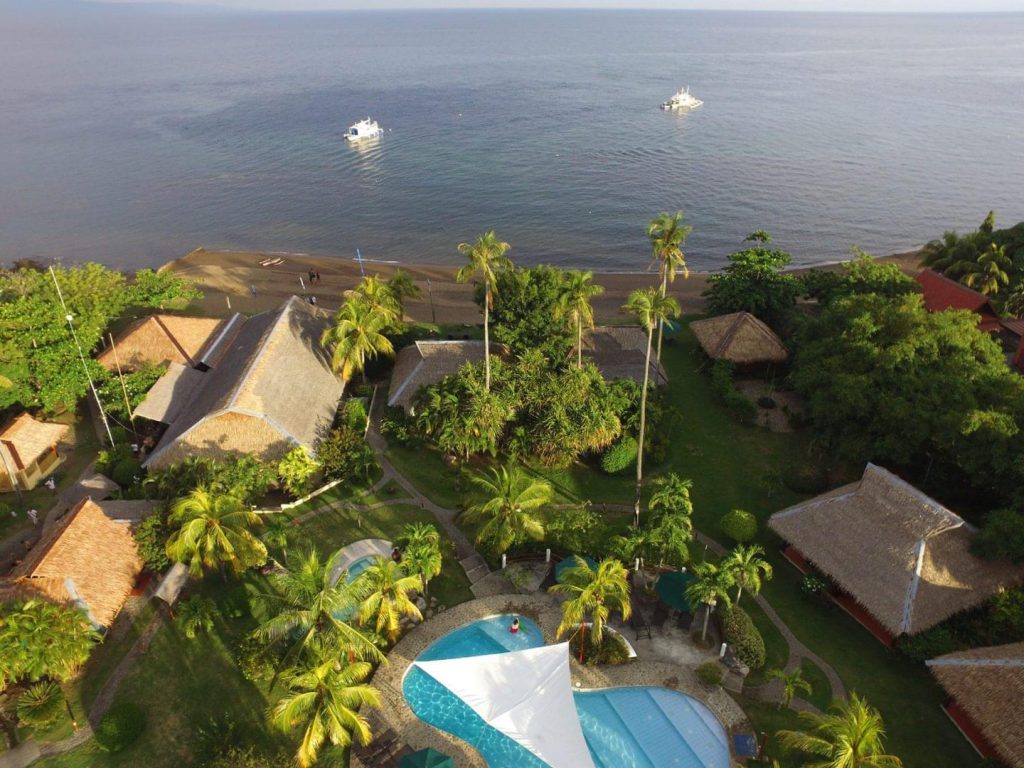 Try the Fish Unlimited Beach & Dive Resort
Set amongst tropical gardens and a volcanic black sand beach, Fish Unlimited Beach & Dive Resort has 14 spacious, air conditioned rooms. It also boasts a swimming pool and ocean views. It's also well positioned for taking advantage of the area's shore and muck diving. And for USD $70 per day including diving, this dive resort won't break the bank.
---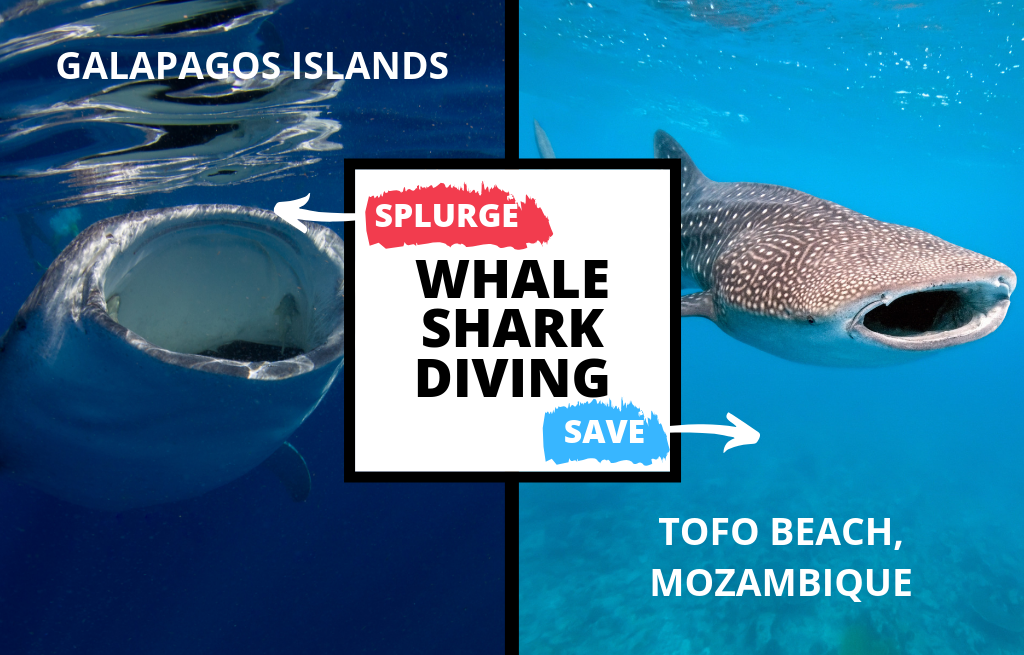 6. Whale Shark Diving
As the biggest fish in the ocean, whale sharks are undeniably awesome. Gentle and majestic, these sharks face both human and environmental pressures. However, scuba divers are helping to save the species by equating their survival to tourism profits. Sometimes rather elusive, whale sharks can be hard to find. Yet, scientists and dive operators have identified areas to which whale sharks return year after year. Read on to learn more about where you can see whale sharks on your scuba diving vacation, depending on your budget.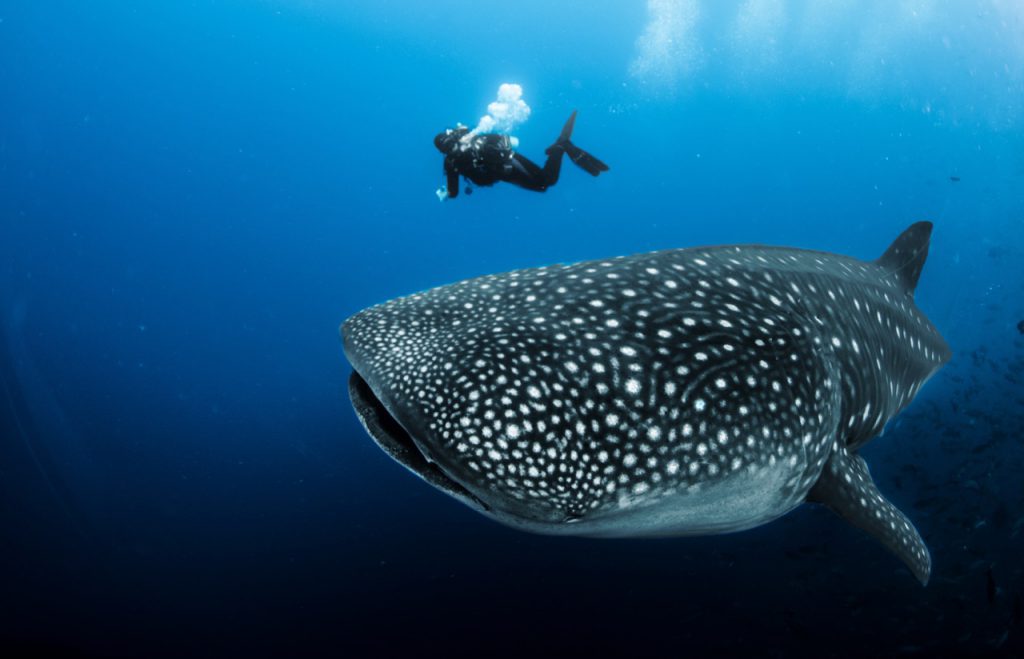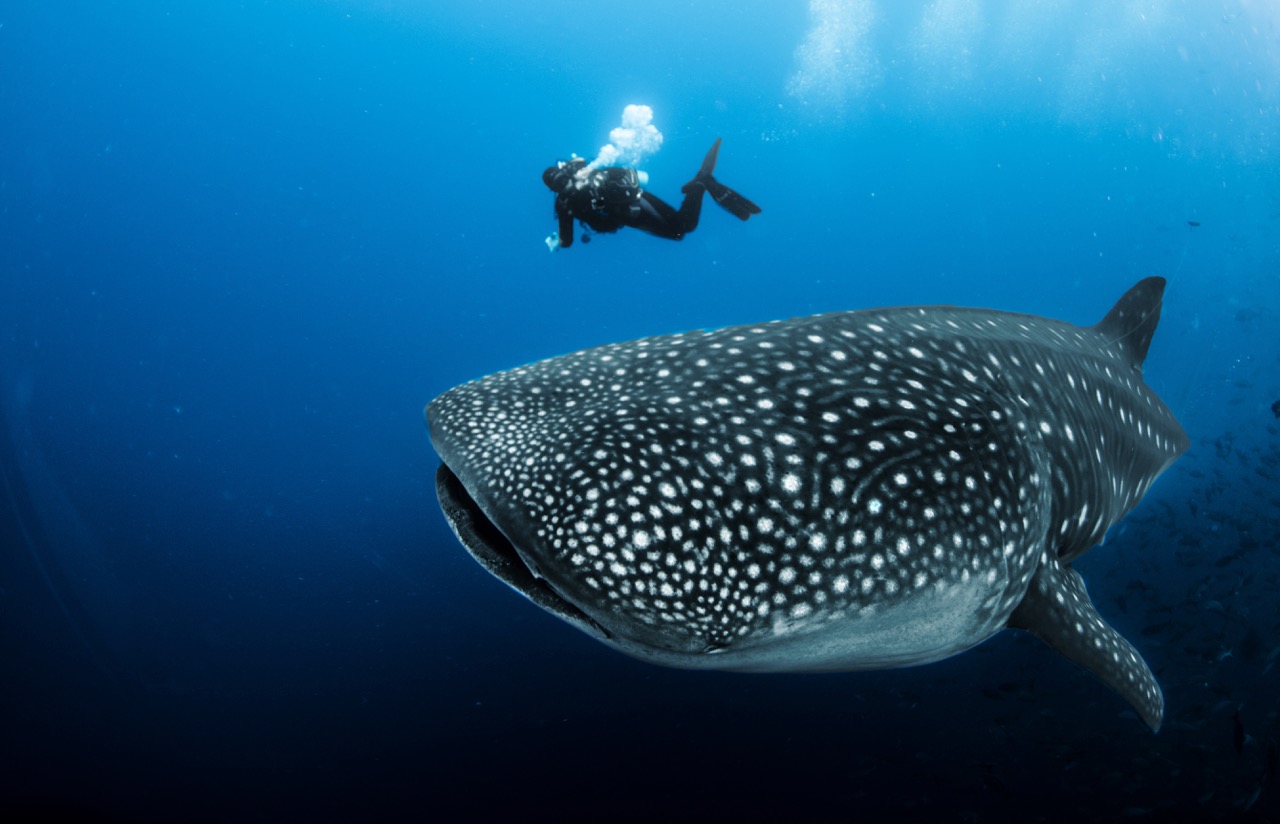 Splurge: Galapagos Islands, Ecuador
Off the coast of Ecuador lie the magnificent and mysterious Galapagos Islands. Known as one of the locations Darwin used in his Theory of Evolution, these islands boast the presence of numerous endemic species. These include Galapagos tortoises, marine iguanas and Galapagos penguins. There's also a wide variety of corals and sharks in the area, including huge whale sharks from June to December. To dive with these graceful creatures, be sure to book a liveaboard that allows for dives at Wolf and Darwin Islands.
When to Go: June to December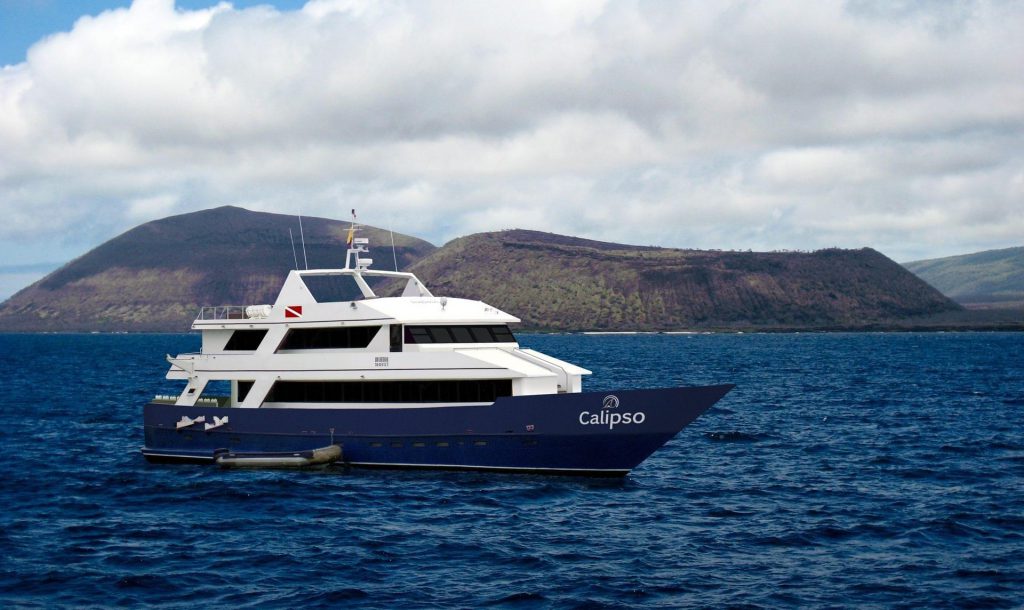 Try the Calipso Galapagos
The brand new Calipso Galapagos boasts luxurious amenities, including an onboard Jacuzzi. Perhaps more excitingly, the boat also offers an up-to-date itinerary that includes Marchena, a site previously only visited by scientists. Although you'll need to splurge a bit to dive in the Galapagos on your scuba diving vacation, this liveaboard has a very competitive price. Plus, the company does not charge a single supplement for solo divers.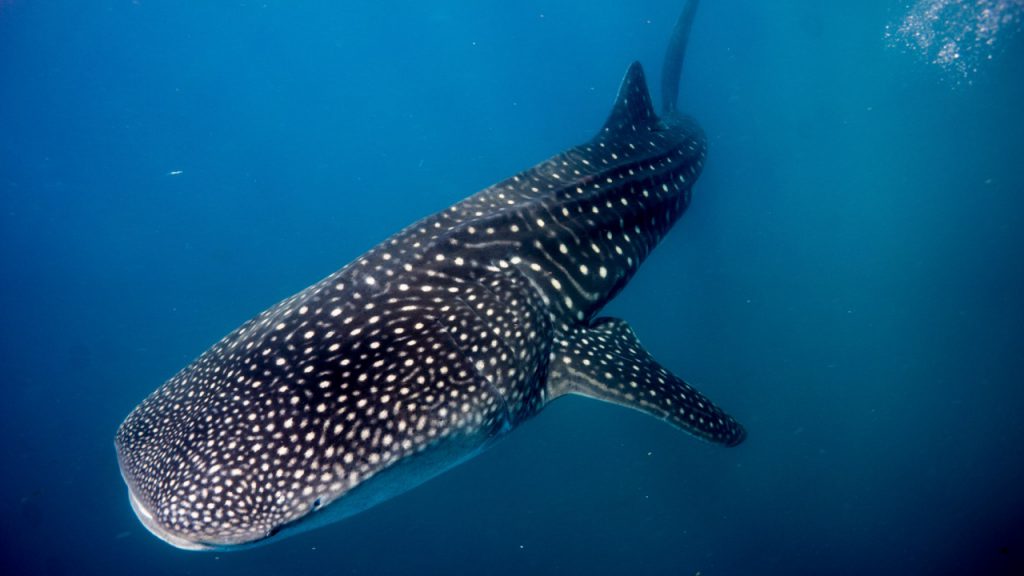 Save: Tofo Beach, Mozambique
Tofo Beach, situated in the south of Mozambique, is one scuba diving destination that's just beginning to become incredibly popular. Thanks to its uncontaminated nature, this part of the world is both extremely interesting topside and a wonder to behold beneath the waves. Mantas, dolphins, sea turtles and humpback whales (seasonally) are often spotted nearby. Of course, you can see whale sharks here, too. If you want to see these gentle giants, save a few bucks and get off the beaten path, Mozambique should be your destination of choice.
When to Go: October to March
Try the Tilak Lodge
Tilak Lodge is about as close to the beach as you can get. It boasts direct access to the sea as well as private sun loungers. In addition to onsite concierge and childcare services, this affordable, three-star hotel is within walking distance of Tofo Scuba, a PADI five-star dive center. Together these amenities provide a beautiful and comfortable base to divers who come to Mozambique to dive with whale sharks. 
---
Whether you want to splash out on the vacation of your dreams or save a few bucks on your next trip, consider PADI Travel for all your scuba diving holiday needs.