When Maria Davidts daughter started diving three years ago, it never occurred to her it might not just change her daughter's life, but her own as well. Merel, Maria's daughter, was inspired to start diving after her cousins became scuba divers and Mum would help with the theory side of the PADI Open Water Diver Certification.
'When Merel started the Open Water course at age 11, I had to help her to understand the theory. And then I thought: I'm explaining everything but I don't know how it feels'
Maria only planned to take a Discover Scuba Diver course to help with Merel's understanding of dive theory, but it didn't go quite to plan, after the DSD Maria was sold! 'The next day I joined the Dolphin Buddys diving club. We, Merel and myself, became Open Water divers the following June.'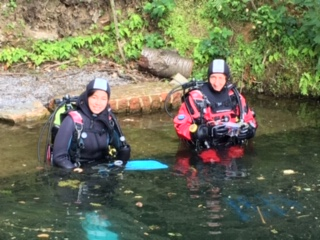 And it didn't stop there, 'Because I think that safety is very important, I took the Emergency First Response and the Oxygen Provider courses. I completed my Advanced Open Water the next year. Then I started taking some specialties: Enriched Air Diver, and Dry Suit Diver.
Currently I am doing the Underwater Navigator and the Wreck Diver specialties. On my to-do list is the Deep Diver and Rescue Diver! So I will become a Master Scuba Diver!'
This year Maria took to the stage at her local PADI Women's Dive Day event to talk about her journey, becoming a scuba diver after 50.
'The event was a great success! It is not that you can't start diving because you're over 50 years old! Becoming a scuba diver after 50 is fun, keeps you fit and young of heart and mind!
And when asked for any advice for people who might feel diving is a young person's sport, she said, 'I only can advise that, if you feel up to it, you're never too old to start diving. It is the best decision I made and I get a lot of energy back! Diving clears the mind, makes you stronger and reduces stress!'
'I took a seminar "Check your Heart" organised by The Dolphin Buddys in May! It is very important to check your heart, lungs, blood pressure, BMI and condition when you're over 50 and a diver! "Safety First"!'
She also noted, 'Woman are simply needed in the diving industry. We are not better than men, but we're different. We look at things from another perspective and doing so, we add an important value to the diving world.'
Thank you Maria for taking the time to talk to us about your diving journey so far.