PADI AmbassaDivers, The Jetlagged, are no strangers to the incredible diving that Indonesia has to offer. Here Claudia and Hendrik spoke to us about their top tips and memories…
Do you have any top tips for divers wanting to travel to Indonesia?
Indonesia has something for everybody, from beautiful coral reefs to muck diving on black sand. We think a lifetime of diving wouldn't be enough to explore all of the diverse Indonesian islands with their unique marine environments. Domestic flights are quite cheap and short, so it's easy to explore more than one region during one trip, for example Bali & Komodo or Bali, Nusa Lembongan and the Gili Islands (you don't even have to fly for that combination).
While a lot of places are easy to dive and suitable for all levels, the current can be quite challenging in some places (for example Komodo or Raja Amat), so we'd recommend to check if your diving experience matches your destination. Or consider taking a course there, in one of the highly qualified dive centers all over Indonesia!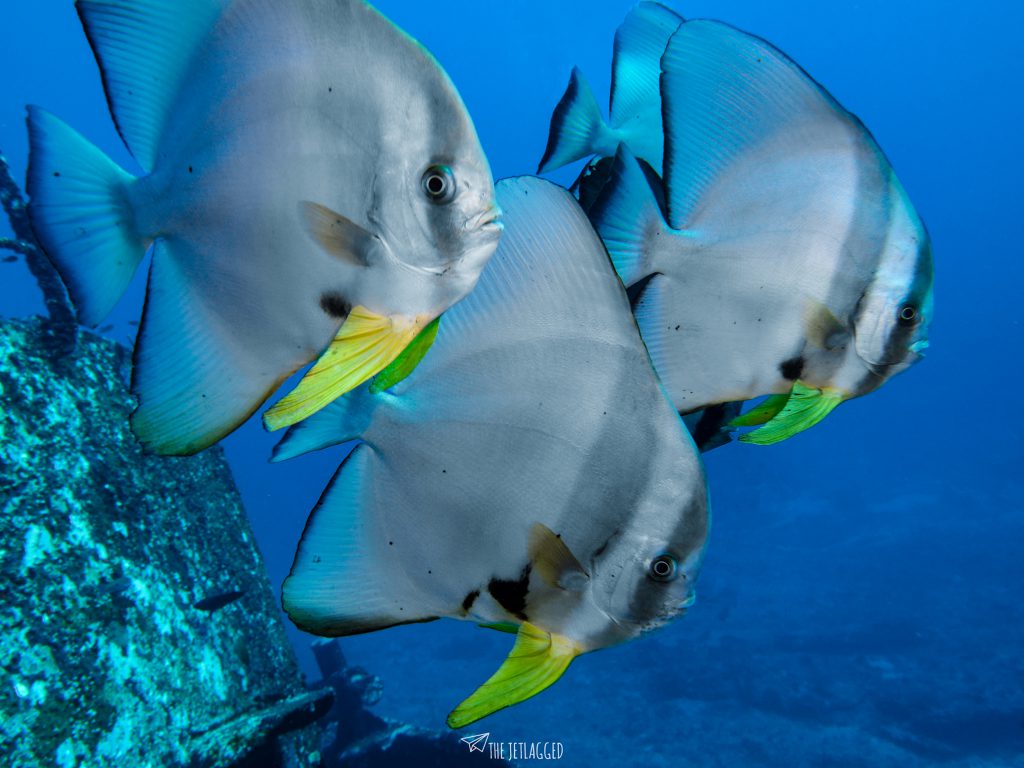 How do you try to keep your travel as sustainable as possible?
We always travel with reusable drinking bottles and food containers. In all the airports, you can find fountains with drinking water and in the more touristic places (for example all around Bali, Nusa Lembongan and the Gilis), dive centers, restaurant and cafe owners are trying to tackle plastic pollution by offering 'Refill Stations' for your water bottle.
We try to go zero waste when we are in Indonesia, because there is practically no waste management system in place and chances are high our trash ends up in the ocean. We refuse plastic bags, straws and other single-use plastic items. We travel with shampoo bars and soap and take as much of our waste back home, where it gets disposed properly, especially batteries. Also, we only use reef safe sunscreen.
Do you have a favorite dive site in Indonesia? 
Wow, that's a difficult one and really hard to tell because Indonesia is so diverse and it really depends on what we're looking for! Indonesia is a great place for manta ray encounters and around the dive sites in South Raja Ampat, we've sometimes seen both species of manta rays (reef mantas and oceanic mantas). With all the manta rays around, we usually get a lot of manta ID shots (with the unique spot patterns on their bellies) – which we contribute to manta ray citizen science projects like Mantamatcher.org and Indonesian Manta Project.

In general, the coral reefs around Raja Ampat are just stunning, and there are too many dive sites to name. Check out our highlight video above!

And then there's Manta Point off the coast of Nusa Penida, within easy reach from Nusa Lembongan or Bali, check out our 360 underwater video from there to see what it's like to dive with beautiful reef mantas
Of course Komodo has amazing dive sites too. We spent 3 weeks in Northern Sulawesi this year, filming in Lembeh, Bunaken and Bangka with our 360 underwater camera. What a wonderful and diverse underwater world they have there!
Any memorable experiences from diving in Indonesia?
Indonesia is like a giant underwater playground! Having spent so much time there, we have plenty of stories! Some of the unforgettable moments surely were diving with giant manta rays in Raja Ampat, or 25 reef mantas in one spot in Komodo, or getting our teeth cleaned by cleaner shrimp in Bali. Or maybe when we jumped in for an exploration dive only to find ourselves among a school of dozens of silver tip and grey reef sharks! The great thing about Indonesia is that there is still so much to explore, so many places that are still pretty unknown and untouched. Because it really is in the heart of the Coral Triangle, you never know what's going to happen when you jump in the water and put your head under the surface!
Indonesia is not only a great place for diving holidays, with plenty of high quality dive centers and diving schools, it's also the perfect place to continue your dive training and take one of the many courses that are being offered, whether it's the Advanced Open Water Diver course, your PADI Instructor course, Peak Performance Buoyancy or maybe even Digital Underwater Photography.