Let's face it – for those living in the Northern Hemisphere, January is one of the worst months of the year. With the holidays come and gone, there is naught but a long, cold winter to look forward to. Luckily, scuba divers know how to stave off boredom with adventure. If you're looking to dive in January, you'll want to head for the warm waters of the Maldives and Palau to encounter pelagic species. On the other hand, Cuba, the Cayman Islands and the Caribbean as a whole are experiencing some of the best weather of the year. On the other hand, Antarctica presents a draw for ice divers and those with a penchant for the unusual.
Overall, January is a great time to getaway. Here are the top 5 scuba diving destinations for the 1st month of the year.
---
1. Antarctica
One of the most extreme environments on Earth, Antarctica is just coming into its liveaboard season in January. Not only is this a great season to snag a good deal, January in Antarctica will also offer you some of the best ice diving you'll ever experience.
There are plenty of dive sites to explore in Antarctica if you're properly trained. Under the ice and beside the icebergs, you swim alongside penguins, leopard seals and various gastropods. Petermann Island is a popular location, but Wilhelmina Bay is also worth a visit. Here humpback whales gather during the first months of the year in order to accumulate fat while feasting on the area's krill populations.
Do remember that diving in Antarctica is challenging in terms of temperature and overhead environments. Only experienced drysuit divers should make the journey. In addition, the only practical way to dive in Antarctica is by liveaboard with typical itineraries lasting at least 11 nights.
Editor's Recommended Liveaboard: MV Ortelius
View All Liveaboards in Antarctica
---

2. Jardines de la Reina, Cuba
Boasting the world's third largest coral reef and one of Cuba's most protected marine areas, the Jardines de la Reina (a.k.a. Gardens of the Queen) is a mecca for shark lovers with healthy corals and crocodile encounters to boot. And January happens to be right in the middle of liveaboard season, giving you dry and warm conditions for exploring this untouched paradise.
On any given liveaboard trip to the Gardens of the Queen, you can expect to see dozens of Caribbean reef sharks and silky sharks. These huge fish show no fear of humans, often approaching very close to scuba divers. You'll also have the opportunity to snorkel with crocodiles – if you dare!
Tourist numbers in Jardines de la Reina are limited, so the reefs have remained healthy for decades. In addition, with crystal clear visibility and shallow dive profiles, this is a great area for novice scuba divers. But, because there are no "real" hotels in the marine protected area and the Jardines de la Reina lies 50 miles (80km) from the main island, you'll need to travel by liveaboard to dive here.
Editor's Recommended Liveaboard: Avalon II
View All Liveaboards in Jardines de la Reina
---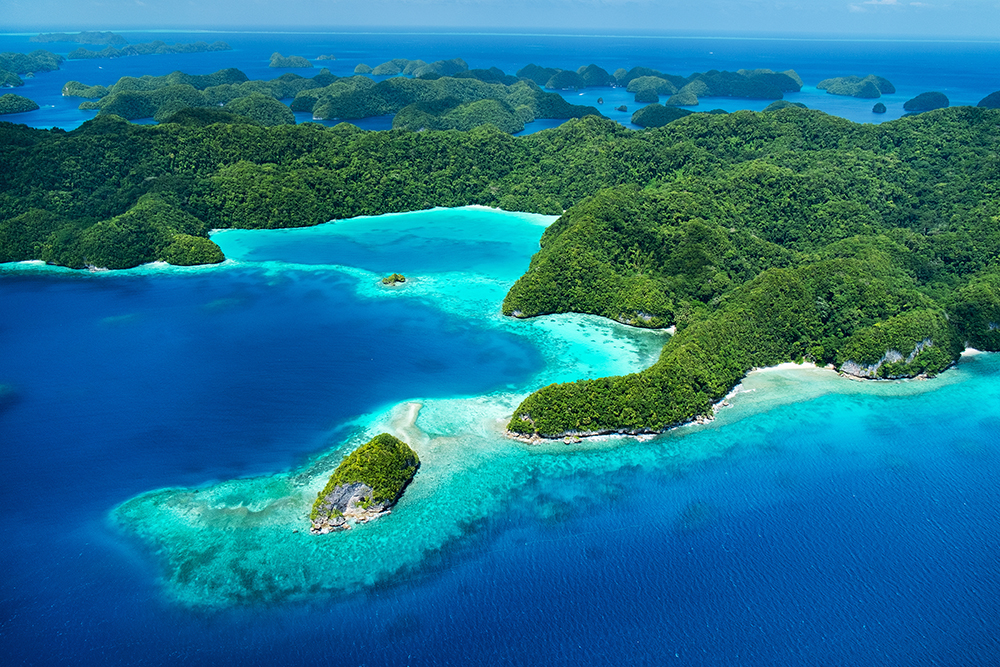 3. Palau
Palau offers everything a tropical diver might want in a small space. There's shark diving, wreck diving and beautiful soft coral reefs. In addition, heavy currents sweep in pelagics like manta rays, sea turtles and reef sharks. Plus, coral beds make the perfect houses for macro species and huge schools of tropical fish.
You can dive in Palau year-round (and we would recommend it during any month of the year!). However, January is a great time to hop on a liveaboard in this South Pacific country. This month falls squarely within the peak diving season, which runs from October to April. During this season, visibility is amazing, and water temperatures average out at 83°F (28°C).
To get the most out of your time in Palau, a liveaboard trip is highly recommended. In this way, you'll see all the best sites in one trip and enjoy the scuba diving holiday of your dreams.
Editor's Recommended Liveaboard: Ocean Hunter III
---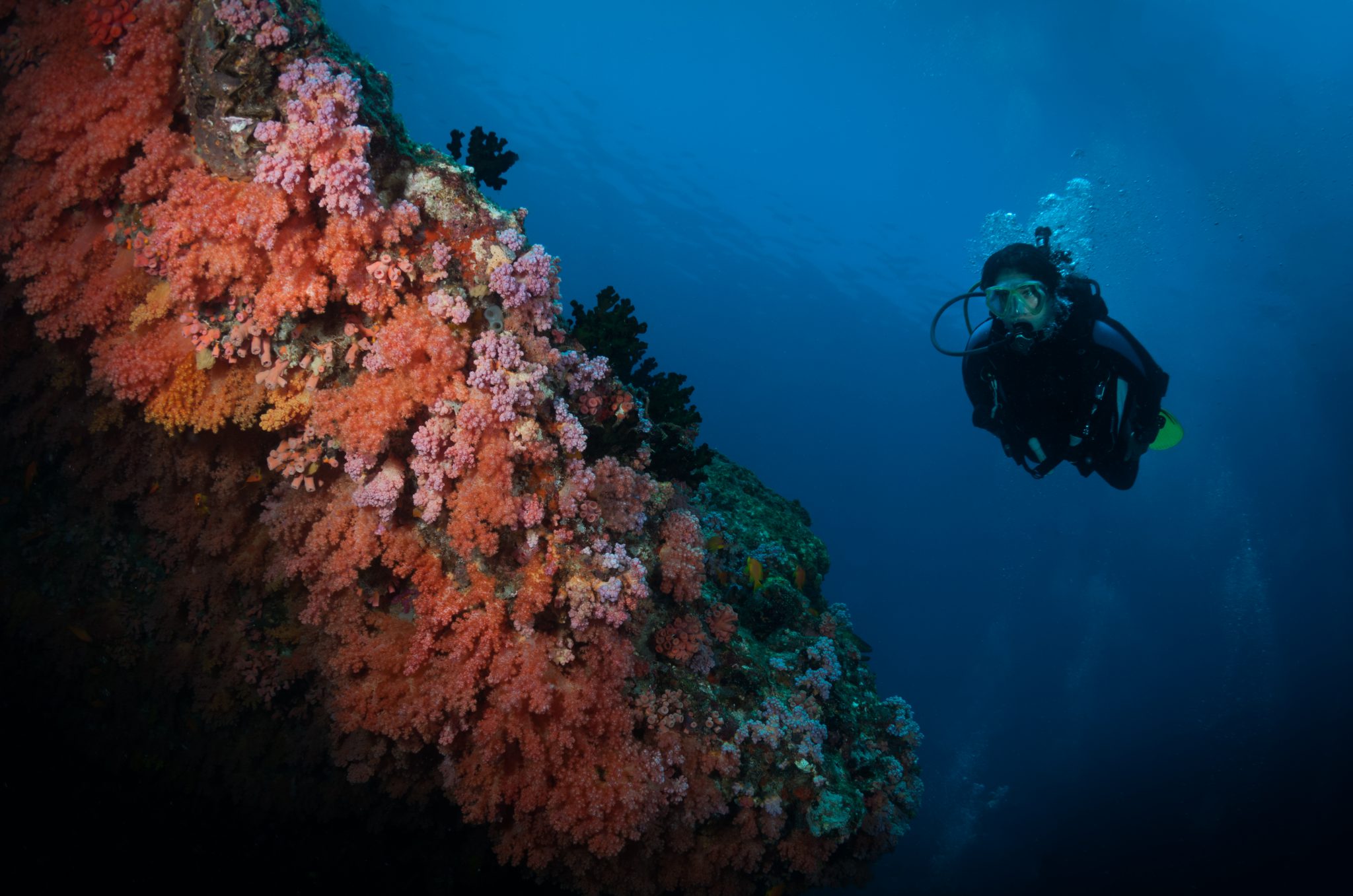 4. Ari Atoll, Maldives
Known for its whale sharks and manta rays, the 105 islands of the Ari Atoll represent the most popular liveaboard destination in the Maldives. With the number of pelagic species to see, diving in the Indian Ocean doesn't get much better than in the Ari Atoll.
Most of the dive sites in the central part of the Maldives are not protected walls or coral reefs. Rather, the region consists of thilas (pinnacles) and kandus (channels) perfect for drift diving. Because of the exposed nature of many of these dive sites, currents can be quite strong.
The atoll's climate has warm average temperatures with equally comfortable water temperatures (77 – 86°F / 25 – 30°C). While diving is accessible year-round, some seasons are better than others. From December to March, dry weather and calm seas arrive during the north-east monsoon, giving you ideal underwater conditions during the month of January.
Editor's Recommended Liveaboard: Scubaspa Ying
View All Liveaboards in the Maldives
---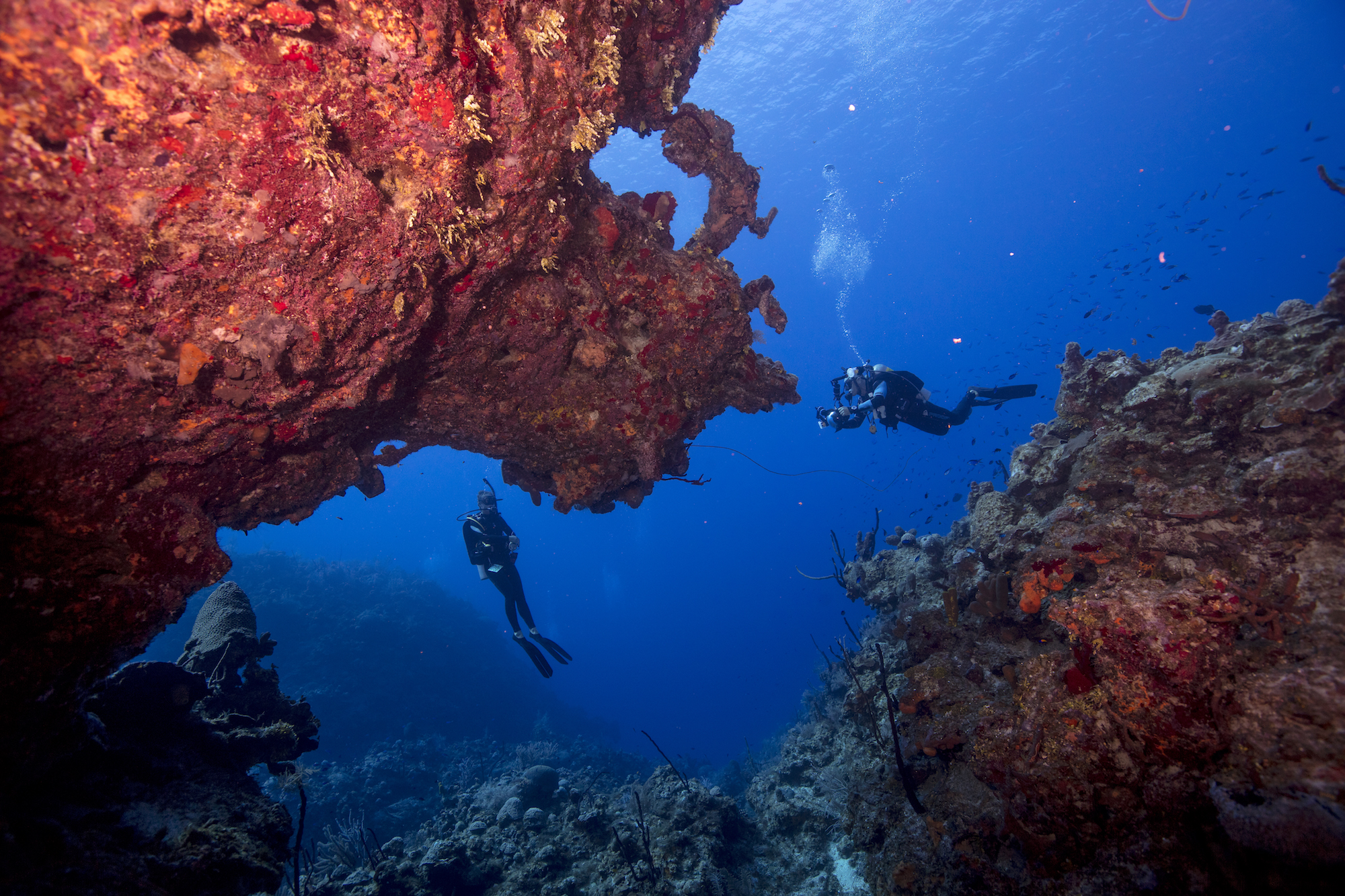 5. Cayman Islands
Sea turtles, stingrays and more are promised on a Cayman Islands scuba diving adventure. Unique marine life and spectacular underwater topography draw thousands of scuba divers to these Caribbean islands on an annual basis.
In addition to the ever famous Stingray City where the rays are said to be almost tame, numerous dive sites are sure to hold your interest. There's the pinnacle of Babylon or the great drop-offs called Wilderness Wall and the Bloody Bay Wall. Plus, the wreck diving is pretty good here, too. The Captain Keith Tibbets and the Kittiwake are a couple of the most photographed wrecks in the world.
Keep in mind that the Cayman Islands are inside the hurricane belt. While the water temperature remains welcoming year-round, the seas can be rough and inhospitable from June to November. Book your trip in January for the best possible weather.
Editor's Recommended Liveaboard: Cayman Aggressor IV
View All Liveaboards in the Cayman Islands
---
If you're considering taking a scuba diving trip in January, and want some more advice on which of these destinations is right for you, call or chat with one of PADI Travel's agents today. Our sales team is on standby 24/7 to help book the best vacation for you.