The epitome of paradise for honeymooners and divers alike, the Maldives is a rich fusion of luxury, culture and natural beauty. High-end hotels meet ancient mosques, open-air causeways connect military history, and friendly locals share Sri Lankan-inspired cuisine and island traditions.
Below the surface, an even richer world awaits; one where 26 atolls and 1,192 islands are home to giant pelagics, vibrant sponges, corals, crustaceans, and over 2,000 reef fish.
When and where to stay
On land, there's two options. Private resorts often promise a premium 'brochure' vacation that's perfect for families or discerning divers — with all-inclusive packages regularly available. For a budget-friendly trip with fewer tourists, try a local island guesthouse (though you'll need to respect local laws, such as not drinking alcohol or wearing swimwear in public places).
For greater flexibility and to experience more of what the Maldives has to offer, a liveaboard is the ideal option (assuming you'll be diving every day). Again, there are options to suit all budgets and itineraries — but spaces go quickly, so book well in advance.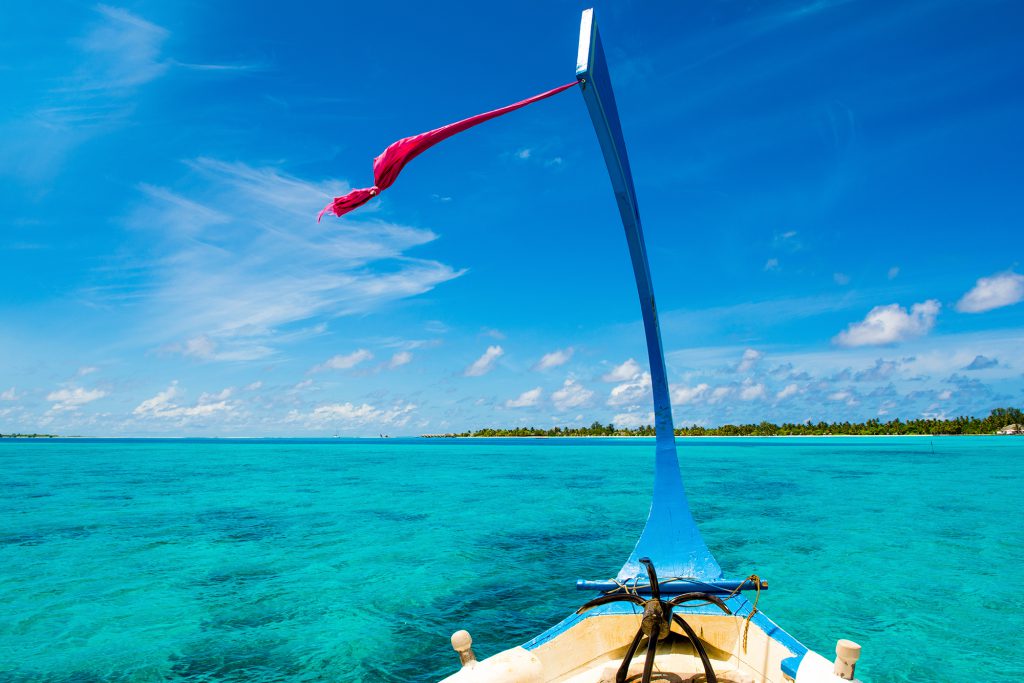 The tropical climate means water temperatures stay around 26-28C, with air around 29-34C. The dry season (northeast monsoon, December-April) brings the best weather and 30m+ visibility, however, the rainy season (southwest monsoon, May-November) is a cheaper time to travel.
When planning your trip, keep in mind that diving is generally better on eastern sides of atolls in the dry season, and western sides in the rainy season. This is down to the direction that ocean currents flow through atolls, bringing good visibility, nutrients, and big pelagics.
Diving in the Maldives
Inside the atoll lagoons, conditions tend to be shallower, calmer, and easier for beginners, with numerous island beaches offering excellent shore dives along house reefs.
The outer atoll walls and channels (Kandus) are characterised by strong currents, impressive topography and thrilling drifts: all better suited to experienced divers. The current brings nutrients, which attracts the giants: rays, sharks, tuna, turtles, barracuda, napoleon wrasse and trevally to name a few.
However, one of the Maldives' greatest treasures is its abundance of pinnacles to explore, with depths and conditions to match every diving ability. From shallower, sheltered Giris to deeper, often more-exposed Thilas, each one is encrusted with a kaleidoscope of colours from corals, sea fans, crustaceans, nudibranchs, morays, and countless reef fish.
While it's impossible to include all of the best Maldivian dives within a single blog, we've picked some of our favourite sights (and sites) below:
Dramatic reefs
From Broken Rock's deep canyon (South Ari Atoll) and Embudu Channel (South Male Atoll), to a Christmas tree-shaped pinnacle (Noonu Atoll), the Maldives' weird and wonderful caves, swim-throughs and drop-offs create an underwater explorer's playground and unique backdrop for photographers.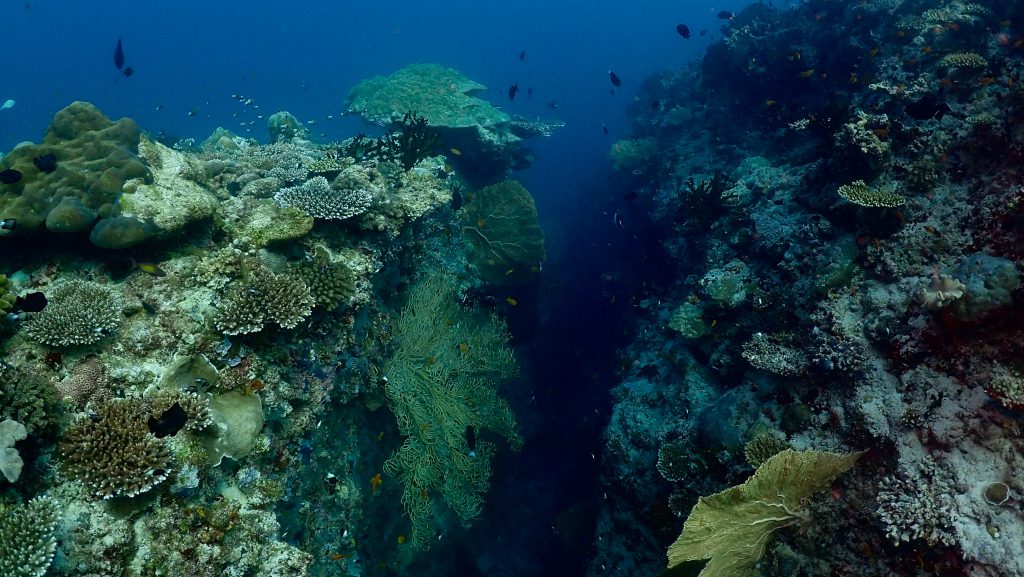 Maldivian wrecks
A few modest wrecks are dotted about the archipelago. The largest is the British Loyalty (Addu Atoll), a 140m-long oil tanker at 33m, but the Maldives Victory Wreck (North Male Atoll) is more often dived. For a challenge, try the 24-hour '10 to 10' Rannamaari event.
Mantas
Although they're spotted year-round, manta rays are most common during the wet season around eastern sides of atolls. Head to Manta Point (North Male Atoll) or Hanifaru (Baa Atoll) for the best chances of seeing them: look out for cleaning stations, and the feeding frenzies during plankton blooms.
Sharks
The 'deep south' is renowned for shark action; at Fuvahmulah Atoll, it's possible to see silky, tiger, thresher, hammerhead, silver tip, grey reef, oceanic white tip and whale sharks in one trip. In the North, Kudarah Thila or Sun Island's plateau (Ari Atoll) provide excellent viewpoints for passing whale sharks.
Night dives
From North Ari Atoll's Maaya Thila to Vaavu Atoll's Alimatha Jetty, both beginner and advanced divers can witness stingrays, morays and octopuses coming out to play alongside a hundred nurse sharks after dark. For an unforgettable show, try fluorescence diving or visit Vaadhoo's 'Sea of Stars' (Raa Atoll).
To learn more about the Maldives or to book your next vacation, visit PADI Travel.