You may not think of yourself as a leader, but as an underwater explorer, you've seen and experienced things most people haven't. When you talk about the world beneath the waves, your words influence others. We all have the power to make a difference, and your passion for the underwater world can be used as a force for good to inspire others to follow in your footsteps.

The connection you have with the ocean planet… is a super-power for the ocean. By setting a good example, you can inspire people to save the ocean.
Be a PADI® Torchbearer and spark change in your community; use your voice to shed light on important issues and inspire others to take action for ocean protection. Together, our collective actions can create a groundswell of positive change.
"The Greatest Threat to Our Planet Is the Belief That Someone Else Will Save It"
– Environmentalist Robert Swan, OBE
Be a Steward for the Ocean and Your Local Beaches
Always clean up after yourself and remove trash others may have left behind
Follow boating practices that don't harm the reef or coastal habitats
Volunteer for a local beach cleanup or Dive Against Debris®
Tread lightly – don't interfere with wildlife
Never remove rocks, coral or shells
Be a smart tidepooler and follow all posted guidelines
Ditch the Disposable Lifestyle
Many of us grew up learning we should "reduce, reuse, recycle," but people forget – those words are a hierarchy. We're supposed to reduce waste first and reuse what we can, recycling is the "last" option.

Straws, disposable utensils, snack wrappers and many plastic bags can't be recycled and most plastics items take up to 1000 years to decompose in landfills. The plastic bags we use in our everyday life take 10-20 years to decompose, while plastic bottles take 450 years. Most of our plastic waste is shipped on barges to developing nations that can no longer handle it resulting in a global crisis in waste management. Moreover, during transit it can get blown into the ocean causing fatalities in seabirds, turtles, seals, and other animals that mistake the plastic for food.
Be a role model to others and ditch the disposable lifestyle. Below is a list of reusable products that can help you reduce waste. If you already own the items below, consider giving them as gifts.
Shopping bags
Travel utensils
Snack pouches
Hot and cold drinkware
Reusable straws
Our collective efforts can make a positive impact. Simply switching to a reusable coffee mug reduces landfill waste by 10 kgs/23 lbs per year per person.
Be a Voice for the Ocean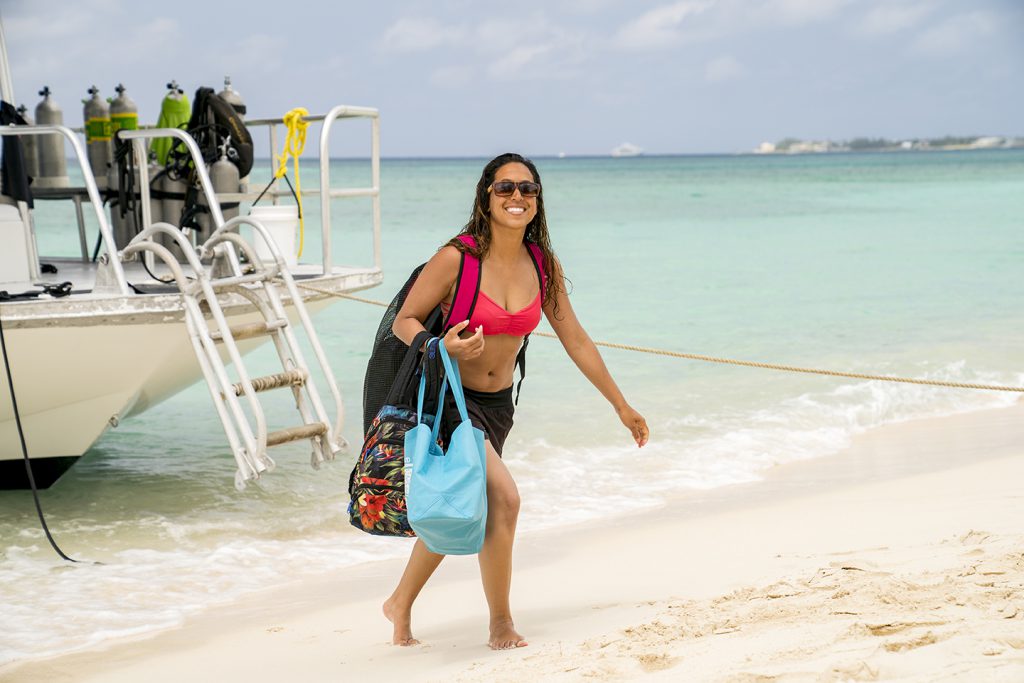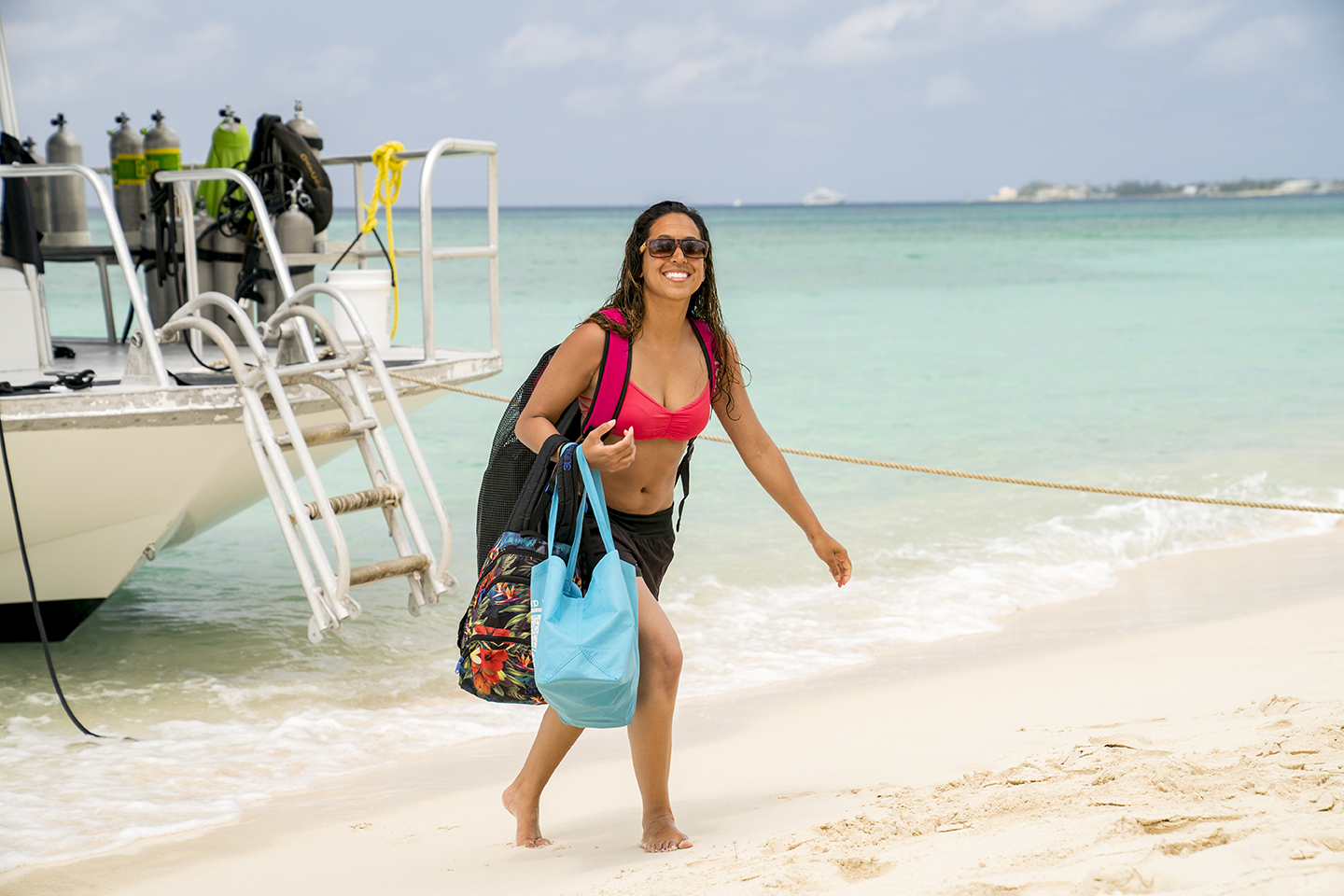 Shop Sustainably
Your choices matter. For example, if everyone chose sustainable seafood instead of exploited species, the demand for overfished species would drop and endangered fish populations could start to recover. Here are a few more ways to shop sustainably:

Visit eco-friendly travel destinations – and create a financial incentive for communities to protect their marine habitat. Never purchase items made from coral, tortoiseshell, sharks or other marine life.

Buy upcycled products whenever possible. Upcycled products reduce waste and bring value to items that might otherwise be thrown away, for example:
In the workplace:
Encourage your co-workers/staff to video conference instead of traveling for an in-person meeting
Choose catering services with eco-friendly practices
Ask whether the company can provide reusable cups and utensils for employees and visitors and set a good example by carrying your own
If your office has grass or other plants which require watering, suggest xeriscaping instead
Choose Experiences Instead of Things
Here's something many PADI Torchbearers have in common – we'd rather have amazing memories than more stuff. Swimming with a seal, seeing a dolphin, or hearing whale song, these are unforgettable gifts from nature.

As mentioned above, where you travel and the businesses you choose matters. Check out this list of eco-operators from PADI Travel®, or search for PADI GREEN STAR™ dive shops and 100% AWARE partners on PADI's website.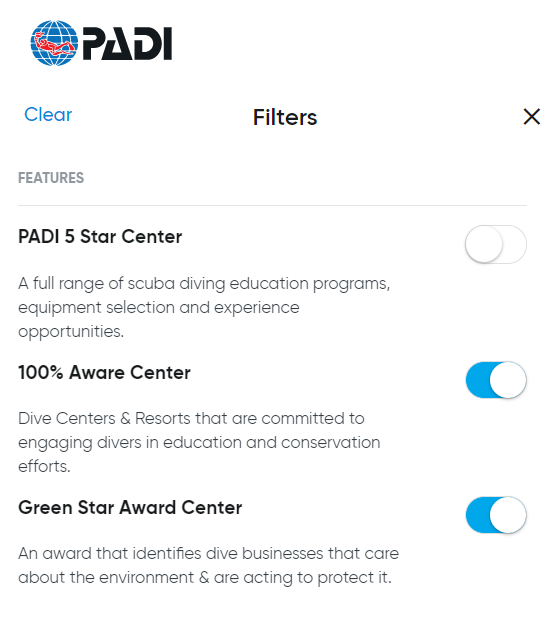 Support Organizations Committed to Ocean Protection
No matter where you live, there's an organization that could use your help. Volunteer your time, sign a petition, start a personal fundraiser, do whatever you can to support organizations working to protect our oceans.

Not sure where to start? Here are a few of our favorites:
Project AWARE® – a global movement for ocean protection powered by a community of adventurers.

Surfrider – passionate protectors of the ocean, waves, and beaches

Oceana – an international advocacy organization dedicated to restoring and protecting the world's oceans.

The Coral Restoration Foundation – dedicated to restoring coral reefs through the cultivation, outplanting, and monitoring of genetically diverse, reef-building corals.

Lonely Whale – an incubator for courageous ideas that drive impactful change on behalf of our ocean
We hope the ideas above make you feel inspired and empowered, but if you're feeling overwhelmed, that's okay. Ocean protection is a big job – that's why our ocean planet needs torchbearers like you to spark change that will create lasting change above and below the surface.