Written by Marcie Doss
As a young girl, I dreamed of becoming a mermaid. I have always loved the ocean-everything about it: the sun, the sand, the fish, the coral. I became a certified diver at the age of 14, the youngest PADI would allow at the time. As I got older, I was also the girl sailing, surfing, and sun tanning with all of my friends at the beach, sometimes without sunscreen or maybe baby oil as an accelerator. This was also a time where tanning beds were cool and tan lines meant you were kissed by the sun. I am embarrassed to admit, I took this philosophy to heart.
As I grew older all vacations were planned around diving. Anywhere and everywhere. My favorite dive was when my boyfriend at the time (now my husband) proposed at 54 feet (16m) on the Tex Edward barge in Pensacola, Florida.  A few years later I decided to join the ranks of instructor and have loved watching my own kids fall in love with the sport as well. Diving, the ocean and the sun have always been key parts of my life.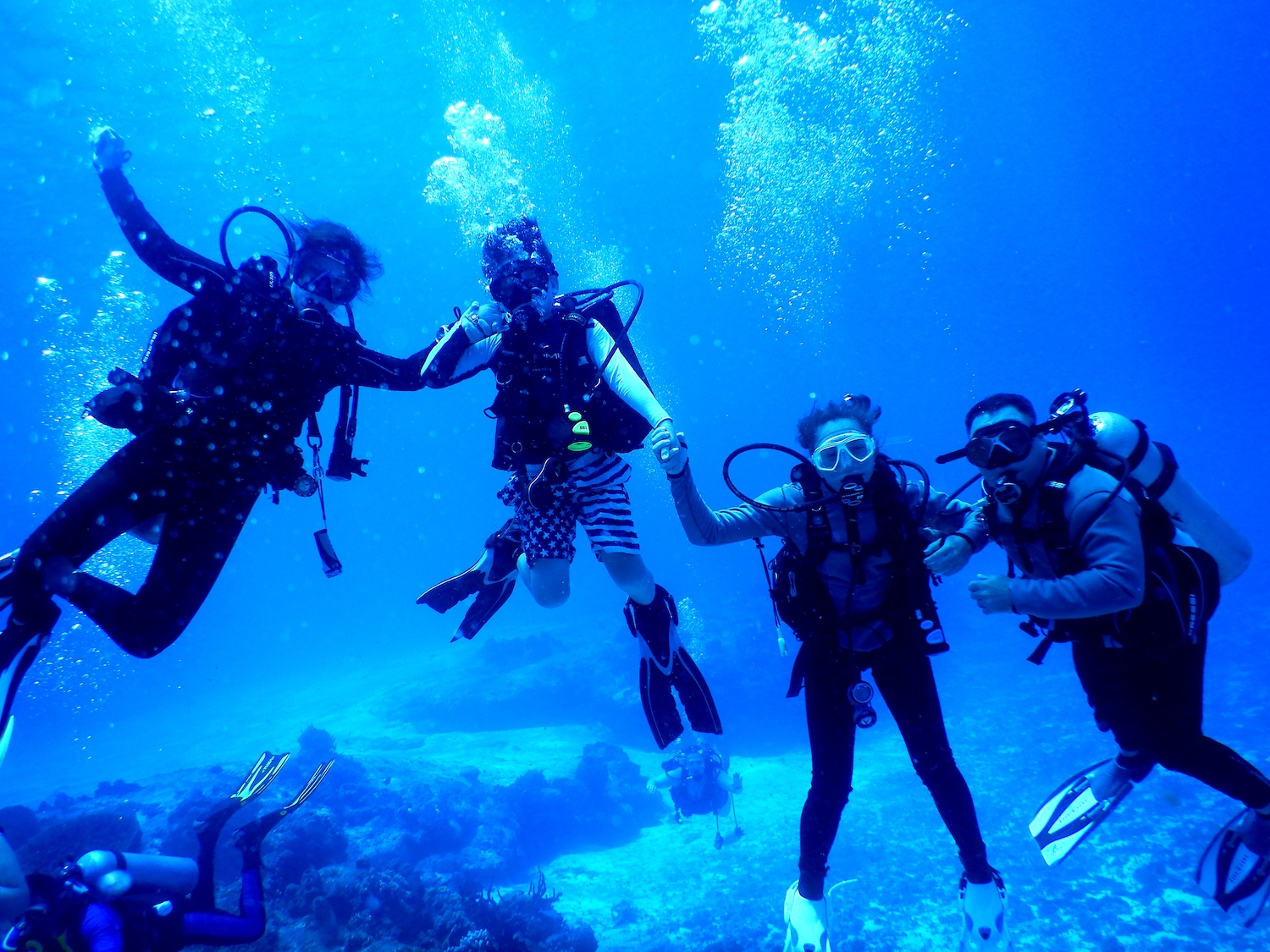 At the beginning of the COVID pandemic, I noticed a small spot on my back. I thought I should probably have it checked.  I had to wait until the dermatologist opened but promptly made an appointment.  One week after, my world turned upside down. The dermatologist called with the most frightening news ever. "Mrs. Doss, you have stage 4 Melanoma, you have to get to MD Anderson, and fast." Luckily, their diagnosis was incorrect and while it was not stage 4, it was still melanoma cancer.  It was just a seemingly small 1-2 cm mole, kind of unremarkable and in a tough place to see. But it led to a 6" incision and removal of 6 lymph nodes.
I feel very blessed and lucky to have gotten into MD Anderson so quickly, however, any hospital or doctor visits are difficult, lonely and scary during COVID19.  A cancer diagnosis is scary enough, but during a pandemic, it is terrifying.   Thankfully the surgeon was able to obtain clear margins and the lymph nodes came back with no signs of cancer.  I genuinely feel like if I had delayed the visit much longer, I might not have been so lucky.
As I was sharing my story with the local dive shop, I was surprised to hear how many instructors and other customers have also had bouts of life threatening melanoma.  In my research, I found this website that gave me lots of factual information.
I want to share my story because I want to get the word out and emphasize the importance of regular full body checks.  Wear shirts, hats, and reef safe sunscreen.  We spend lots of time concerned with safety, as we should, but let's not forget the safety of our skin.