As a diver, your love for the ocean probably makes you want to be immersed in it all the time. Good news – with podcasts you can bring the ocean with you wherever you are! As podcast production and listenership is on the rise, you can find them on nearly every topic, with diving and the ocean being no exception. Immerse yourself in entertaining and captivating dialogues on all things to do with the underwater world – diving, ocean conservation, marine science, underwater photography, and so much more – straight from your smart phone or computer.
From my experience, the opportunity to hear in-depth conversations from individuals focused on all things ocean, truly allows for even more incredible and profound perspectives on the big blue. The continuing education that a diver has access to through podcasts can be a great pathway to immersing the self in the ocean even while on land. Here are eight podcasts perfect for any ocean-enthusiast. Happy listening and happy diving!
Dive Stories
Immerse yourself in the underwater world with Dive Stories. PADI presents monthly podcast episodes featuring some of diving's most inspirational characters and their narratives with the world. We're talking scuba, freediving, underwater exploration, travel, conservation, and all things in and around the ocean. Join host Ocean Allison (yours truly) and PADI as we seek adventure and save the ocean. Dive Stories episodes (about 30 minutes in length) launch on the 15th of each month, and can be listened to on Apple Podcasts, Google Podcasts, and Spotify.
My Ocean
This conservation-focused podcast dives into the minds of extraordinary people making extraordinary differences for the world's oceans. Each ~30 minute episode profiles a unique ocean change-maker, from National Geographic Explorer Brian Skerry to renowned cave diver Jill Heinerth. My Ocean is produced by Ocean Wise, a non-profit organization on a mission is to inspire the world to become 'Ocean Wise' by increasing understanding, wonder, and appreciation of the ocean. Find new episodes hosted by Alexis Brown every other Thursday on Apple Podcasts, Spotify, Stitcher, and Google Podcasts.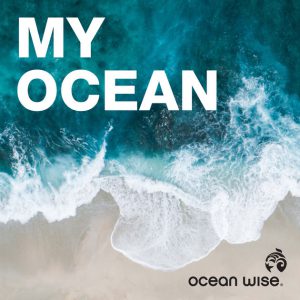 The League of Extraordinary Divers Podcast
Like the name suggests, The League of Extraordinary Divers features legends in the diving industry, past and present. Hear scuba diving stories of all kinds from industry pioneers and leaders, as well as advice on equipment, travel destinations, and more. Host Tec Clark is an expert in the world of diving and Director of Nova Southeastern University's Academic Diving Program in Fort Lauderdale, Florida. Regularly published episodes (~1 hour in length) can be found on Apple Podcasts and Stitcher.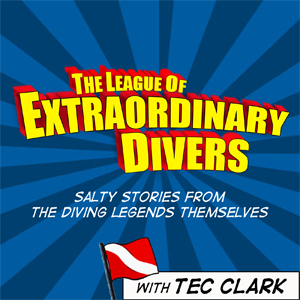 The BiG Scuba Podcast
Hosted by two UK-based friends, Ian Last and Gemma Kemp, The BiG Scuba Podcast offers easy listening with a relaxed non-technical approach to all things diving and ocean related. Weekly episodes bring listeners current dive news and information with what they call the added 'BiG twist'. They even have a full episode dedicated to PADI Women's Dive Day with guest co-host Cristina Zenato. Find The BiG Scuba Podcast on Apple Podcasts, YouTube, and Spotify.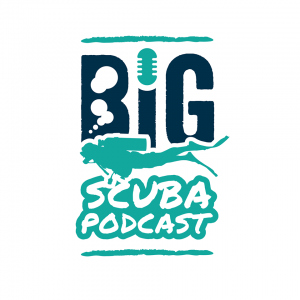 Ocean Science Radio
You'll definitely be entertained by the charismatic and quirky nature of Ocean Science Radio. Hosts Andrew Kornblatt (founder of the Online Ocean Symposium) and Victoria Vásquez (Scientist at the Pacific Shark Research Center) highlight the latest and greatest ocean science stories – sure to increase your knowledge of the underwater world and the animals that call it home. Find all of their 15 – 20 minute episodes on Apple Podcasts and SoundCloud.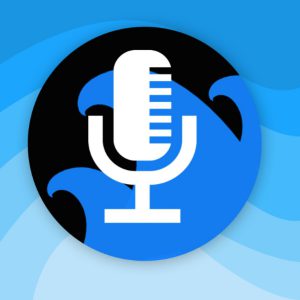 DeeperBlue Podcast
Weekly episodes of DeeperBlue Podcast share everything happening around the world… underwater. Episodes, approximately 30 minutes in length, explore a wide variety of topics including freediving and scuba diving news, equipment, travel, and conservation. Host Stephan Whelan, founder of DeeperBlue.com, and distinguished guests deliver honest and unvarnished commentaries which can be found in Apple Podcasts, Spotify, and Google Podcasts.
The Dive Line
This lighthearted and informative podcast covers a wide range of diving-focused topics including training, environmental issues, dive destinations and equipment. Hosts Jim and Craig, both experienced divers in their own way, bring unique perspectives to each episode as they interview experts in the field (including some PADI representatives). The Dive Line is a great dive industry resource – find it on Apple Podcasts, Google Podcasts, and YouTube.
Meet the Ocean
This fun-loving and educational podcast combines storytelling and marine science to share with listeners inspiring reasons why the ocean matters most. Paul North, host of Meet the Ocean, is also a polar expedition diver with Lindblad Expeditions/National Geographic – exploring the world's most remote underwater landscapes. Episodes published once or twice a month vary in style and length, and are great for kids and adults alike. Find it on Apple Podcasts, Stitcher, Google Podcasts, and Spotify.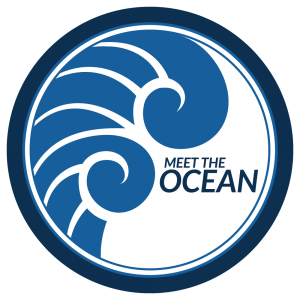 Ocean Allison Podcast
The goal of Ocean Allison Podcast is to highlight people creating positive change for the ocean in order to inspire listeners to care for our blue planet. Each ~30 minute episode includes a dynamic and in-depth conversation with an individual using whatever skills and knowledge they have to create a healthier ocean and planet. Guests include ocean scientists, conservationists, divers, artists, authors, photographers, technologists, and beyond. Hosted by Allison Albritton (yours truly) – Marine Biologist turned Ocean Communicator. Find nearly 70 episodes full of ocean optimism on Apple Podcasts, Google Podcasts, and SoundCloud.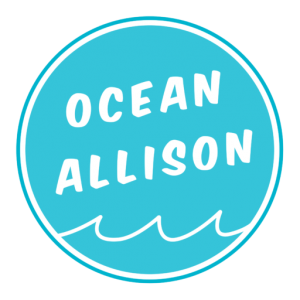 If you haven't already, visit the podcast app on your smart phone, or any of the links above, to join the global community of divers and ocean-lovers tuning in to connect with the ocean even while they're above sea level. Also, be sure to check out other ocean/diving related podcasts while exploring your podcast app – there's a whole lot of listening opportunities out there for fans of the big blue. In fact, comment below with other great podcasts you enjoy listening to that you'd like to share with fellow PADI divers.
Warning: Immersing yourself in the world of ocean-focused podcasts will increase your desire to explore and protect the underwater world. Visit your local PADI dive shop, PADI.com, or PADI Travel to help with any side affects. Happy listening and happy diving!