The 6th Annual PADI Women's Dive Day on Saturday, July 18th is focused on celebrating connections with each other and the ocean. While many events may look different this year, there are still plenty of unique and exciting celebrations within the global diving community to be a part of. Wherever you are in the world, and whatever your current situation, if you haven't yet, you can still make plans to participate in a Women's Dive Day event – either virtually online, or in your local area if regulations allow. In addition to a full 24 hours of Women's Dive Day posts, videos, stories, and live interactions on PADI social media channels, check out the events below to hopefully find one that's right for you.
Crystal Dive Koh Tao – Thailand (Virtual)
Female divers from around the globe are invited to Crystal Dive Koh Tao's virtual PADI Women's Dive Day event on July 18th, 2020. Join Platinum PADI Course Director Andrea Warren and other female divers involved in their Pro-Level training programs for a live Q & A webinar all about working as a PADI dive professional. All women with a free Zoom account are welcome, no matter your diving certification level. Find more details and sign up here.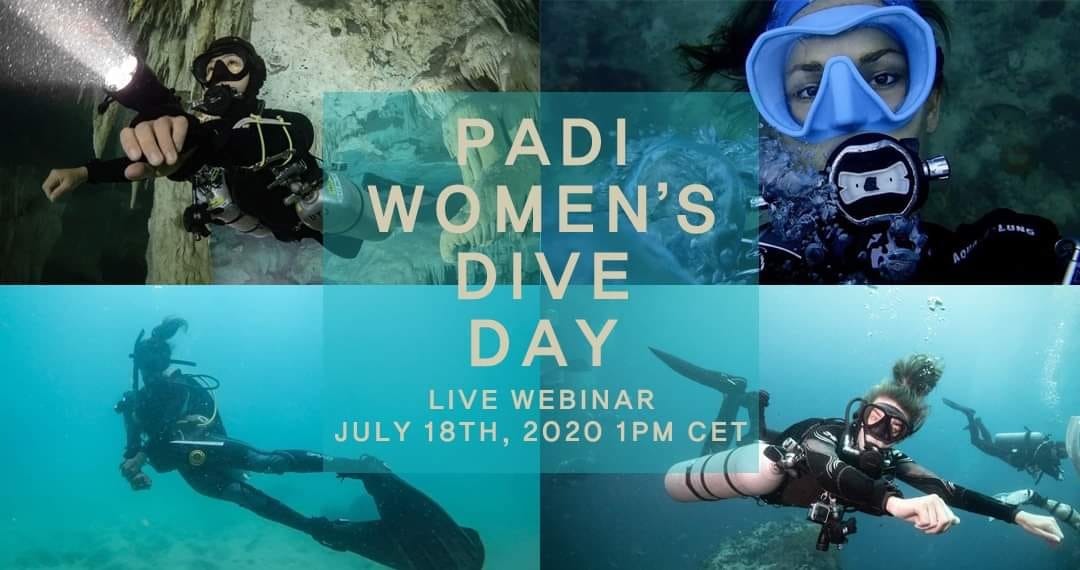 Curacao Diving Society – Curacao (Local)
All local Curacao women are invited to this unique event being put on by the Curacao Diving Society in cooperation with Ocean Encounters, The Diveshop in Curacao, Turtle&Ray Productions HD, and Bar 27 Curacao. Celebrate PADI Women's Dive Day on July 18th with an epic one tank boat dive followed by a free welcome drink to show the world how strong and caring the Curacao Dive Community is. Find more details and reserve your spot here.
Anthias Divers – Sharm El Sheikh, Egypt (Virtual)
To celebrate divers of all genders, ages, backgrounds, and experience levels, Anthias Divers is hosting a virtual quiz night on July 18th, 2020. This fun event invites divers and ocean-lovers in Egypt as well as from around the world to participate. Find more details and sign up here – space is limited.
Divetech – Grand Cayman (Local)
Women in the local Cayman Island diving community are invited to come together for an event like no other for PADI Women's Dive Day 2020. On July 18th, Divetech is hosting an event for the ladies of Grand Cayman to attempt to swim the distance around Grand Cayman (58 miles) underwater in scuba gear, in front of Lighthouse Point. All are invited to join in the fun, while raising money for the Cayman Islands Breast Cancer Foundation. There is no official start time, and Divetech has lots of outdoor space and benches to accommodate everyone staying socially distant from each other. Learn more and register (or donate from afar) here.
Lady G'Diver – Jamaica (Local)
Women in Jamaica are invited to celebrate PADI Women's Dive Day on July 17th & 18th with strong female leaders in the local diving community from Lady G'Diver and Alligator Head Foundation and Marine Lab. The line-up of events includes a coral restoration dive, a 'point and shoot' dive for either invasive lion fish or underwater photography, and a Discover Scuba class for those that are new to diving. Send them a direct message via Instagram to learn more and sign up here.
Patriot Scuba – Virginia, USA (Virtual)
Divers from around the world are invited to join Patriot Scuba for a free Women's Dive Day event like no other – a virtual wine tasting with Divemaster and Sommelier, Brian Smith. The event, on July 18th, will also include an exciting panel discussion from female leaders in the PADI diving community. Must be 21 and older to participate. Learn more and register here.
Pink Bubbles Divers – Jeddah, Saudi Arabia (Local)
PADI Ambassadiver and founder of Pink Bubbles Divers, Nouf Alosaimi, invites Saudi women to a unique event centered around the theme of sport on July 18th. The event includes two guided beach dives for certified divers, a group session on the beach with a professional fitness trainer with helpful activities to improve scuba diving performance, Discover Scuba Diving giveaways, and lunch. Local health and safety guidelines will be followed. Find the link to register on their Instagram here.
For those not in the Jeddah area — or those who are and want to get excited about the event — listen to a recent interview with Nouf on the latest episode of PADI's podcast, Dive Stories.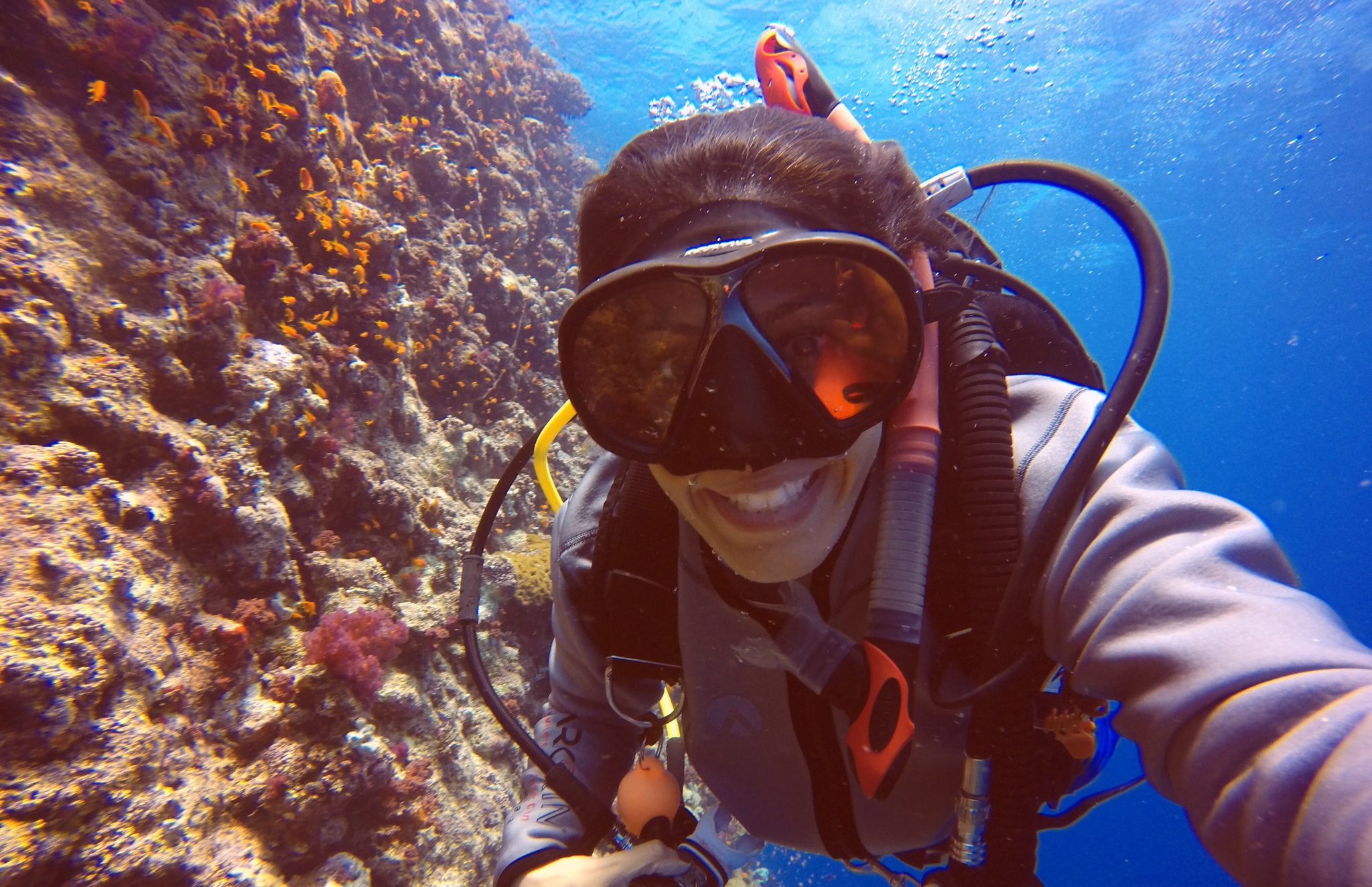 BB Divers Koh Chang – Thailand (Local)
To celebrate PADI Women's Dive Day, BB Divers Koh Chang is organizing a 'Women Against Trash' event for local females that want to seek adventure and save the ocean. Sign up for their daily snorkel or dive trip, and afterwards, certified divers will get to participate in a free dive cleanup, and snorkelers will get to participate in a beach cleanup in this beautiful region of Thailand. Find more details and sign up here.
History of Diving Museum – Florida Keys, USA (Virtual & Local)
The Power of the 'She' – this History of Diving Museum's Women's Dive Day event on July 18th, invites Keys locals to the museum for a socially distant scavenger hunt and night dive. They also invite divers from around the world to tune in to a live Zoom presentation given by Marine Archaeologist Laurel Seaborn. Learn more and register here.
Crystal Divers – Mauritius (Local)
On July 18th, Crystal Divers Mauritius is giving back to the ocean in celebration of PADI Women's Dive Day. All local female divers are invited to become torchbearers for the underwater world, by becoming certified Project AWARE Dive Against Debris Specialty Divers. A home-cooked lunch and cocktails will be served at the resort following the diving. Find more details and register here.
Trawangan Dive – Indonesia (Local)
This year the women from Trawangan Dive in the Gili Islands, decided to celebrate PADI Women's Dive Day in style with their unique 'trash-ion' outfits. Using the trash collected from Dive Against Debris dives and beach clean-ups, women from Trawangan Dive created a range of accessories and outfits from other people's waste. Furthermore, Trawangan Dive also hosted a 'Coral-athon' event which saw attendees receive an introduction to coral propagation as well as the opportunity to plant new baby corals. See the full clothing range on their Instagram here.