When you think about scuba dive locations, Austria and Switzerland probably aren't the countries that first spring to mind. However, we think you'll be surprised! Here's a list of the most beautiful dive sites in Austria and Switzerland's lakes and rivers to inspire your next diving holiday.
Austria
Weissensee Kärnten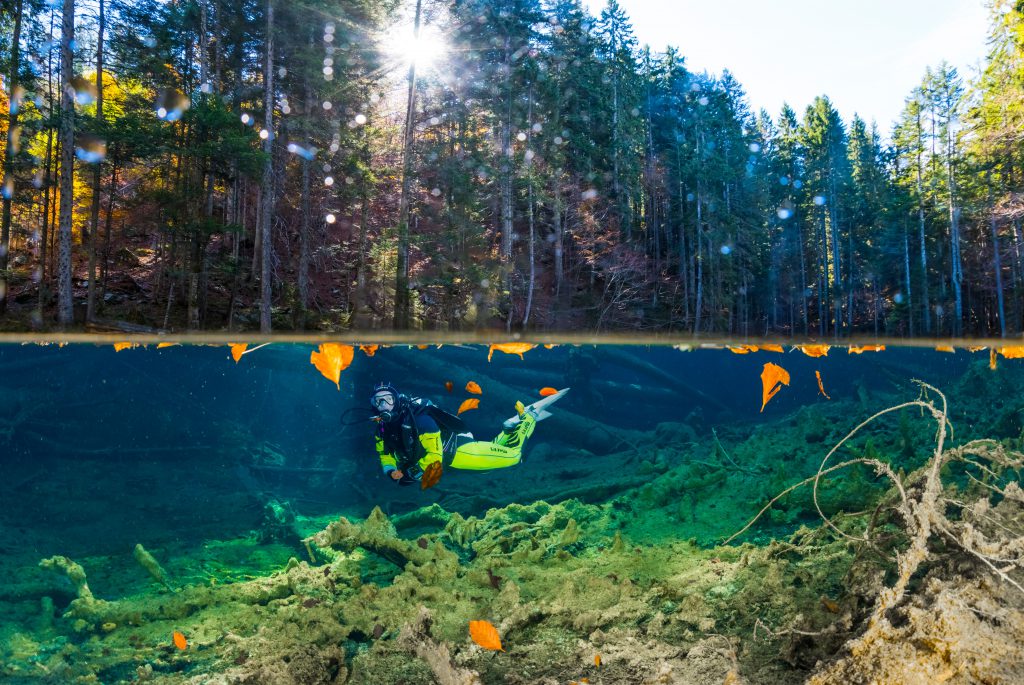 A lake in a nature park where ice diving is possible from December to February. A dive trip to Weissensee Kärnten would be an experience of nature both above and below the water. Submerge into visibility of around 10m+ and resurface to be surrounded by tall green trees.
Erlaufsee
With a sandy beach and depths up to 38m and 20m+ of visibility, this dive spot is a great summer getaway that attracts many daytrippers. Dive, hike, surf, sunbathe, and drink in the picturesque scenery of mountains and woodland.
Attersee
The largest lake in Austria! With a surface area of around 48 km2 and numerous dive zones, it's suitable for both beginner and advanced level scuba divers. Lake Attersee is regarded as one of Austria's most beautiful landscapes and would be a perfect, relaxing dive holiday.
Plansee
Not everyone gets the opportunity to dive into a crystal clear mountain lake in the alps. With depths of up to 84m in some places, this is a fascinating dive spot! Eels, trout, and crabs are regularly sighted and night dives are permitted. They have even sunk carriages and boats for divers to check out!
Wolfgangsee
As well as translucent waters to dive into, Lake Wolfang offers panoramic views to enjoy on your surface intervals. Considered to be one of the most beautiful lakes in the Alps and providing exciting and challenging dive zones, it's a perfect spot for advanced divers.
Find PADI Dive Shops in Austria
Switzerland
Verzasca
A river diving experience! There are three main dive sites along the river Verzasca, all quite shallow dives (less than 10m), but what they lack in depth, they make up for with clear water and rugged beauty both below and above the surface.
Rhein – alte Zollbrücke
Home to the Northern Pike, top predator around these parts, and an exciting encounter – if you're lucky enough to see one! With almost no current, this dive site is ideal for beginners. The river is also suitable for night dives where countless fish emerge from underwater canyons.
Thunersee – Fischbalme
Boasting depths of 217m, this vast alpine lake is one of Switzerland's most popular dive sites. While depth is possible; most divers stick to a maximum of around 20m where the light is best, and you can see many fish and various sunken artifacts.
Vierwaldstättersee – Beckenried
Translated to mean "lake of the four forested settlements". This lake is fourth-largest in the country and offers both boat and shore dives. The maximum depth is around 30m, but most divers stick around 12m. There's something here for everyone!
Neuenburgersee – plage Boudry
Lake diving that's suitable for beginners, where more advanced divers can search for sunken surprises, including a 2m long white shark at 40m deep. The ground is a combination of limestone, sand, and clay and is home to an abundance of plants and fish such as pike and crabs.
Find PADI Dive Shops in Switzerland
---
Live Webcast – Seek Adventure in Germany, Switzerland and Austria
Prepare yourself for a diving revelation! Join local PADI diving experts to discover everything you need to know about diving in the Germany, Switzerland and Austria. From dive gear and marine life, to top local dive sites and how to get certified – we've got the answers.
30th July 2020, 7pm (CEST)
---
Author Bio
S.J's journey into freediving began in Utila, Honduras in 2017. Since then she's been freediving in Canada, Dahab, Tenerife and the U.K and practices freediving for all dynamic and depth disciplines. Follow her freediving adventures on Instagram and for freediving, or water-related copywriting and marketing visit her website The Content Marketing Club.