Did you know that a portion of your PADI Diving Society membership supports Project AWARE Foundation? Plus, Society members are constantly active with conservation efforts. From small projects in their hometowns to larger projects during Society events – Society members support Project AWARE.
PADI Diving Society is more than a just a membership card. It's a dive lifestyle and a way for divers to do more and dive more. With more than 180,000 PADI Diving Society members worldwide, it's no surprise that Society members are out there taking action to protect their favorite dive sites.
PADI Diving Society Members give back to their local communities:
PADI Diving Society Member Russell "Russ" Lincoln (left) started diving seven years ago with his father who had been diving for more than 30 years. "I have been involved with Project AWARE throughmy local dive shop, East Coast Diving Supply in Northfield, New Jersey, USA. I also visit our local schools to talk about the Florida Manatee. My dad took me snorkeling when I was around seven years old with these magnificent animals and that's how I got started in diving – as they say the rest is history."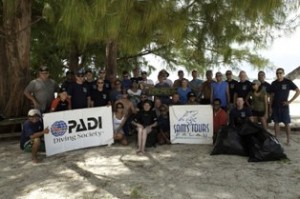 PADI Diving Society Members give back during Society Events:
During PADI Diving Society's Palau event in September 2010, Society members spent their last day on the island – giving back. PADI Five Star Dive Center Sam's Tours hosted a Project AWARE beach cleanup to support the International Cleanup Day. Society members spent the day cleaning trash from passing boats that had washed up on the shores of the uninhabited island Ngemelis.
Next year, PADI Diving Society will participate in a Coral Transplant Program during Society's Ocean Safari event in Borneo. Society members will have a hand in "planting" baby corals into a reef block that will then be transplanted to rehabilitation beds.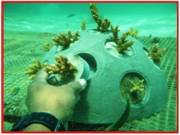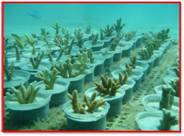 Photos Courtesy of Borneo Divers
When the coral stabilizes in growth, they will be eventually transplanted to areas with damaged corals and, organizers hope they will grow into healthy coral colonies.
PADI Diving Society is a community of people who share a passion for all things diving and that includes conserving our underwater environments. Leave a comment about how you're support the environment. And, don't forget to check out the Sea the Change Conservation Contest.
For more information on the PADI Diving Society or to join, contact your local PADI Dive Center or Resort or visit padidivingsociety.com.
Join Us. See Life.