Sunday saw the world's largest Dive Against Debris underwater cleanup take place in Phuket, Thailand, in support of Project AWARE's Dive Against Debris month of action. Go Eco Phuket saw over 500 divers and 200 volunteers unite to help make a positive difference to the underwater environment. Supported by the Thai Government, PADI Dive Shops, PADI Professionals, PADI divers as well as a vast range of volunteers, Go Eco Phuket was officially launched by Raywat Areerob, a member of the Thai Parliament.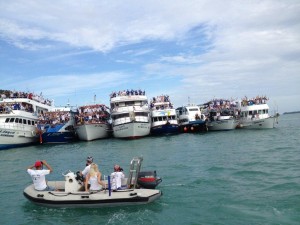 The day itself started off with 14 vessels, which were generously donated, setting off from Chalong Pier to kick off the clean up. What happened next highlighted the size and significance of the event. The 14 vessels were firstly joined by the Royal Thai Navy who supported the logistical efforts by supplying three war ships, Navy Seals, rescue divers and air support whilst divers safely removed the trash from our reefs! Before long even local finishing boats changed course to help out and remove debris.
At the end of the underwater cleanup, an incredible 15 TONS of debris was removed! An amazing effort by anyone's standard! The media also covered the event to raise awareness of the importance of caring for the environment as well highlighting the great work divers undertake as part of underwater cleanups. After the event, all the divers and volunteers enjoyed the after party where the famous Thai band 'Job To Do', kept the masses entertained long into the night.
Tony Andrews, PADI Regional Manager, did an amazing job organizing and bringing together the dive community for this significant event. The day would not have been a success without the support of Miss Kerry Leach and Mr Tee, who's support was recognized live on stage as they received a special Project AWARE awards.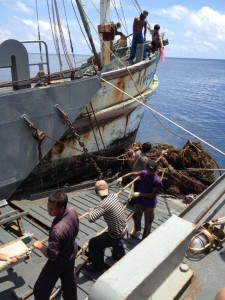 A special thanks must also go to the following PADI Dive Shops; Kamala Dive Centre, Jolly Roger, Sea Fun Divers, Scuba Cat Diving, Dive Asia, Kon-Tiki, Joy Dive, South Siam Divers, Chalong Sea Sport, Khao Lak Scuba Adventures, Thailand Divers, Scandinavian Divers as well as all the other PADI Dive Shops involved. A big thanks must also go to the following organizations and groups; BBAP, Hilton Hotels, Laguna Hotels, Skal, Ferang Food Paradise, Phuket Gazette, Phuket 91.5FM, Rumble Fish Adventures, Davinci, Reef Check, Molly Malone's, Phuket Art, Phuket Beer, Chang, Kata Group, Ric "N" Roll Adventures, Legend of Sound, and Job To Do.
Without a doubt the biggest thanks must go to the 700+ divers and volunteers that took part in the Go Eco Phuket event! The underwater environment is now 15 TONS of debris better off, as well as the extra media attention which was raised form the event.
Everyone involved is now looking forward to future events!
Want to know more about Phuket and Thailand? You can locate a PADI Dive Shop in Phuket or find out about diving in Thailand here.