Cave diving: A hidden world awaits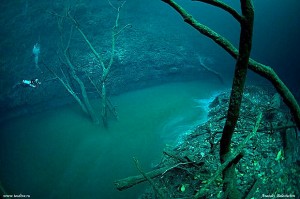 Much like entering a secret world hidden away from the masses, cave diving allows you to view underwater landscapes you may never see elsewhere, as well as the amazing creatures or plant life that might live in there. With thousands of cave dive sites around the world, you can find options almost anywhere you travel. Here are five legendary locations to put on your dive bucket list:
Great Blue Hole, Belize – The 300-meter/984-foot circle in Belize's Lighthouse Reef appears like an eye peering out of the turquoise waters, but really it's an underwater sinkhole where a variety of caves and caverns can be found. Not surprisingly, the Great Blue Hole is one of 10 top scuba diving sites in the world, according to Jacques-Yves Cousteau.
Devil's Eye, Florida-United States – With more than 30,000 feet (9,144 meters) of mapped passageways, the Devil's Eye cave system provides plenty of opportunity to explore. The system is so large, there are parts of it that have yet to be mapped. While you won't be the only diver at this popular site, its resort location provides plenty of amenities, like warm showers before dives
Chinhoyi, Zimbabwe – The warm, dark blue waters of the Chinhoyi caves of Zimbabwe allow for impressive year-round cave dives. The serenity you'll find in these caves is only made more magical by the history and folklore surrounding them.
Sistema Sac Aktun, Mexico – The Yucatán Peninsula has many cave dive locations, but the Sistema Sac Aktun system is considered by many to be the best of the best. Off the coast of the ancient city of Tulum, the caverns reward those who venture here with very detailed cave decorations sure to be camera-worthy.
Nereo Cave, Italy – Named after the mythological figure Nereus, or Old Man of the Sea, the biggest marine cave in the Mediterranean Sea offers beautiful arches and tunnels begging to be explored. The warm waters of Sardinian are a welcome start as you glide through the structure, viewing red coral and yellow leptosamnia along the way.
What underwater caves have you visited? Which should be added to this list? We'd love to hear your stories.   Not dived a cave before but on your bucket list?  Check out PADIs Cavern diver course and/or Sidemount course as preparation for cave training. While PADI doesn't offer a cave diving specialty, your instructor may have the PADI TecRec Distinctive Specialty called Tec Cave.
[googleplusauthor]