Suffering a major injury can be devastating. Not only does the injury affect a person's physical well-being, but their mental health as well. While there are numerous therapies depending on the type of injury, more people are learning of the many benefits scuba diving may provide for those who suffer from a range of injuries.
Scuba diving provides a unique environment with many therapeutic characteristics that simply can't be replicated on land. First, the weightlessness of being underwater may relieve physical pain and may help patients exercise in a more comfortable manner. Mental and emotional benefits abound also – it's a place where patients may be able to focus, be more in control and feel a sense of achievement.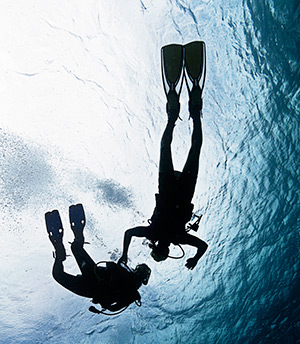 Scuba diving is also beneficial from a social perspective. Too often, people with major injuries may isolate themselves as they deal with new challenges. It may be difficult to socialize with loved ones and in society, especially at first. Scuba diving is always done with a "buddy" – an instructor or therapist, and sometimes even in groups. This encourages communication and bonding with others.
Whether a person was injured in an accident, as the result of disease, or is a veteran of war, scuba diving may help – and studies may point to this. PADI provided scuba diving expertise and a variety of resources to help conduct a six-week study, commissioned by the Cody Unser First Step Foundation in partnership with Johns Hopkins University School of Medicine and the International Center for Spinal Cord Injury at the Kennedy Krieger Institute.
Ten paralyzed veterans were selected for the trial which was completed in the Cayman Islands in 2011. PADI provided each veteran and also the researchers with PADI Open Water Diver courses. Eight veterans completed the program; improvement averages include:
15 percent drop in muscle spasticity
10 percent increase in light touch sensitivity
5 percent jump in sensitivity to pinprick
If you or a loved one has suffered from a major, life-changing injury, scuba diving therapy may help in some situations. Importantly, talk with your doctor and therapists about your interest to see if this type of therapy is right for you.
More information about the Cody Unser First Step Foundation.
Locate your local PADI Dive Shop.