Malaysian Borneo
Malaysian Borneo on the east is bordered by Indonesia, and is world renowned for its unbelievable diving that will astound even the most ardent diver. Divers flock to the Sabah province to encounter remarkable marine diversity in combination with a magnitude of distinct diving experiences. Muck diving with rare and unusual sea critters is a stand out attraction, along with several dive sites that entice large schools of Manta Rays, Hammerhead Sharks and other pelagic's.
A trip to friendly Malaysian Borneo wouldn't be complete without donning your fins and dipping your toes into the warm water to tick one of these dive experiences off your bucket list.
Muck Diving on Mabul and Kapalai Island's
Enter into a world of the unusual when you begin to explore the sandy bottoms of Mabul Island, just a short boat ride from Sipadan. If you follow your curiosity when diving in Mabul you will be rewarded with glimpses of exciting aquatic delights. Discover the chameleon like cuttlefish, or many of the other unique and rare species that inhabit these waters. The Giant Frog Fish, mimic octopus, the rare ornate ghost pipefish and a wide range of nudibranch are just some of the tantalising marine life you can find.
The macro diving continues at Kapalai Island, where a sloping reef roughly 15m deep is home to an astonishing range of crazy critters. The beautiful Mandarin fish can be spotted here, along with an assortment of invertebrates and the Flying Gurnard which incredibly resembles a peacock underwater.
Discover Sipadan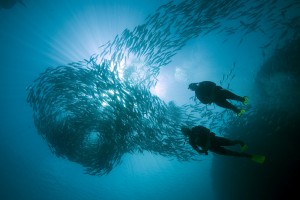 Any experience in Sipadan is a worthy addition to your bucket list. Sipadan is a premier dive location and high on most divers list of must-dive locations in the world. You might soon become sick of the sight of turtles as their abundance is rivalled only by the dense schools of fish that frequent the area. Fish stream through these waters much like Malaysian's drive in Kuala Lumpur, fast and all over the place! Barracuda and big-eye trevally gather in awe-inspiring formations, whilst both eagle and manta rays glide graciously through the strong currents. An immeasurable range of sharks can be seen to emerge from vantage points around the steep wall drop off. Schools of scalloped hammerheads, grey reef sharks and white tips are just some of the large variety of shark species that divers have encountered. In short Sipadan is a divers dream.
Cultural Semporna
Located on the east coast of Sabah, Semporna is home to the Bajau Laut ethnic community, or sea gypsies, who live in stilt villages sprawled along the coastline. Semporna is however more commonly used as a stepping stone to the numerous exotic diving prospects in the surrounding waters, including Mataking Island and Siamil Island. Both these islands are diving fantasies come to life. Picture powdery soft sand and magically translucent water that host unfathomable biodiversity. The islands are found in the Alice Channel, a large ocean shaft that connects to Sipadan, with the resulting diving topography almost as diverse as the marine life that pass through these waters. Expect an onslaught of pelagics, macro life, diverse coral landscapes and swarms of schooling fish. With over 1000 dive sites easily accessible from Semporna you will be sure to find the perfect mix of everything that appeases your diving interests.
Locate a PADI Dive Shop to dive around the Mabul, Sipadan & Semporna regions
Miri
Serving as a major transport hub, Miri gets a lot of foot traffic, however, make sure you take some time out to spend exploring the incredible diving opportunities that are available here.  Despite its status as an oil town, the coral life found within the Miri-Sibuti National Park is astonishing. Think elephant's ear sponges, bubble corals, giant anemones, dead man's fingers, anchor corals and gorgonian fans that are 2-3 metres in size. Underwater photographers will think they have entered a new realm with so many picturesque sites to explore.
Visit the turtle sanctuary near Kuching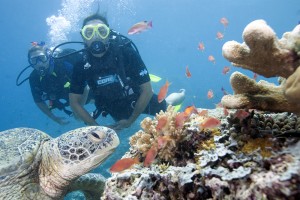 Bypass small fishing villages and mangroves as you head out from Kuching to the nearby Satang Island in the South China Sea. The island – along with two others – have been specifically labelled a conservation ground for Green and Hawksbill turtles. Here you can learn about the conservation efforts and visit the hatchery area. The surrounding water is brimming with various communities of marine species and a variety of hard and soft corals to enthral both the snorkeler and diver.
Heading back towards Kuching experienced wreck divers will find artificial reef wrecks, commercial ships as well as the historical wrecks of WWII Japanese ships. Navigating these dive sites will only prove a challenge when you have to fight off the swarms of batfish, barracuda, snapper, and fusiliers that share these waters.
Combine authentic Malaysian cuisine and incredible diving in Kota Kinabalu
As the capital of the Sabah province, Kota Kinabalu is a thriving metropolis and set against the backdrop of the impressive Mount Kinabalu. With over 30 ethnic groups that call 'KK' home, it's no wonder that the cuisines available will excite and entice. Don't miss the night market, a hawker's centre that showcases every herb and spice in the Malay repertoire.
For diving delights, a 15-20 minute speedboat ride will land you awestruck amidst the Tunku Abdul Rahman Park, comprised of five glorious islands. The dive sites and marine life found in these sumptuous waters are distinctively beautiful and diving here presents yet another occasion to come face to face with some of the most varied and exotic marine life in the world. The fringing reefs off these islands provide home to an assortment of worms, sponges, crustaceans, and molluscs. As well you can also discover the full range of Echinoderms – sea stars, brittle stars, sea urchins, sea cucumbers and feather stars. Other notable dive sites include Edgell Patches and Mayne Rock where you can dive next to an array of large white boulders adorned with colourful coral and watch the varied procession of fish as they swim past.
Locate a PADI Dive Shop to dive around the Kota Kinabalu, Miri & Kuching regions.
Not a diver yet, looking to continue your dive education, want to GoPRO, or just keen to jump in the ocean and explore? Malaysia has you covered, no matter which side of the country you're heading to.
Escape, Explore Experience all that Malaysia has to offer.
Log on to ScubaEarth to learn more, or Locate a PADI Dive Shop today.