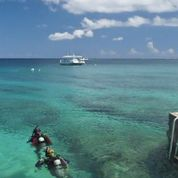 In 2002, my then-boyfriend and I accompanied my parents down to Grand Cayman for what I now affectionately call a "make it or break it" trip. After a few days of soaking in the warm breezes, crystal clear water and relaxing island vibe — along with a Discover Scuba® dive — Cayman turned out to be the place we fell in love. Me and my now husband, that is. Not my parents. I already loved them.
Now, 12 years later, I get to head back to the source of true love with PADI Diving Society for the 15th anniversary of Total Submersion at Sunset House from 14 to 21 June 2014. There's so much I'm looking forward to that I think I'm going to burst. Here's what's in store:
Diving every day.
A visit to the infamous underwater mermaid statue (although I'm not really sure why it's infamous).
Attendance at numerous parties.
A search for treasure (in the form of a duck, whatever that means).
Rescue diver skills practice (plus the chance to learn some new techniques).
Turtle releases (how cool is that!).
A beautiful catamaran cruise.
Equipment demos from Aqua Lung.
I'm not exactly what you'd call a gear nut, but I have to admit I'm really looking forward to the Aqua Lung action. They're sponsoring Total Sub this year and are bringing equipment from their new women's line called Details as well as their lightweight travel line. I won't hog the gear all week, I promise! You'll not only get to see, feel and use the equipment, you can check out some of their seminars throughout the week on maintaining your scuba equipment and efficiently packing your gear for travel.
Who knows? With all the activities and equipment I just might fall in love all over again! Sorry Jeremy…