Known as the green heart of Borneo, Brunei is fast becoming also known for its stunning blue seas and underwater treasures! A truly unspoilt gem, Brunei recently hosted its first PADI Instructor Exam with fantastic results! From the 15-16th of February this year, 11 candidates partook in both written exams and confined water evaluations conducted by PADI Instructor Examiner, Rommy Cheung, who flew in specifically from Hong Kong to direct the program.
Beginning with the written exams and confined water evaluations, which were held at the Mentiri Civil Service Centre in Brunei, candidates then travelled by speedboat to Pelong Rock Island to complete the Open Water presentations. Pelong Rock is well known for its great reef diving, offering varied coral formations to explore and various Japanese shipwrecks can be found around the island.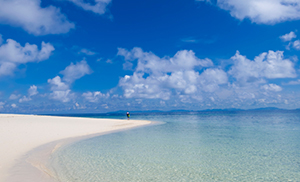 With all 11 candidates successfully certified, the program was a huge success and was followed with a dinner and award ceremony hosted by PADI Dive Centre, Poni Divers and Seamonkey Dive Centre Malaysia – a PADI 5 Star Instructor Development Centre. In attendance were Brunei government officials, including Guest of Honour, YB Pehin Yahya, Minister of Industry & Primary Resources, Haji Halidi, Acting Director of the Fisheries Department, Faten Shahrani, Project Officer at Brunei Tourism and Major Rudy Halyarmin, Ministry of Defence.
Among the 11 participants were Afiq Whalid and Suhaimi HJ Taja, who are now officially the first locally-certified Bruneian PADI Instructors. Afiq was overwhelmed by the support of PADI, Poni Divers and Sea Monkey Malaysia for making this dream a reality, "It was an unforgettable experience, and I'm proud to be one of the first Bruneian's to do an IE here in Brunei." Maclen Torres will also be the first Philippine national certified as PADI Instructor in Brunei. Thanks must also be given to Oceanic Quest Company, the first Brunei PADI Five Star Instructor Development Centre, that partook in the PADI Instructor Exam in Brunei.
PADI Courses Directors Arnold Yap and Thien X Do should be congratulated for their efforts and contribution to making the first PADI Instructor Exam in Brunei a triumphant achievement. "I feel honoured being the first PADI Course Director to conduct the first ever IDC in the Sultanate", said Yap. "The local Bruneian's certainly made us all very welcome and have shown us excellent hospitality throughout the entire IDC and IE. Having created history by conducting the first IDC in Brunei, we are now planning about 2-3 Instructor IDC's in Brunei every year as the diving industry becomes more and more popular amongst locals. The dive sites are great with the main attraction being the ample wrecks in the local waters, and I am looking forward to coming back towards the end of the year to conduct another IDC here."
With 4500 hectares of coral reef and coastline Brunei is a true oasis for diving. From wreck diving to shark sightings, sheer underwater cliffs, oil rig dives and a vast and varied array of corals, Brunei has something for every diver. The water is warm, the marine life tantalising and the abundant wrecks shrouded with enough mystery to tweak any curious soul. Brunei is one off the beaten track destination to add to your dive list.
Find out more about becoming a PADI Instructor.  
Find out more about diving in Brunei – locate a PADI Dive Shop in Brunei.