Earlier this year, Richard Masin completed the PADI Divemaster Course in Thailand with PADI Instructor Billy Reuter at PADI Resort, A-One-Diving in Ranong.
Well, you might ask "What's the fuss about – he's not alone in that".
Richard who hails from the USA happened to be 69 years old when he became a PADI Divemaster in May.
After hearing of Richard's achievement, PADI was keen to find out a bit more about the mature PADI Professional and he kindly agreed to answer a few questions. Read what Richard has to say and what motivated him on his path to become a PADI Divemaster.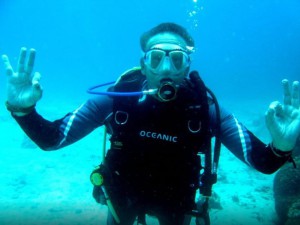 Where are you from?
I was born and raised in New Jersey but have lived all around the United States.
How long have you been diving?
I have been diving since 2005. The first few years after I was certified as a PADI Open Water and Advanced diver, I was doing approximately 20 to 50 dives per year. The past 5 or 6 years I have been doing about 150 dives per year.
Were you on holiday in Thailand when you completed the PADI Divemaster course?
Since 2009, I have been splitting my time between Thailand and the USA, living in each area about 6 months each year.
What made you choose to be a PADI Divemaster?
When I decided to do my PADI Divemaster course, I had done over 1000 dives. Most of the people I was diving with were Divemasters or Instructors. I felt after 1000 dives I was a competent and educated diver but listening to my fellow divers discuss certain dive related issues, I realised there was significantly more to learn. Much of what I learned in my open water and advanced courses had become cloudy. I felt to become a more complete and responsible diver, I needed further education, both academic and practical. The PADI Divemaster training offered me the opportunity to increase my knowledge and skills as a diver, in short, make me a better and more complete diver.  Also the demands of completing the course, which include several taxing physical tests, was a satisfying, personal challenge at my advanced age (3 months shy of 70).
Were there some highlights for you during the Divemaster course?
It is difficult to pinpoint specific highlights. I particularly enjoyed learning at a more advanced level the physics and the chemistry of the diving environment. The scenario training attached a practical aspect to the theoretical part of the course. Both the 'search and rescue' and the 'exchange of gear' tasks, I found to be highly useful and essential skills divers should be able to utilize at a moment's notice. My PADI Instructors, Billy Reuter and Anssi Vojaganto were exceptional in creating the various scenarios, imaginative and patient in teaching the skills required with just the right amount of humour to make each and every task enjoyable regardless of the physical demands. Both of them need to be commended on their professionalism and teaching skills.
How does it feel to be a PADI Divemaster?
In addition to feeling a certain amount of pride in accomplishing this status, I also have a new-found confidence in my overall ability as a diver. I have a better understanding of the environment, the effects on my body and the skills necessary to be a safe, competent and responsible diver. Without a doubt, I am a much more accomplished diver as a result of taking the PADI Divemaster course.
What are your diving plans for the future?
Over the years I have dived in several beautiful locations, including; Thailand (Koh Similans, Koh Tao), Burma, Bali, Komodo, Roatan, Utila, Cozumel and Maui. I plan on going to several more outstanding locations around the world. Diving has and continues to take me to some of the most beautiful and interesting areas on our planet. I consider this as one of the bonuses of being a diver; traveling to remote and interesting sites all around the world.
In conclusion, I would like to express my appreciation to PADI for putting this course and curriculum together as well as the individual PADI personnel I had particular contact with.  The experience and training provided has been both rewarding and useful. I would highly recommend it to any and all divers who wish to improve their skills and knowledge as a diver.
PADI Instructor, Billy Reuter added
"Congratulations Richard for completing your PADI Divemaster course, you showed patience and perseverance throughout your training and always brought a positive attitude and a good sense of humour to the training sessions. I wish you all the best in the future as a PADI Professional. Job well done! "
At PADI, we also commend your achievements in becoming a PADI Divemaster.  Keep up the great work, Richard!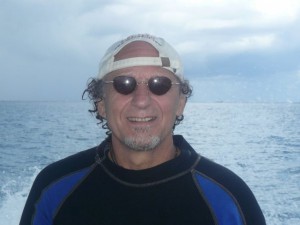 Check out our latest video about being a PADI Professional. Go Pro with PADI and live the dream!
If you have ever thought about becoming a PADI Divemaster or PADI Instructor, this video gives you an insight of what you can expect.
You can even start online with a range of PADI courses including professional level courses at padi.com/elearning.