This is a special edition in PADI's "Women in Diving" series and follows a historic weekend for female divers around the world. More than 330 events were scheduled for PADI Women's Dive Day on 18 July 2015, representing over 60 countries, and all seven continents. Several events featured guest speakers, who discussed their past contributions to the sport of diving.
At only 13-years-old, the first PADI AmbassaDiver℠, Charlotte Burns, is already inspiring others to consider a career in scuba diving. She was also confirmed by PADI, as achieving her PADI Junior Master Scuba Diver rating two days following her 12th birthday, one of the shortest amounts of time, as of November 2013, for a student to qualify for and achieve that level. Since then, she has completed over 25 PADI certifications.
After a busy week of interviews with the British Broadcasting Corporation and other news outlets, Charlotte took time to give a presentation at a Women's Dive Day event at PADI Five Star Instructor Development Center Andark Diving, located in Southampton, Hampshire, England. As part of the event, Charlotte Burns was also announced as the first PADI AmbassaDiver℠. The goal of the AmbassaDiver program is to highlight influential and extraordinary divers of all ethnicities, ages and genders who are making a difference in the sport of scuba diving, freediving and aquatic conservation and preservation.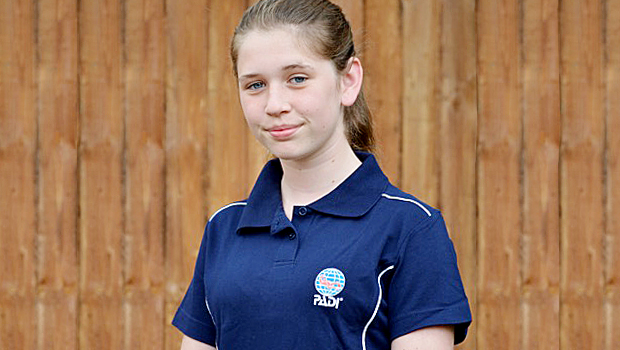 Charlotte took a surface interval from her scuba-filled schedule to share her passion for diving, her plans for an upcoming expedition to Iceland, and her perspective on being the first PADI AmbassaDiver.
What inspired you to try scuba diving, and how has getting your PADI certifications changed your life and career path?
Part of my PADI story was started by a bit of sibling rivalry. When he was 14, my brother Will became the world's most qualified Junior Master Scuba Diver at the time and received an award that was presented by Jean-Michel Cousteau. I saw the certificate on his bedroom wall, and it really inspired me to start diving. When my brother had an interview once, he couldn't put diving into words and just said it was an "amazing feeling", and I wanted to experience it for myself.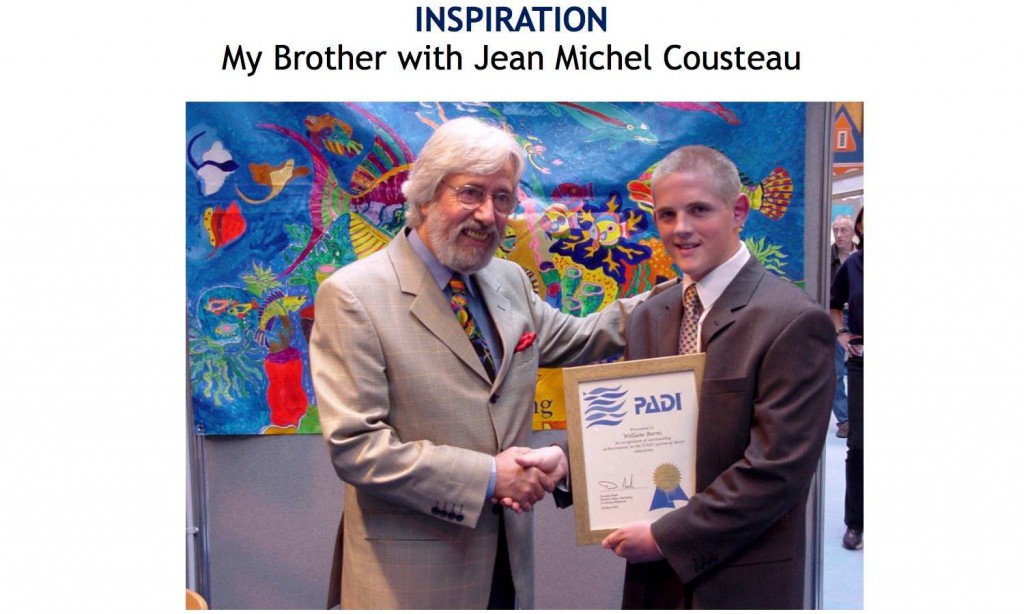 If you had to describe diving in just three words, what would they be?
"Magical"
"Awe-inspiring"
"WOW!"
Interestingly, you were reportedly the youngest PADI Junior Master Scuba Diver at age 12 and learned some of your scuba skills by one of the world's oldest scuba divers, Ray Woolley who was 90. How was that experience, and do you have any other role models who have inspired you?
I completed my PADI Jr. Master Scuba Diver certification in Cyprus two days after my 12th birthday, and a local dive club heard about my story. They introduced me to Ray Woolley, who dived to 90-feet on his 90th birthday on the Zenobia wreck in Cyprus. Also, I've been very inspired by Jean-Michel Cousteau, Sylvia Earle, and Monty Hall who I had heard about in dive shows and seen on television. My father bought me a book by Dr. Earle called Dive: My Adventure in the Deep Frontier, which I found amazing and think could be inspiring to others. I'm really excited to work with Monty Hall on the upcoming film.
In just a few years, you have earned quite a few PADI specialties and certifications, ranging from a PADI Dry Suit Diver course in Britain to a Drift Diving specialty in Barbados. What has been your favorite course, and why? What is your ultimate goal in terms of PADI certifications?
I've done 25 PADI certifications all together. My favorite was the PADI Rescue Diver. It's hard work, but it also lets you learn about first aid and safety. I've actually used it in school, in a real-life scenario. When a girl passed out at school once, I helped stabilize her and place her in a recovery position until the ambulance came, which took over an hour.
I'm looking forward to turning 15, so that I can take my PADI Deep Diver course and becoming a PADI Divemaster when I'm 18. Eventually, I would like to be a PADI Instructor because I want to teach others, look after new divers, and help them come to terms with their new abilities. Diving is kind of like having a superpower, being able to dive underwater. It's amazing and sharing scuba diving is like giving someone the opportunity to see things they never would have seen.
What excites you most about your expedition to the Silfra Crack in Iceland?* What do you hope to teach the public about this extraordinary place and tectonic plates, in general?
*Since the time this article was published, Charlotte's exemption to the age requirement for diving Silfra has been questioned. This could affect whether the expedition takes place, as planned. 
After diving in some murky lakes and conditions in the south of England, I'm excited to dive Silfra because it's really clear, like drinking water. I want to dive in something as amazing and unique as that. Also, it's created from a glacier and is between the tectonic plates of Eurasia and North America. Being able to be the youngest person to dive and bridge that gap, essentially touching both continents at once, would be an amazing experience. I feel fortunate that an exception has been made by the government of Iceland to the age limits to allow this expedition and am thankful to PADI for acting as a main sponsor. Being able to teach others how tectonic plates work and how things like islands are formed is an important part of the Silfra project.
I hope the film teaches children about geology and diving in a modern way. The film I saw as kid was outdated and did not connect to us. We have a chance to change that.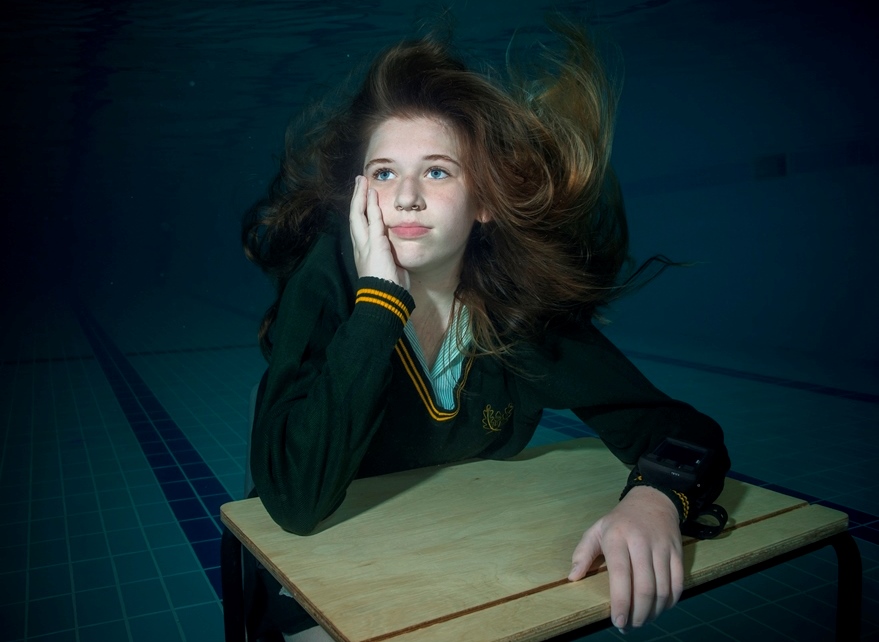 It sounds like your family has been very supportive of your scuba diving. How do we address any barriers that children may face with parents regarding their decision to try diving or pursue it as a career?
My dad is an ex-Commander and has accomplished a lot of things, so he believes in learning through experience. He says, "Life is like an apple orchard. You walk through and pick experiences, like apples, until you have a full basket of experiences."
My mom was quite scared, on the other hand. When my dad got pneumonia and could not dive, I talked her into getting certified, and now she is an advanced diver who is more comfortable with my diving and more confident in her own. I loved her reaction after her first open water dive. My mom came out awestruck because she was able to see things like never before and from a new perspective. We have fun diving together, and I've learned so many things like safety, self-confidence, and special skills. Diving helps me in my everyday life by giving me exposure to different people and the ability to speak confidently about scuba diving and other subjects to others. I think sharing diving is very positive and powerful and brings the family closer together.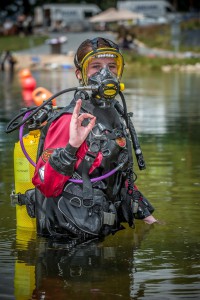 What did you do for PADI Women's Dive Day on 18 July 2015? How do you think we can get more youth, girls and women involved in scuba diving, science and underwater exploration?
On the 18 July 2015, I attended the PADI Women's Dive Day at Andark Diving and shared my story of becoming a PADI Junior Master Scuba Diver. I hope to be able to inspire the youth to consider scuba diving. I've been fortunate to experience a lot already and want to share that option and opportunity with others. I think diving should be more available to girls and women, in schools and in cases where people can try diving, when they might not be able to afford it. I also want to give something back and help disabled people experience diving and change people's perspective on how they view disabled people.
I have also worked with a charity called Deptherapy to help seriously injured UK armed service people. I've learned that many people with physical challenges are able to dive. This has given me a boost, especially when I see them doing it without being judged or helped. I experienced some judgement and doubt due to my age, so I relate to them in a way.
I think we should have more magazines showing women diving and being empowered and independent and families enjoying the sport together. I want people to be aware that scuba diving is not just a man's sport. There is some heavy equipment, but it doesn't mean that only men can do it, and it's getting better and more suitable to girls and women.
I have a six-year-old sister, and she is already asking to try out my regulator in the bathtub with her toy sharks and fishes. She's too young to use the equipment, but she has fun pretending and exploring!
What is your ultimate goal as a diver? If you could be remembered for one thing or contribution, what would it be?
I'm really interested in medical stuff and engineering. I could be a dive doctor or help with creating new equipment to revolutionize diving. Finding a way to cure something interests me. Right now, I think dive equipment is safe and suffices, but I think we could make the gear more comfortable or more customizable in terms of size, biological differences, etc. Instead of different sizes, maybe we could have more types. Things that can make you freer to dive and explore.
I remember when I did my PADI Open Water Diver course, I did mine online. I think more people are getting accustomed to learning on a tablet or computer. It's more convenient and it's been helpful having more resources online to help me and other divers.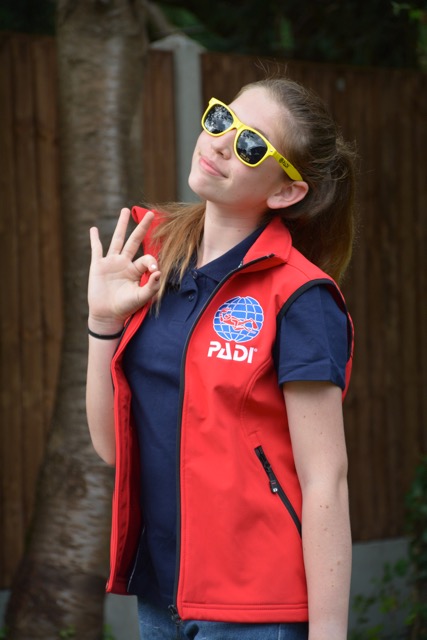 What does being a PADI AmbassaDiver mean to you?
The day I became a PADI AmbassaDiver was the biggest, best and most proud day of my life. I want to show that girls and women can be ambassadors for male-dominated sports or industries, like diving. I just enjoy sharing and introducing the sport across different age groups, genders, etc. I think having have a young girl shows that anyone can do it, regardless of age or gender.
The fact that PADI introduced me to diving makes me feel like I want to give something back to the dive industry altogether. If I didn't have diving, I would be bored with little to do. I feel that diving has opened up a whole new world and the underwater realm to me.
I think PADI is opening up diving to a whole new generation of people. There are many different types of organizations, but I think PADI makes it accessible and convenient to learn to dive. It gives you a club atmosphere and access to things like PADI events, dive opportunities, and resources.
"I'm just a 13 year old girl from England. If I can do it, anyone else can do it. No, let me correct that, if I can do it, everyone can do it!
To learn more about Charlotte Burns, follow her on Facebook and visit her website. You can also learn more about her accomplishments and upcoming expedition from her recent interviews with BBC and others.
(Cover photo used courtesy of Terry Scott)