Giant Pacific Manta and Diver by David Valencia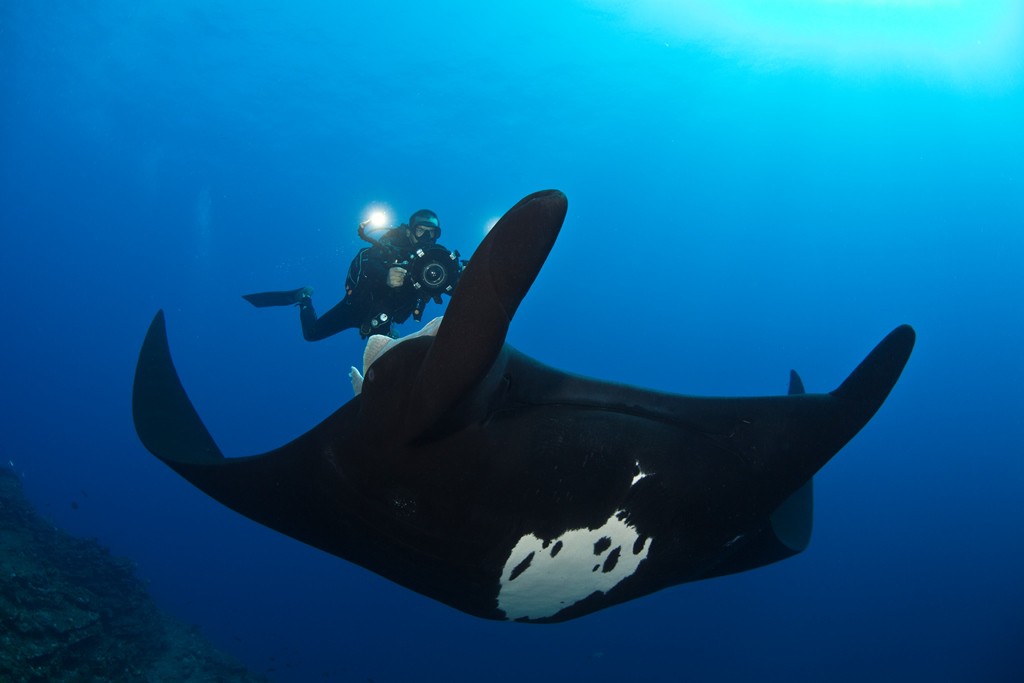 "Giant Pacific Mantas are graceful in every turn. It's no wonder divers fly all over the world to see these gentle giants. However, mantas are listed as Vulnerable by the IUCN (International Union for Conservation of Nature) Red List of Threatened Species. In certain parts of the world, these mantas are becoming increasingly rare as they face persistent fishing pressure.
In Mexico's Socorro Islands, located some 250 miles SE of Cabo San Lucas, interactions with mantas are magnificent. It's not just the sighting of mantas that can make dives with them special, but also the type of interaction. To the delight of divers, mantas enjoy bubbles on their bellies and they will soak up the bubbles as long as there are divers.  It's an amazing sight to see and it also provides divers with a unique insight into their behavior. During this dive while we were playing with the mantas, my dive buddy, Adil, happened to be filming as a black manta slowly squeezed between us. The large manta (approx. 5 meters/16 feet from wingtip to wingtip) was gliding over me to get to my bubbles.  As the manta soaked up the bubbles, I could look into its eye and see it processing our interaction.  This occurred non-stop for the entirety of our dive." – David Valencia
David Valencia recounts his incredible encounter with the giant Pacific manta in the remote waters of Socorro. But mantas are also found in tropical and subtropical waters around the world, making diving with this majestic creature more accessible than you may think. If you dream of sharing your scuba bubbles with a manta ray, diving the right place at the right time of year will certainly help increase the chances of making your dream a reality.
Explore a few of the top locations to mingle with one (or many) of these incredible animals.
Isla San Benedicto, Mexico
Firmly located in liveaboard territory where David Valencia snapped this remarkable photo, Isla San Benedicto is one of four of the Socorro Islands off the west coast of Mexico in the eastern Pacific Ocean.  These volcanic islands, particularly San Benedicto, are world-renowned for the up-close and personal encounters divers experience with the giant Pacific manta ray. November to early January and most of April and May are ideal times to come face-to-face with these gentle giants.
With close to 18,000 islands, the world's largest archipelago offers a number of dive sites to swim with manta rays (not to mention more than 600 coral and 3000 fish species).  Here are a few you may want to explore: Manta Bay, located just off Nusa Penida, Bali features a number of cleaning stations;  Manta Alley or Makassar Point in Komodo National Park where it's not unusual to see 20 or more; and Manta Sandy in northern Raja Ampat.
Garden Eel Cove, Kona, Hawaii, USA
The Big Island of Hawaii offers a unique experience to get up close and personal with mantas as they feed in the plankton-rich waters.  Home to mantas year-round, you can plan your trip to Kona any time of year.  But for an unrivaled manta interaction, plan your dive for nighttime when dive lights attract plankton, bringing mantas right to you for a personal encounter you won't soon forget.
Mantas frequent the waters off this tiny island at the southernmost tip of the Great Barrier Reef.  Only 45 hectares (110 acres), this island sanctuary boats a single eco resort, an airstrip, a PADI Dive Center, and over 1,200 species of marine life.  Lady Elliott Island is known for its abundance of manta rays, turtles, array of spectacular marine life and unspoiled coral reef. While mantas congregate here throughout the year, you may want to plan your trip during the fall and winter months when they are most common.
The island of Yap is about the closest it comes to a guarantee for manta encounters. Mantas are regulars in the Mi'il Channel and, in fact, visit this renowned cleaning station with such frequency that individuals are known by name. Manta dives are popular at Mi'il Channel when the trade winds blow from November to May, as well as the summer months.
Mantas can be found throughout the 1,192 Maldives islands but Baa Atoll offers exceptional opportunities.  Especially during the southwest monsoon season from May to July, mantas frequent the area to feed and visit cleaning stations. Divers often experience encounters with dozens of mantas on a single dive.  Up to 240 individuals with distinct markings have been recorded here in a single day.

Ready to plan your manta adventure?  Your local PADI Dive Center or Resort or the PADI Travel Network are great resources to start planning your trip.
You can continue to be inspired by David Valencia's story with a PADI limited-edition Blue Water Series replacement certification card featuring his stunning Giant Pacific Manta and Diver photo.  Visit a PADI Dive Center or Resort  or padi.com to order yours.