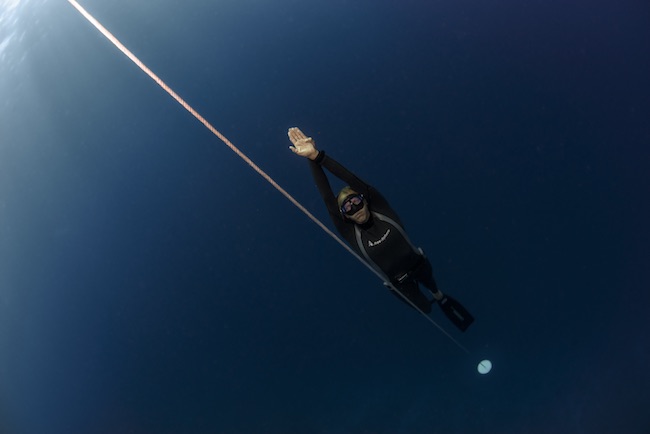 A PADI Master Scuba Diver Trainer and Advanced Freediver Instructor, Liz Parkinson uses her affinity for the aquatic realm and her love of freediving to advocate for ocean conservation and shark protection – and to inspire women around the world to do the same. With PADI Women's Dive Day™ coming up on 16 July 2016, we caught up with Liz to find out how she champions the causes she cares about and if she has any plans or recommendations for this year's Women's Dive Day.
Liz Parkinson was born in the UK but grew up a competitive swimmer in South Africa. At age 18, she was recruited to the University of Hawaii on a swimming scholarship – and there she discovered the wide world of water sports. She fell in love with scuba diving and became a PADI Open Water Scuba Instructor, eventually working her way up to a PADI Master Scuba Diver Trainer rating. "When you live in a place like Hawaii, it is hard not to get involved in the huge variety of watersports literally at your front door step," she says.
However, it was freediving that finally captured Liz's heart, and sharks in peril that ultimately inspired her. After graduation, she began traveling the world pursuing her twin passions, freediving and shark conservation. Along the way she has appeared in print, film and on television as a model, stuntwoman and spokesperson for ocean conservation.
Eventually, Liz found a home in the Bahamas at PADI 5 Star Instructor Development Center Stuart Cove's Bahamas, where you can find her working both in front of and behind the camera. "Freediving with sharks and capturing images used to enhance shark awareness are part of Stuart Cove's' 'Save the Sharks, Save the Seas' campaign," Liz explains. "The Stuart Cove's team is also deeply committed to environmental education for children – teaching kids about the environment, what needs to be done now to protect it and how they can make a difference."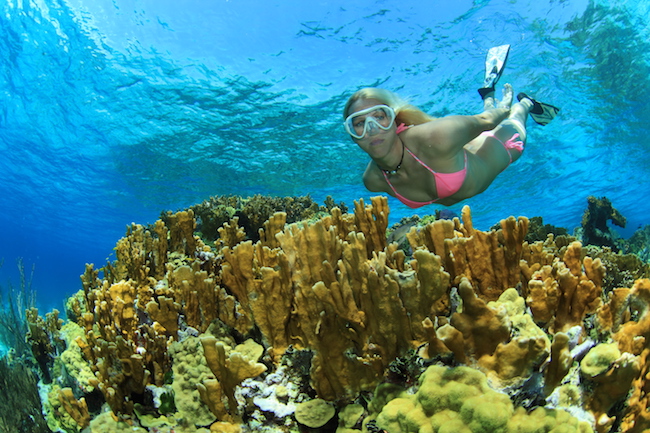 Your enthusiasm is contagious. What is your secret for encouraging and inspiring others to take action for ocean conservation and sharks in peril?
I feel fortunate that I can combine two things that I love, freediving and sharks. It's great when you're able to inspire others by doing what you love. I hope that through imagery and the use of social media as a porthole to reach people, we can inspire both men and women to take action. Maybe by seeing the efforts we make, and showing the world that sharks are not what the majority of the population think they are, we can encourage others to do what we do – or come up with their own ideas to spread awareness and help save an animal that needs their help.
How can people get involved in ocean conservation?
Ocean conservation is a huge topic. People from all over the world and from all walks of life are getting involved through nonprofits, foundations, organizations and companies – all working under the banner of "Save the Oceans." Of course, Project AWARE is a great way for divers to get involved. This year, I'm volunteering as the team captain for Project AWARE Foundation's 2016 TCS New York City Marathon, supporting a team or runners to raise awareness and funds for ocean protection through Project AWARE.
Scuba diving is often erroneously perceived as a male sport. Now that PADI has a freediving program, how do you think we can avoid that stigma for freediving and get more women to become freedivers?
The new PADI FreediverTM course is an exciting program! I hope the work I do with sharks – using freediving as a tool to capture people's interest – will open this world up to women. I believe that leading by example is a great way to get people interested and involved in any sport or cause. I hope that women who are inspired by love of the oceans will sign up for a PADI Freediver course and experience the aquatic realm from this unique perspective.
As a PADI Instructor and a PADI Advanced Freediver Instructor, do you have any suggestions for divers for PADI's Women's Dive Day 2016?
For Women's Dive Day I strongly encourage all divers, women and men, to find an event and get involved. I hope that all PADI Divers around the world will participate to attract more women and girls to the beautiful sport of diving.
Follow Liz on Instagram or Facebook to find out what she and the Stuart Cove's Team is up to and how you can get involved.

Women's Dive Day 2016 is PADI's second annual celebration of women in diving, taking place this year on 16 July 2016. This event provides special opportunities for women to try diving, rediscover a sport they loved in the past or just go dive with friends!
Find a 2016 PADI Women's Dive Day event near you now!