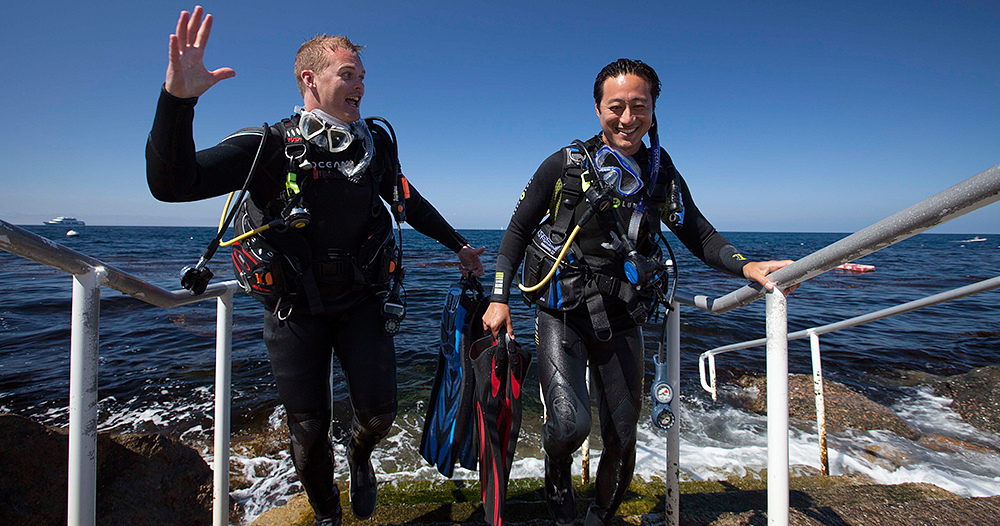 We all learn about the buddy system when we start diving but with increased experience and confidence it is easy to forget the essential basics. The buddy system is not just for beginners, it is important for the safety of all divers in a group.
Want to be a better dive buddy? Here are 5 essential tips you should never forget.
Always remember your buddy check
Just because your equipment worked fine yesterday doesn't mean that you haven't missed something today. If your Divemaster sees you running through the buddy check he will recognise that you are responsible divers before you even enter the water.
Use the BWRAF acronym to help remember the buddy check steps. Begin With Reviewing A Friend
Always maintain buddy contact and communicate often
This doesn't mean that you need to swim on top of each other. As a general rule, try to be no more than 2 seconds apart. In an emergency you may need each other and it helps the Divemaster control the group if you are together. Don't forget to ask your buddy if they are "okay" regularly. Diving really is more fun with a buddy and you'll get to share some incredible moments together. If your Divemaster sees you communicating he'll recognise your dedication to each other and to safety.
Remember that you are a buddy "team" and diving is not a competition
Be encouraging towards your buddy but never force them into a dive they don't want to make. If you or your buddy are unsure about anything, ask your Divemaster together for advice and guidance.
Dive, dive, dive
The more you dive the better you get. By diving in a range of conditions and environments you'll broaden your skill base and diving knowledge, increasing yours and your buddy's dive safety.
Continue learning
If you have just passed your PADI Open Water Diver Course consider moving on to Advanced Open Water. You'll learn new skills and try different types of diving. When you have completed your Advanced certification, you'll be ready for the Rescue Diver Course which equips you with the skills and knowledge needed to be able to perform self-rescues, rescue other divers and recognise potential problems before they develop.
Following these 5 steps will help you become a better dive buddy.  Contact your local PADI Dive Center or Resort to find out course information or to find some more dive buddies of your own!