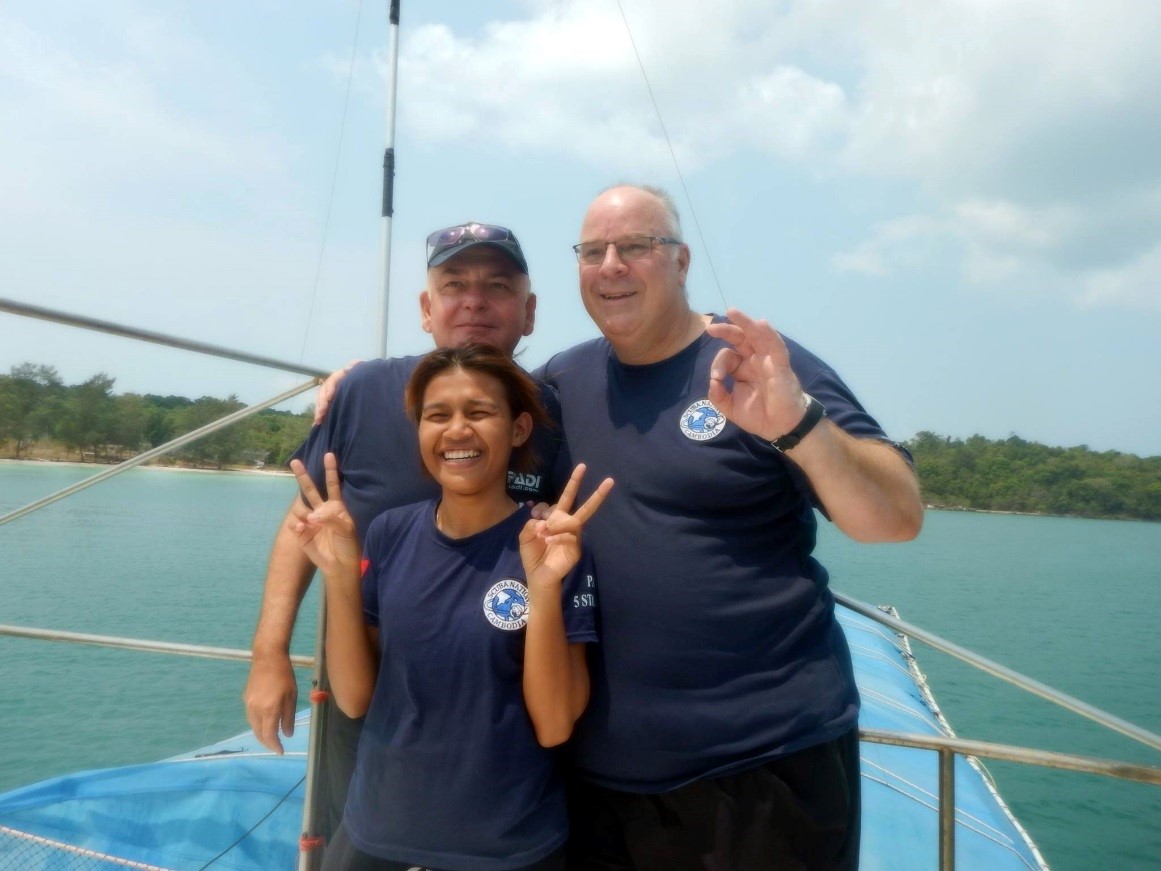 The first and only female Khmer PADI Instructor Sopheak Keo with PADI Examiner Rob Scammel who was flown in to assess the candidates and PADI Course Director, Scuba Nation's Gerard Leenen.
PADI and Scuba Nation are extremely proud to announce Cambodia's first and only female Khmer PADI Dive Instructor, Sopheak Keo, who was certified last weekend in Sihanoukville.
Sopheak started diving 3 years ago after she was hired as a translator for the CMAC underwater demining project. Scuba Nation were running the basic diving training and were so impressed by her that they took her on a try dive and offered her a job after the project finished. She was immediately hooked on diving and quickly went through the Open Water course. "She was a bit apprehensive at first but she is one of the most natural divers I have ever taught" said Vicky Leah, one of Scuba Nation's owners.
Over the next 2 years Sopheak steadily worked her way through the PADI Advanced Open Water Diver Course and the PADI Rescue Diver Course becoming the first female Khmer PADI Divemaster in 2015. As her knowledge of diving around Sihanoukville and the islands increased, so did her passion to teach what she had learned.
"There is so much under the sea in Cambodia and so few of us know about it. I want to teach my people to dive so they can see the beauty of the underwater world and learn to love it in the way that I do" – Sopheak.
PADI Course Director and Scuba Nation's Gerard Leenen conducted the Instructor Development Course. "She was great fun to teach and has an amazing work ethic: on most days she was the first there and the last to leave. She has a real talent for communicating her love of diving and is so enthusiastic; nothing is ever too much trouble for her. She's going to be an amazing instructor".
On becoming the first female Khmer PADI Instructor Sopheak said "I'm so happy and I can't believe it yet. I've worked harder for this than anything else in my life and it really is a dream come true."
PADI and Scuba Nation are incredibly proud of Sopheak. "She deserves every bit of this" says Vicky from Scuba Nation. "She will be a fantastic instructor and a great ambassador for the Cambodian people and Cambodian marine life."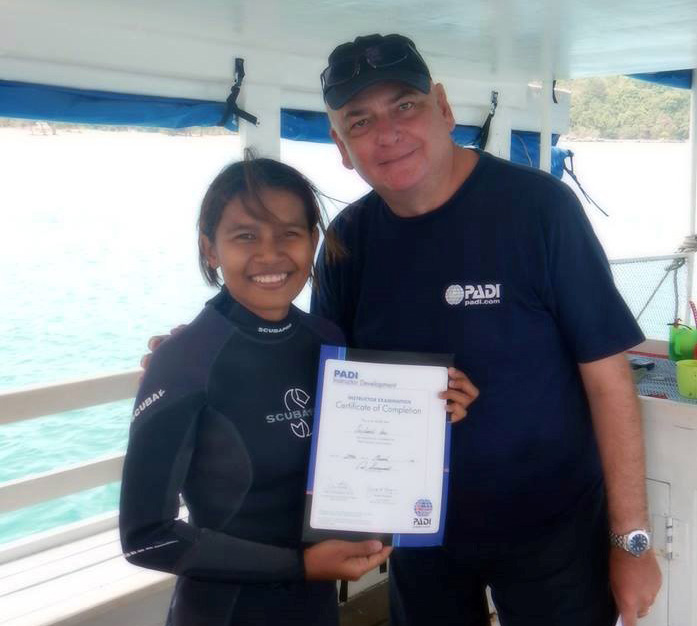 Sopheak Keo with PADI Examiner Rob Scammell