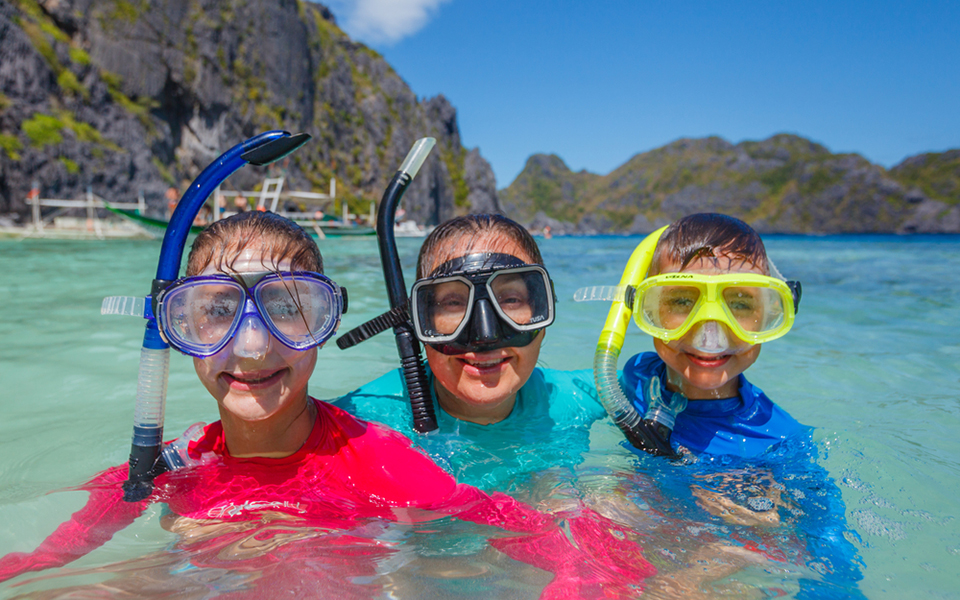 Before planning a dive holiday for you and the kids, take advantage of these tips from Margo Peyton, founder of Kids Sea Camp, a weeklong scuba event for families held at various worldwide locations. Peyton also heads the travel-planning service, Family Dive Adventures.
Step one, ask if the dive shop is kid friendly.
Yes, this question may seem vague (and a little obvious), but Peyton spells out how to tease out the info you need.
"The first thing I ask is, 'Does your operation teach Bubblemaker? Do they teach Seal Team?' If their answer is no, then you know the number of Junior Open Water Diver courses they teach is minimal."
Peyton likens the larger number of kids programs and certifications to a bigger vote of confidence, as one might require when shopping for doctors. Says Peyton, "If you need a spinal surgery, don't you want to ask the doctor how many spinal surgeries he has successfully completed?"
Resorts with on-site dive shops can save time and worry.
"It's a lot comfier for kids when they already know where the bathroom is," says Peyton. She adds, "And if they forget anything in their room, it's right there."
Given how gear intensive scuba is, this set-up can be especially helpful for parents of younger kids, who are forever misplacing glasses, shoes, etc.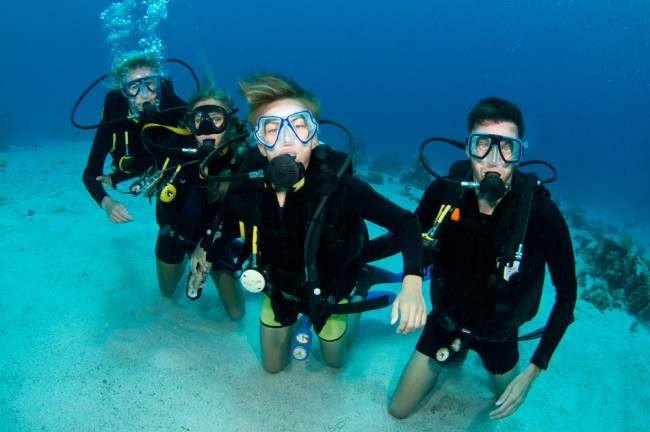 If you want to go boat diving, don't assume children are allowed on the dive boat.
This may sound like a trick question, but keep in mind that junior divers have depth restrictions. If a resort or dive center typically offers a first boat dive to 100 feet, they may not allow children divers on that trip. If the dive outfit can accommodate younger divers, you may want to ask another question. Says Peyton, "I also ask, 'Will my kid be the only kid on the boat?'"
Find out if the dive experience includes an in-water Divemaster or instructor.
Not every dive operation offers a guided in-water experience. If the dive center does, you then may want to ask about the diver-to-Divemaster or diver-to-instructor ratio.
"If you don't ask, you might be stuck in a situation with one Divemaster for 15 divers," says Peyton.
And if you aren't comfortable with that, keep in mind that some resorts allow you to pay extra for a personal instructor or guide. But again, that service isn't available at every resort, so inquire ahead.
Lastly, ask about equipment.
Kids need kid-sized gear. Some dive resorts stock their rental selection with gear made specifically for children. At the very least, ask if they carry BCs in size XXS.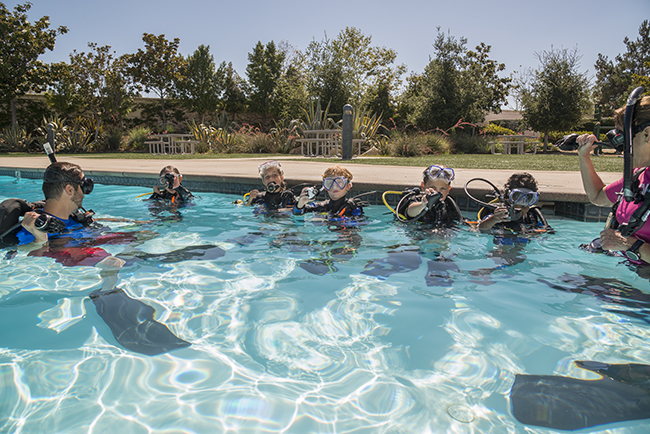 So, yes, traveling with kids requires asking many questions, but it's every bit worth it. The memories you create as a family will last a lifetime.
Find a kid-friendly PADI Dive Shop or Resort and be sure to ask about their youth scuba course offerings, including Bubblemaker and Seal Team.