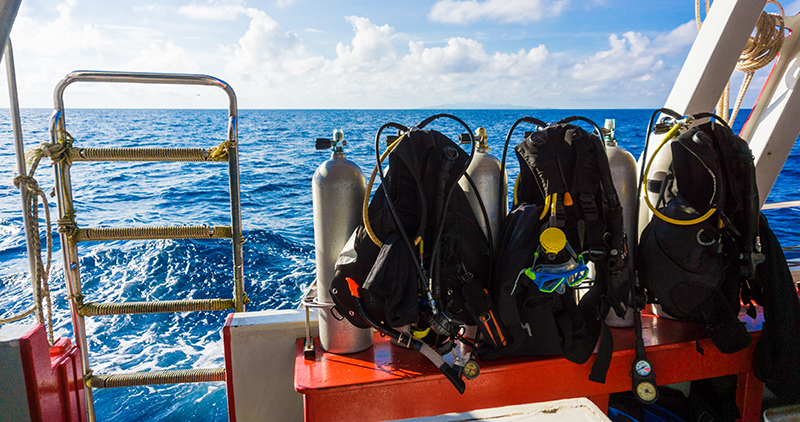 Ever wondered how a PADI Pro always manages to have everything you ask them for? Here we list 10 key items that a Pro will never leave shore without. Learn from their experience and make sure you pack all that you need to ensure a great day of diving!
Be Heard, Be Seen and Be Safe: Why do Instructors and Divemasters have so many items in their pockets or attached to their BCD's? Safety! Make sure you have a Surface Marker Buoy with at least a 10 meter reel so it can be deployed underwater, a whistle for at the surface and a pointer stick or tank banger so you can make noise underwater. We've all had moments when we are trying to get our buddies attention but if they are engrossed in the fish they often won't see you waving, but they WILL hear you.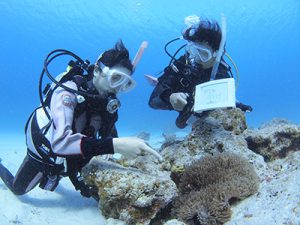 Blank slate and Pencil: How good are you at playing charades? Isn't it frustrating when you can't explain what you REALLY want to say? Professionals always carry a means of writing underwater so for more complicated "conversations" that go beyond hand signals so they can be understood AND understand – plus they are great for writing down the names of the marine life for adding to your log book later!
First Aid Basics: It's amazing how a blister from a rubbing fin or a minor sting from a jelly fish can really put a downer on your dive. Having some staple basics with you such as band aids, alcohol, vinegar, rehydration salts and stomach settlers is essential.
Phone a Friend: Make sure you always have the number of the local emergency services with you, this should include national services such as Ambulance, Fire and Police but in many places there are also local numbers for the Coast Guard or Search and Rescue Teams. This also means taking your phone with you and making sure it has ample battery life for the trip. Download the PADI app and you can even log your dives from the boat!
Notebook and Pen: This may sound random but how many times have you wanted to take someone's email address or phone number so you can catch up later or so that they can send you the picture of you next to the whale shark that you saw? A notebook and pen can be invaluable and can also be used for writing notes for in your logbook later and even for recording any accidents or incidents that occur.
Tank O-Rings: A worn, or even worse, lost or blown O-ring is impossible to fix and without spares you won't be making any more dives that day. Never leave home without them.
Spare Double Ended Clips: Have you noticed other divers trying to figure out how to attach their camera to their BCD, or how to fix safety items to their gear? Don't be that person. Keep a couple of double ended clips in your spares bag and you'll make someone's day, even if it's not your own!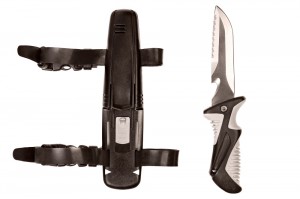 Be Prepared: Dive professionals carry a dive knife with them for a reason! They are a multi-function tool underwater and can
be used for cutting away fishing line from coral, assisting in any situations that involve entanglement and even just for banging on your tank to make sound. They are also useful for prying out old o-rings from tanks on board the boat!
Be Cool but Don't Get Cold: Make sure you pack a towel and dry clothes to put on during surface intervals. Sitting in a soaking wetsuit can lead to cold even in the hottest of climates, especially if you are boat diving where wind chill can be a factor.
What Does a PADI Pro Store Their Gear In? Usually a roll-down dry bag. This will keep all of your items dry while you are out diving. A smaller version for your phone is also an excellent accessory.
Now you're thinking (and packed) like a PADI Pro why not get certified as one! To learn more about becoming a PADI Pro yourself check out the PADI Divemaster program here.