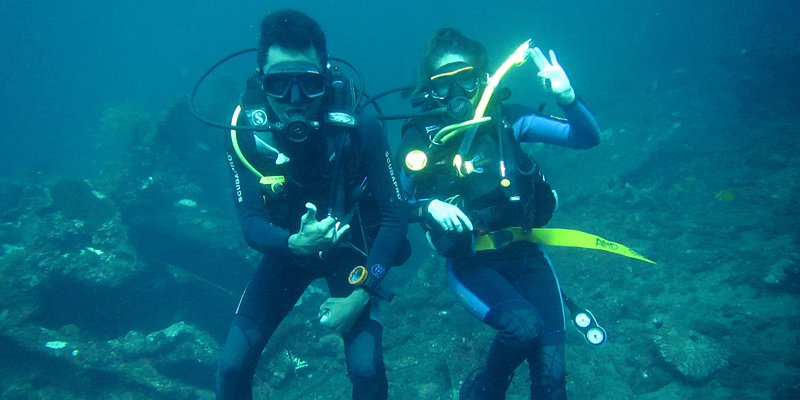 The PADI Scholarship Program offers PADI diver training programs to people who would otherwise be limited to accessing these opportunities. It aims to create life changing employment prospects while fostering conservation-minded ocean ambassadors.
Written by Sari and Roy, PADI Scholarship recipients.
Becoming PADI Divemasters is transforming our lives. The AquaMarine Diving – Bali "Zero to Hero" program is more than fantastic and has been a great opportunity for both of us.
Scuba diving is a social sport when the fans share the same interest and passion about the ocean. Since the beginning of this program, we learned so much about scuba diving and the ocean. We have been taught fundamental scuba diving skills and learned about marine life including behaviour and habitat, and also about ocean environment activities. We enjoy every single learning progress. There is not one day where we are not learning how to become a professional PADI Divemaster.
The atmosphere at AquaMarine Diving – Bali also helps us towards our goal of becoming PADI professionals, with great buddies in the dive team and good management.
"The PADI Scholarship Program teaches me not only about growing as a professional diver, but also to have a strong character and passion for my life". – Roy
"Scuba diving is my passion and while more Indonesian women become scuba divers, it is still difficult to find female Divemasters. So this program is the fundamental reason for why I want to become a professional female Divemaster following my passion". – Sari
Apart from learning about scuba diving we can share our passion for diving with the AquaMarine Diving – Bali guests. We learn how to become people who have ability to get along with all kinds of personalities. If we are in the company of anxious, novice divers we are able to reassure them that everything is going to be alright, and fun! Being knowledgeable and sharing this knowledge with the guests and fellow divers makes us more valuable to the business and the industry.
Scuba diving has – and continues to – transform our lives.