P.T. Hirschfield dives as if her life depended on it
No one is more grateful for her PADI Open Water diver certification than P.T. Hirschfield. And the timing of the experience couldn't have been more opportune.
In 2010, the Australian traveled to the Pacific island nation of Vanuatu, where she earned her first C-card. Shortly upon her return, she learned she had uterine cancer.
Her doctor didn't sugarcoat the prognosis, but told her to start addressing her bucket-list desires. He estimated she had less than three years to live.
"The first question I asked the oncologist was, 'How soon can I dive again?'" she says.
And so, with that goal in mind, she began palliative radiation, picturing all the underwater destinations she wanted to experience. "Scuba gave me the incentive to get well—the idea of getting underwater motivated me not to give up, lie in a corner and die, as they said I might," says Hirschfield. "That, along with my friends and family, kept me going."

And soon as she was physically able, she did.
"I had a month off in between each of the radiation sessions, and I would go dive the Great Barrier Reef or with white sharks—and every time I came back from one of these trips, I would be healthier. Before one of the trips, my tumor was roughly 4 inches, about the size of a small grapefruit—and afterward, it shrunk to the size of a golf ball."
Knowing that, she overhauled her life. "My cancer seems to have been stress and lifestyle related, so I changed my lifestyle to add a lot more bottom time, and everything changed."
Currently, Hirschfield dives three to five times a week. And get this: Her average bottom time is four hours per tank. Granted, she stays at depths of 20 feet or shallower. Because, for her, it's the sensation of floating that most relaxes her, so she wants as much of that as possible.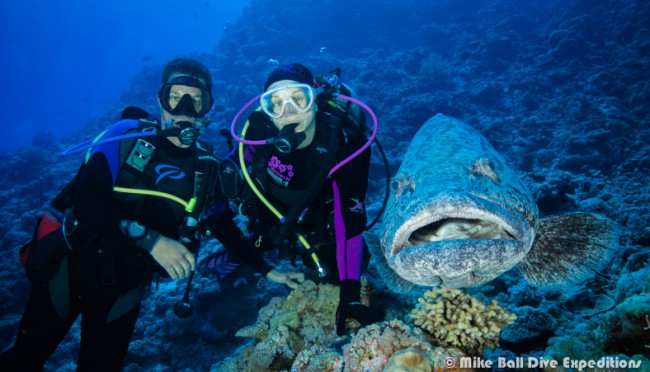 "I was diagnosed as terminal three years ago this month. And now every time I see my doctors, they say, 'Whatever you are doing, just keep doing it.'"
And she plans to.
"Whether it's a sense of purpose in sharing my story on my blog, or just having something to do, or the joy of being underwater—there is definitely a benefit."
The emotional, mental and physical benefits have been so great for her that she encourages others—whether they suffer from cancer, depression, anxiety or any other illness—to go out and dive as soon as possible, even if they need help carrying their gear on that initial dive, as Hirschfield did when she first wetsuited up again. Now, with her strength back, she needs no assistance.
Says Hirschfield, "One thing I know for sure is that the more I dive, the more alive I feel." She pauses. "I think if I hadn't gotten my Open Water, I might not be alive."
Read more about Hirschfield and the significance of the healing power of scuba in her life and connect with her at pinktankscuba.com.
Who knew that scuba diving could actually make you healthier? For those whose dive skills are rusty, consider PADI's ReActivate program to refresh your skills and strengthen your in-water confidence.