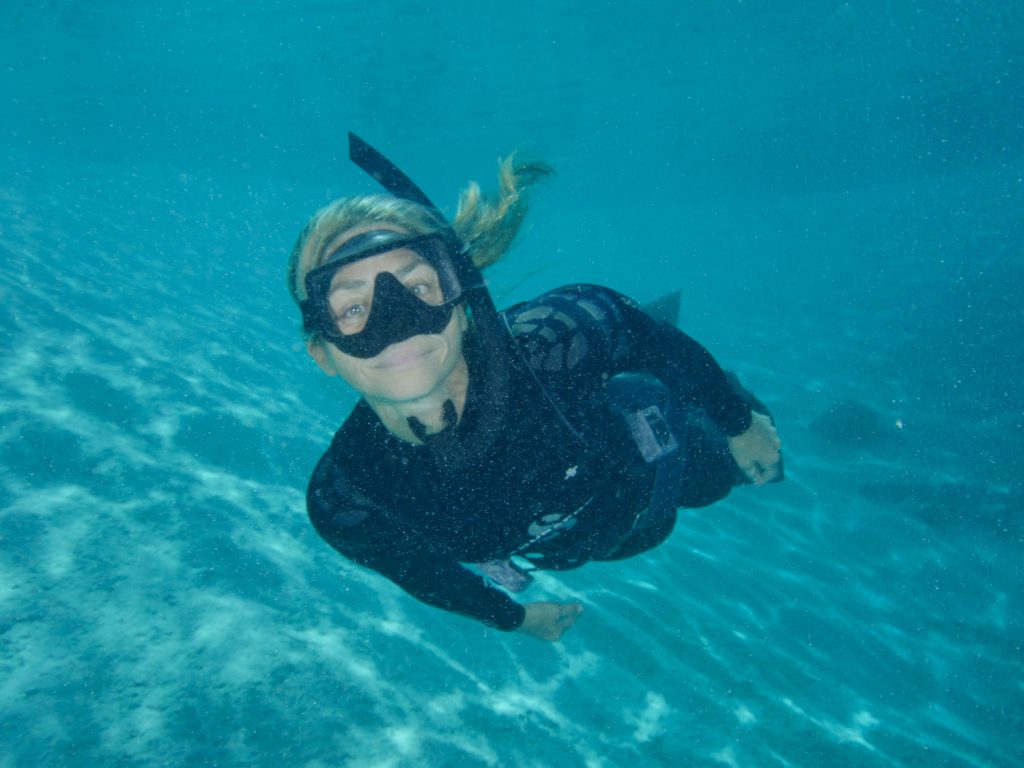 "My mission is to show anybody that each person counts and that each and every one of us can make a difference through our daily actions."
PADI AmbassaDiver, Cristina Zenato, proves this mission time and time again with ceaseless effort. From being invited to speak and promote shark conservation around the world, to mapping the entire Lucayan cave system on Grand Bahama Island, it's no wonder this ocean activist was inducted into the Women Diver's Hall of Fame.
Zenato turned her childhood dreams into a career in diving as a shark expert and PADI Course Director, developing the PADI Caribbean Reef Shark Awareness Distinctive Specialty. Recently, her travels brought her to Australia to speak at OzTek and to cave dive in the desert of Nullarbor. We caught up with her before her to trip to hear her thoughts on women in diving, her latest expeditions, and how everyone can contribute to the conservation of marine life.
One of PADI's Four Pillars of Change focuses on conservation of marine life, specifically sharks. What advice would you give to other divers to help preserve this incredible species?
My personal advice is to become shark ambassadors through knowledge and understanding. I suggest to go diving with these creatures, with the different species out there, and to try out the different ways we dive and snorkel with them. Once we have the knowledge, we can also transfer that to those afraid of sharks due to preconceived notions. They can also look at a bigger picture and learn about safe seafood choices. If they elect to eat fish, make by sure they are not the cause of by-catch or involuntary death of sharks, for example by longlining. For that matter, there is the Monterey Bay Aquarium list for safe seafood that is highly reliable for reference (in the US). Other actions could include picking environmentally friendly locations to stay at while on vacation, making sure the local environment was not destroyed in the creation of the resort/hotel, and continue with the more obvious refusal to buy shark related souvenirs and shark related products, such as cartilage supplements.
As we gear up for PADI Women's Dive Day, what do you feel are the most important challenges and opportunities facing women in diving? How can we get more women in the water and involved in the dive community?
I feel that women have made a good step forward in the diving industry compared even to 24 years ago when I started. But we are still facing challenges in terms of identification with specific roles. Although the number of women divers has increased both as consumers and as professionals, many still face the stigma of their choices to forgo a more traditional role for a unique one which may include no children or no traditional family structures. I have to admit that being a woman can also work to our advantage once we have established ourselves as leaders in the industry, but before arriving to that recognition, the work has to be longer and harder. To get more women in the industry, it is not just a matter of involvement or more advertising; I honestly feel it's a matter of raising our daughters differently, making them realize their potential, letting them venture out, try, fail and scrape their knees. It's time to tell our daughters that being a woman does not include them being in a specific box or role, but that if we want something, we can set ourselves to go and get it.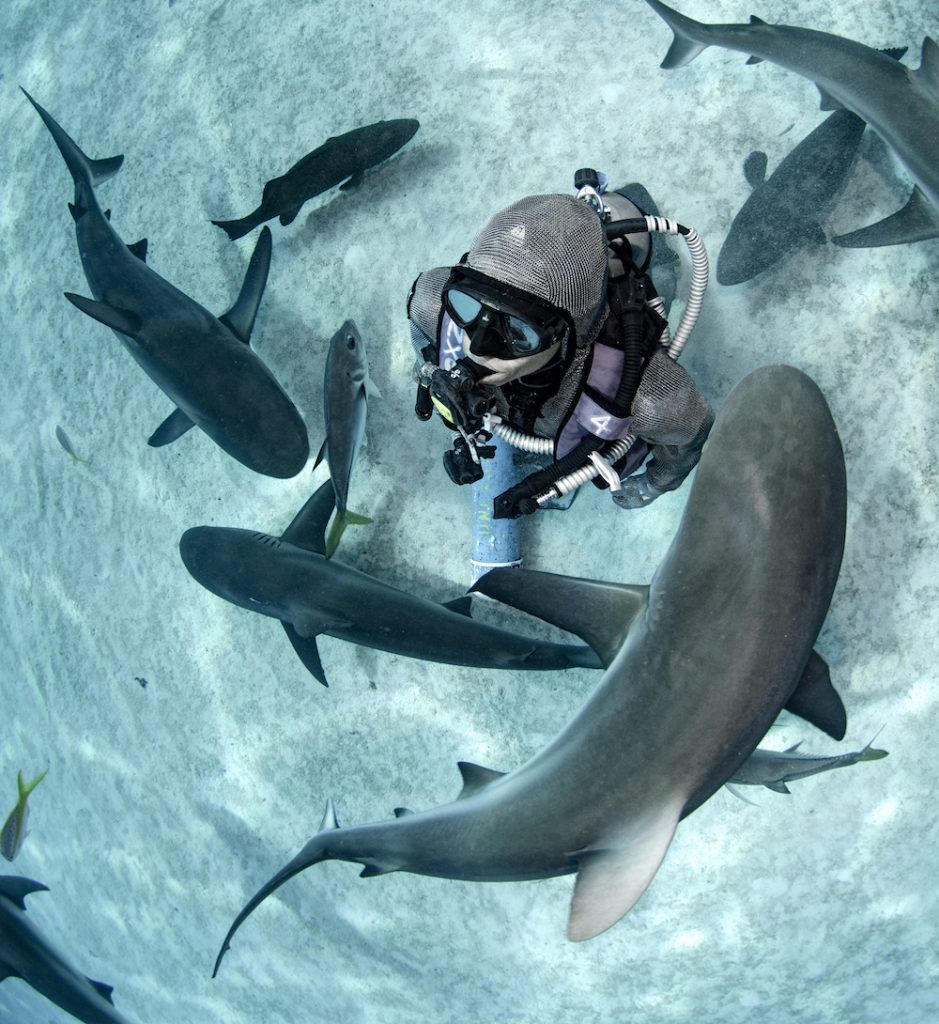 You are part of the Women Diver's Hall of Fame, how does it feel to be among such amazing industry icons, and who were your female role models growing up?
That is a very difficult question to answer, but using the words of another member of the women divers hall of fame, I still feel at times like an impostor (smile). I look around and I see these amazing women who have accomplished so much and that I used to look up to as a young diver, and I still think it's an honor and a dream to share the same recognition. The best part of being part of the Women Diver's Hall of Fame is the realization of the strong outreach we can have to the young generations and what an immense privilege that is. My inspirations growing up were Dr. Eugenie Clark and Dr. Sylvia Earle. As I grew in the diving industry, I looked up to Jill Heinerth as Technical and cave diver and explorer. Today I am honored to say I call Jill a friend and an industry peer.
You are headed to Nullarbor for cave diving in the desert, could you tell us a little bit more about the dive site and the diving you will be doing there?
In all honesty, the diving is going to be a surprise. I am heading to OzTek in Sydney to present about my cave exploration and the shark conservation work in the Bahamas. After that, I have been invited with a handful of other cave explorers to join the Australian explorers to camp and dive these remote systems based on the Nullarbor area behind Adelaide. They are several days of travel away. It is going to be camping in the desert for many days, heat during the day, cold at night, no showers for many days, and carrying a lot of gear for some distances. I am so looking forward to it, not only for the diving, but for the experience, for the time spent in the water, and also out of the water to learn from divers exploring different kinds of caves with different techniques in such an alien environment for me compared to the Bahamas. I am looking forward to the wildlife, the talking, the laughter, and the exploration above and below the water. It's not everyday we get to see such a unique part of Australia.
You recently went on a cave diving expedition with National Geographic, can you tell us a little bit about that?
I was part of an international team of cave divers and explorers, scientists from all different fields, including but not limited to cave geology, fauna, forestry, paleontology, survey, 3D photography, and journalists that all had different roles. The expedition had different goals. One was the local educational outreach to young Bahamians and international students. We setup direct hands on groups by the caves and also satellite google hang outs with Exploring By The Seat of your Pants. The kids learned about the forest and delicate balance between environment and cave health, paleontology, and other subjects. They also experienced three dimensional images of the cave below them thanks to advanced photography. The other part of the project was to map the system with new technology and insert the data in a common base to provide detailed maps of the cave, including where it extends. Once overlapped with images from google earth, we could understand how to better protect it below by protecting above. My role was primarily a diver, I went in the morning and collected cave critters to show to the students, and I also went back in to put them back at the end of the day. I  was one of the three surveyors for the system, and had the opportunity to dive and survey extensive parts of the cave. Another fun thing to do was to bring in a pinger, a system that emits a signal from underwater beneath the terrain that can be traced on the surface to the exact spot to show in real space where the cave is. We did put it under our port-a-potty, to make it more evident how what we did on the surface impacts what's below our feet. The faces of the kids figuring out that we could have literally been swimming in it were priceless and a valuable lessons learned.
How does diving both freshwater and saltwater sites inspire you to further your exploration in diving?
Because everything is connected. We learn that in elementary school. Everybody remembers the little diagram with the lake, the evaporation, the clouds, the rain, and yet diving between them really teaches and shows the important and delicate links between everything we do, and how even what we do miles and miles away can affect us. That reflects very well in my work for sharks and caves, and how connected they are as sharks need mangroves to reproduce and grow, and how caves maintain the delicate balance of these mangroves. Protecting one without protecting the other will not, in the end, obtain the full result.
What does it mean to be a PADI AmbassaDiver?
It is an incredible privilege and tool to be able to reach an even wider audience. It means to have the opportunity to carry the torch and pass it forward, to inspire and educate, and I cannot be more proud to be member of this worldwide team.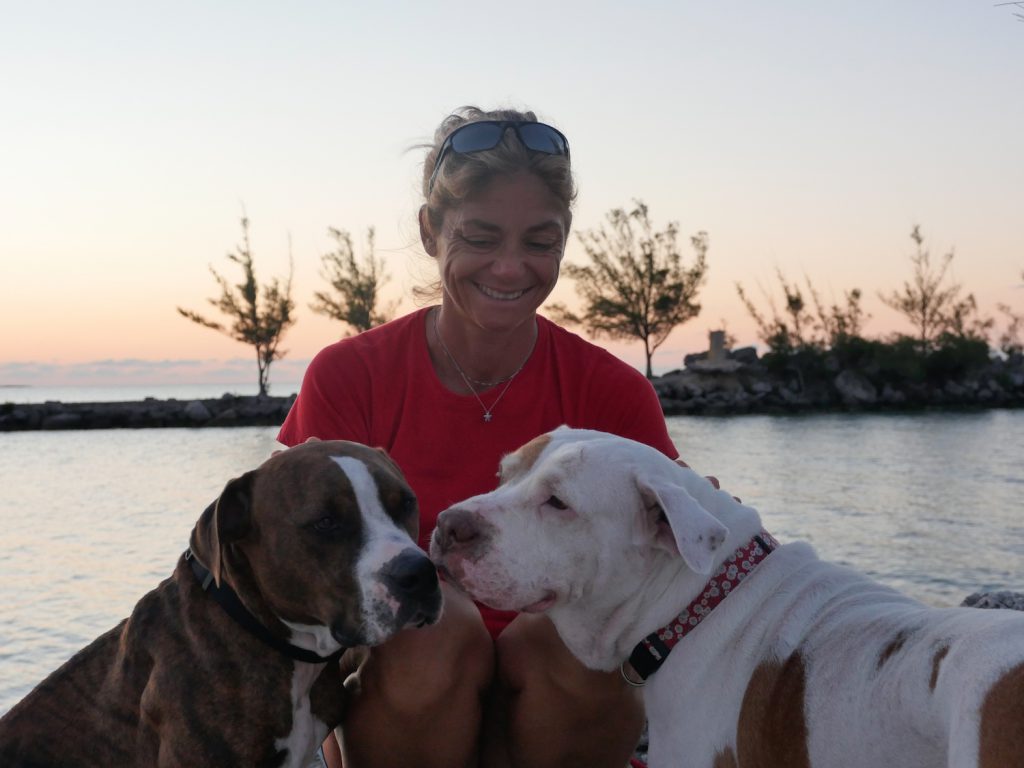 Learn more about Cristina Zenato's cave diving experience and her sixth sense in underwater exploration.