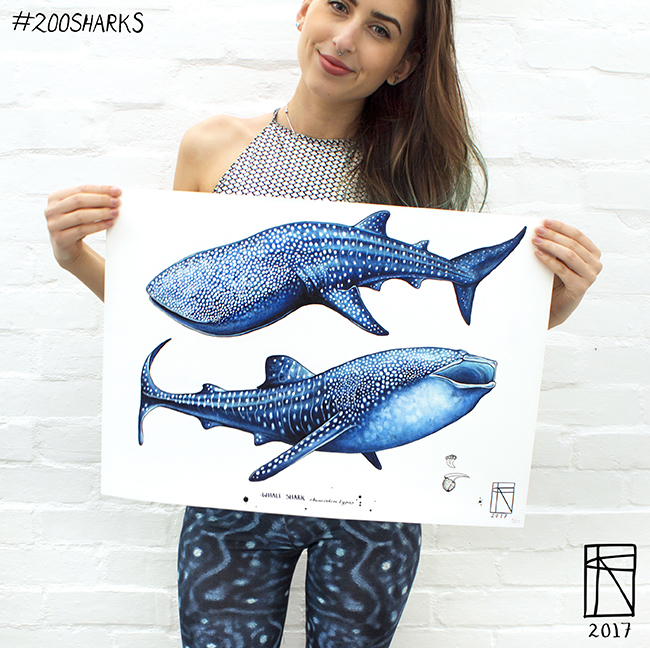 As divers we're lucky to be able to experience things a lot of people can only dream about and fall in love with the ocean in a way that's unique to us. But it also means we're often confronted with the harsh reality of pollution and over fishing. Thankfully, there are plenty of ways we can use our passion for the ocean to help protect and conserve it.
One diver, Francesca Page, is using her skills as an artist to raise awareness of the plight of sharks in our oceans. And we want to help. For her project #200Sharks she's undertaken the mammoth task of hand illustrating 200 sharks to highlight the startling number of sharks estimated to be killed by humans every 60 seconds.
We caught up with her to see how our powerful community of divers can help to magnify her message and encourage the conservation of sharks worldwide.
Even as a young child Francesca felt the need to express herself though creative outlets, and with a supportive family it was something she was encouraged to peruse, from childhood experiments to recently completing a BA in Illustation.
'As a diver and illustrator, I knew that each time I went on a dive, I was seeing a part of the world many could not – I have had some magical experiences underwater that have cemented my passion and understanding for the sea. As an artist, I felt it was my duty to show the world what I saw.  When I draw, I focus on the beauty of the creature. We get immune to gore and violence – we see it as normal. People aren't scared of it anymore. But if I show how beautiful something is, I can help people fall in love with it, just as I have. Art is the universal language and a powerful tool, we must use our skills to create change. I feel passionate about combing together art and conservation to connect and educate people to about our oceans, creating Art For Change.'
Being a PADI diver has enabled Francesca to view the world through different eyes and informed her direction as an artist, 'I learnt to Dive with PADI at 13 years old, it allowed me to submerge myself into a world I had never experienced, to connect with creatures I had never seen before and to form the foundations for my ever growing passion for the ocean. It showed me how little we know about our Oceans, and how important it is that we strive to protect and educate others about the Blue. The beautiful encounters I have had on dives with ocean creatures allowed me to connect with a world and see all of the diverse families, relationships and personalities the blue holds. With out PADI I wouldn't be the diver and artist I am today.'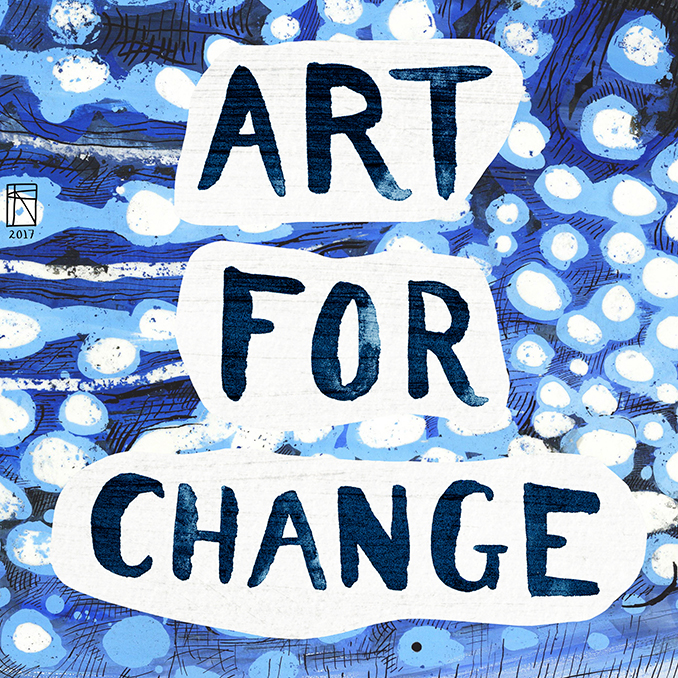 Like many of us her fear of sharks dissolved the day she actually met one, 'When I met my first shark, it swam away from me. A 'man eating' creature I was told my whole life to be afraid of, was in fact afraid of me. From that point on, I released there was nothing to be scared of, they were in fact incredible, beautiful and actually very timid, yet curious creatures to dive with.'
Francesca's project #200Sharks hopes to highlight the estimated number of sharks killed every 60 seconds throughout the world. We wanted to know how this project came about and what it was that inspired her. 'The 200 sharks project evolved from my dissertation in my last year at University. I researched how visual communication can have a positive impact on the environment, this lead me to combining my love for diving and the ocean with my art to create, '90 seconds catch'. A massive 1-meter by 2 meter watercolour and ink painting depicting 300 sharks to represent how many are lost to man. After I graduated I knew that this project wasn't over and I had only just begun a lifetime project.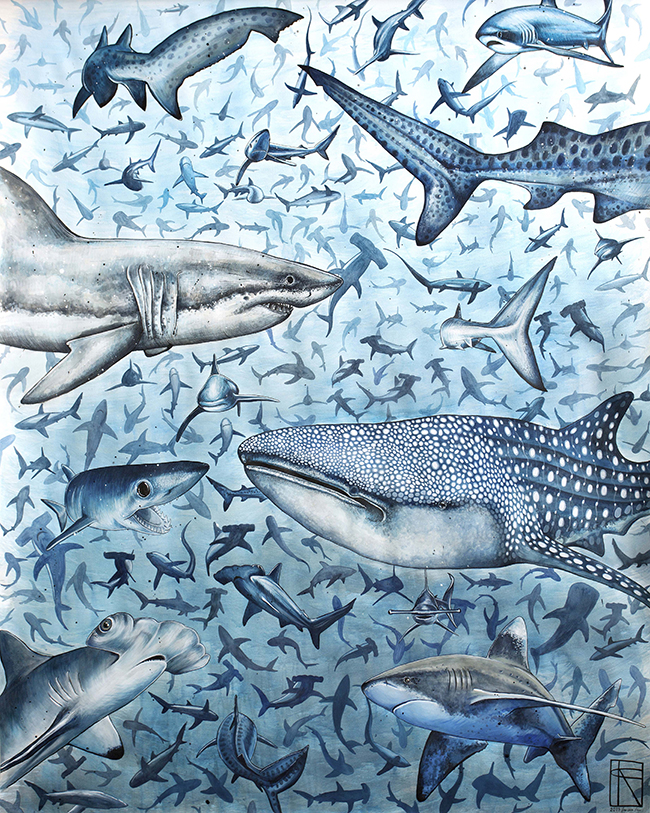 I started the 200 sharks a few months ago; my aim was to illustrate 200 different types of shark to represent the beauty and diversity of the species, to engage more people about how incredible sharks are and also to highlight how important they are, not only to the oceans eco-system, but to life on Earth! I wanted to show the world the beauty and diversity of this species, for people to fall in love with them, like I have.  As Sylvia Earle said, 'No blue, No green.' '
I am hoping to inspire people to love and respect this incredible species. My aim is to project my passion for sharks onto the others, you don't need to love them, but please respect them. I am hoping to inspire others to use their creative skills for change, and ultimately help people be the change that you want to see in the world. The Oceans need our love, support and help!
By utilizing social media she hopes that the project will enable divers and non divers alike to share their stories and help put an end to this tragic number. To support this we're calling upon the PADI community. If you have a shark encounter you'd like to share with us – or an image you have taken that you feel encompasses the need to protect these magnificent creatures then share it on Instagram using the #200Sharks tag. PADI are proud to be sponsoring 5 illustrations from this project – and one of them could be yours!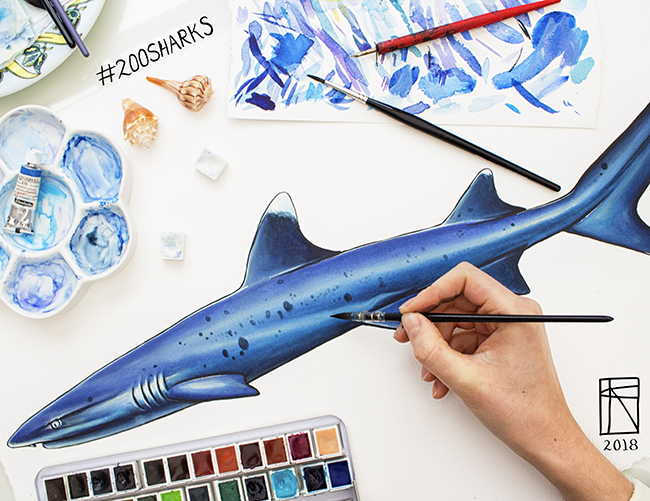 'PADI has such a beautiful and widespread diving community, filled with 1000's of Ocean loving members. This will be such a great opportunity to get people involved with the 200 Sharks project, to hear about people's own shark encounters, to get people talking about how amazing this species is and how they need our help! When you become a PADI diver you become an ocean warrior, and I haven't met one diver who isn't totally passionate about the ocean and protecting it.  I am so excited to get this passionate community involved with the project and to get the shark word out there!'
To find out more about the project check out Francesca on Instagram and follow the #200Sharks hashtag.