The Man Behind the Shot
Aaron Wong is a certified PADI Divemaster and an underwater photographer who started out his photography career in fashion. After developing an eye for detail which stands him in good stead below the surface, he now spends much of his time trying to spread the word about marine conservation through his images.

All Photos by Aaron Wong
Also an Ambassador for Shark Savers, Aaron spearheaded the "FINished with fins" campaign. A global initiative aimed at educating the mainstream media about the reality of shark finning.
Aaron's images have highlighted marine conservation issues world wide and have graced the pages of dive publications around the globe, including: Scuba Diving (USA), Alert Diver, Sport Diver, Fifty Fathoms, Wetpixel Quarterly, Tarzan (Japan), Red Bulletin (Austria), Unterwasser (Germany), Aquanaut (Germany), X Ray, Asian Diver, Asian Geographic, Underwater Photography web magazine, Dive Photo Guide and Scuba Diver Australasia where he also contributes as a field editor.
Aaron is also the author of two books "Water.Colour", which combines fashion with underwater photography, and "The Blue Within", which is forwarded by David Doubilet and contains a selection of his best award winning images from over a decade of underwater exploration.
Aaron is now one of the most sort after underwater photographers in Asia and has secured sponsorship from SEACAM, ScubaPro, UWatec and Fourth Element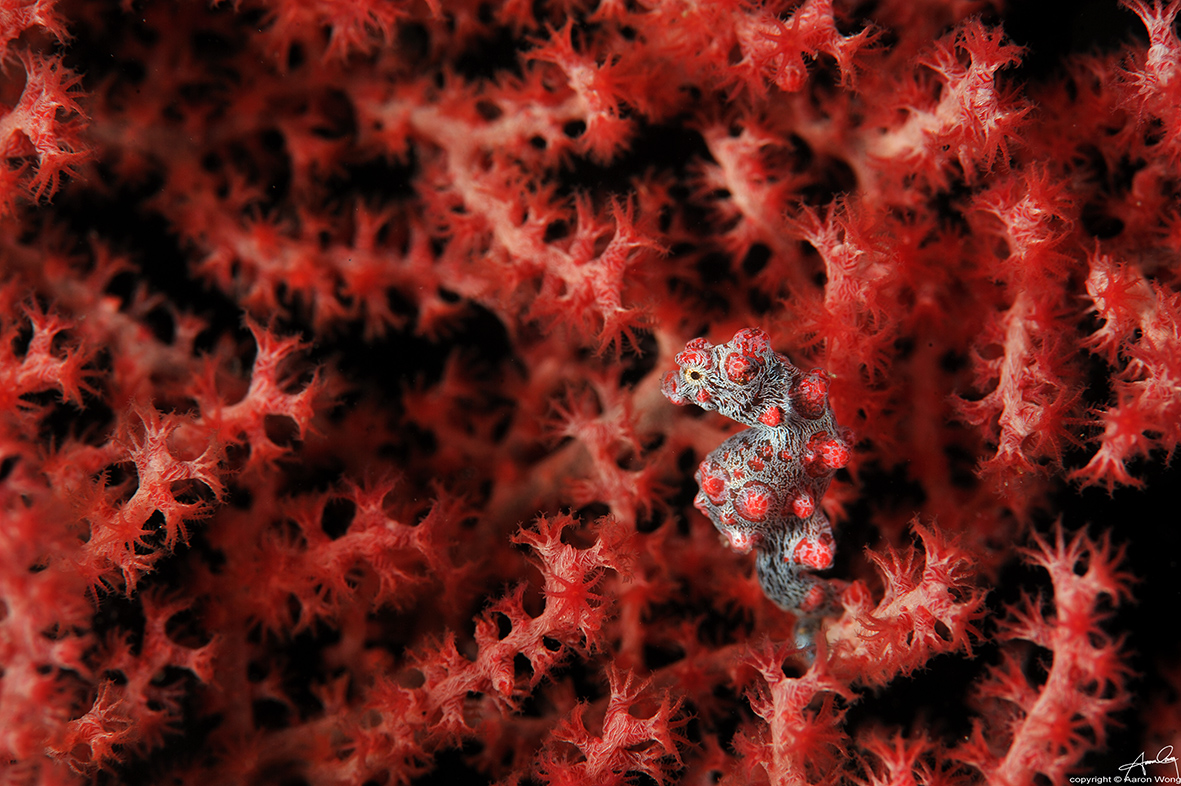 Setting the Scene: Raja Ampat, Indonesia
Raja Ampat in Indonesia is fast becoming known as one of the most sought after diving destinations in the world. Located in the heart of the Coral Triangle this region offers some of the most abundant and diverse marine life on the planet. If Raja Ampat is not yet on your diving bucket list it should be!
Aaron says,
"Raja Ampat has always been high on my list of best diving destinations in the world. While I will say it is impossible to point out a single best destination, as each place offers something different, I would say Raja Ampat comes pretty close simply because of its all roundedness. You have everything from Whale Sharks and Manta Rays to Pygmy Seahorses and Nudibranchs. All these against some of the most colourful and pristine reefs in the world".
But it's not just the underwater scene in Raja Ampat that appeals to Aaron,
"The top side of Raja Ampat, with its sublime scenery of steep, jungle-covered islands, white-sand beaches and hidden lagoons is a tropical paradise holiday in itself. The water is so warm you can dive in your board shorts year round. What is there not to like?!"
The Story Behind the Shot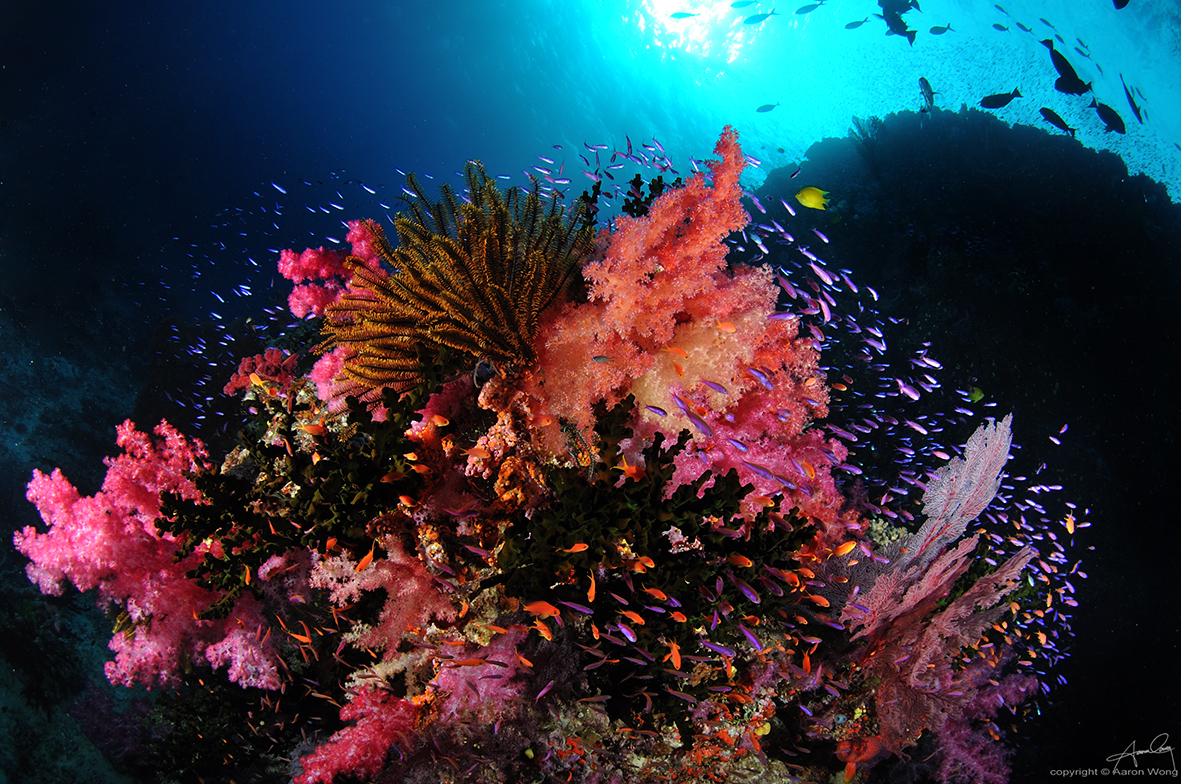 When we asked Aaron the story behind how he came to capture this incredible image here's what he had to say,
"During a trip to Raja Ampat, we were making a second dive at a dive site called 'Manta Sandy'. As the name affectionately implies, the site is a well-known manta ray cleaning station with a relatively clear, large sandy area on which there is a huge bommie which forms the cleaning station itself. Manta Sandy, like so many dive sites in Raja Ampat, is home to colourful coral reefs just off to the sides of the sand and cleaning station – it's an incredible dive. The manta action was endless as four large rays put on a continuous display for us. This was actually already my second dive at this site on the same day and I thought that I probably had enough manta shots from this trip and so took off to explore the reefs along the sides. As always in Raja Ampat, I was not disappointed!
As I swam along, I chanced upon this small rock completely covered in soft corals and surrounded by anthias. It was such a perfect setting, almost like a painting and I knew right away it is a great shot waiting to happen".
Aaron knew he just needed to take his time, be patient and wait for the magic to happen!
Are You Ready for Raja Ampat? 
If you are interested in exploring Raja Ampat and diving some of the most iconic dive sites in Indonesia, contact a PADI Dive Shop through our online Dive Store Locator.
If you'd like to find out more about Aaron Wong, his images and achievements, check out his website here.
Why not carry this amazing Raja Ampat image with you on every dive trip by ordering a bucket list limited-edition PADI replacement card online, or from your local PADI Dive Center or Resort.