Five internationally acclaimed speakers are hitting the road to bring you four nights of underwater entertainment and inspiration in four Australian State Capitals as part of the Underwater Tour 2018.
Join Jürgen Freund, Jason Isley, Dr Richard Smith and Darren Jew and Jasmine Carey as they discuss their journeys as underwater photographers.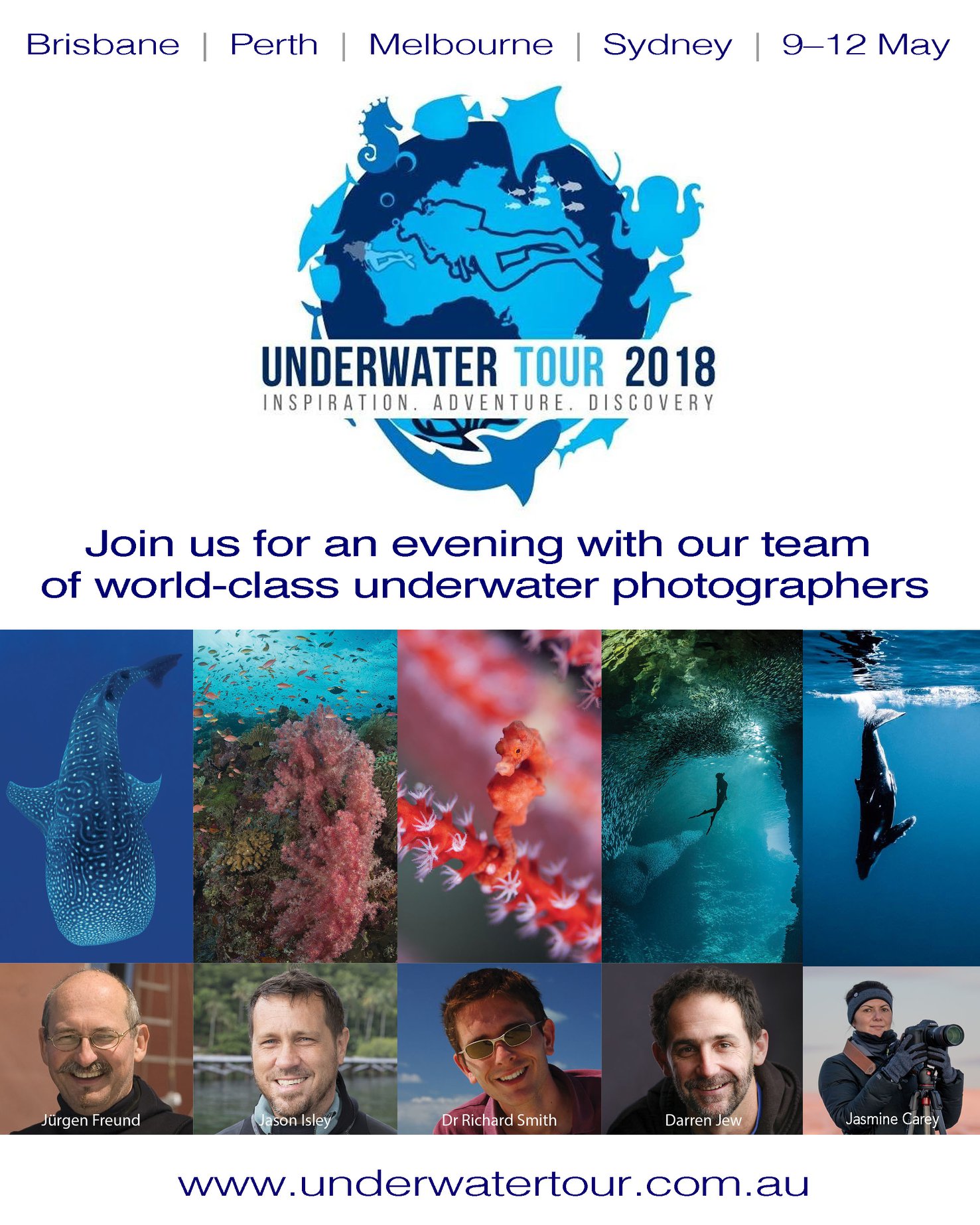 About the Speakers
Jürgen Freund – Underwater Photographer and Senior Fellow, International League of Conservation Photographers.
Jürgen's work both underwater and on land, has been widely published around the world. A mechanical engineer by training, he began his career as an industrial photographer in Germany, acquired an underwater camera, discovered the marine environment and hasn't looked back.
Jason Isley – Underwater Photographer and Managing Director, Scuba Zoo
Jason trained as an underwater cameraman in Australia, however now calls Malaysian Borneo home where he co-found Scubazoo. Jason has always managed to capture great behaviour shots and his work has been included in notable productions including the recent Blue Planet 2 series.
Dr Richard Smith – Marine Biologist, Pygmy Seahorse specialist
Over the past decade, Richard's photographs and marine life focused features have appeared in publications around the world. He also leads marine life expedition and aims to teach participants about the marine environment.
Darren Jew – Underwater Photographer, Canon Master, AIPP M Photog II, Published and Foto Frenzy Founder
Inspired by his father's travels to Antarctica, Darren has dedicated his life to his passion for capturing and sharing the wonder of the natural world. Darren's work has been widely published in books and magazines and he will be co-presenting with equally renowned and passionate photographer Jasmine Carey.
Tour Dates and Venues
Brisbane – Queensland Multicultural Centre – 9th May, 2018
Perth – Murdoch University – 10th May, 2018
Melbourne – Kino Cinema – 11th May, 2018
Sydney – The Guthrie Theatre – 12th May, 2018
For more information, full venue details and tickets, please visit the Underwater Tour Website or Facebook Page.