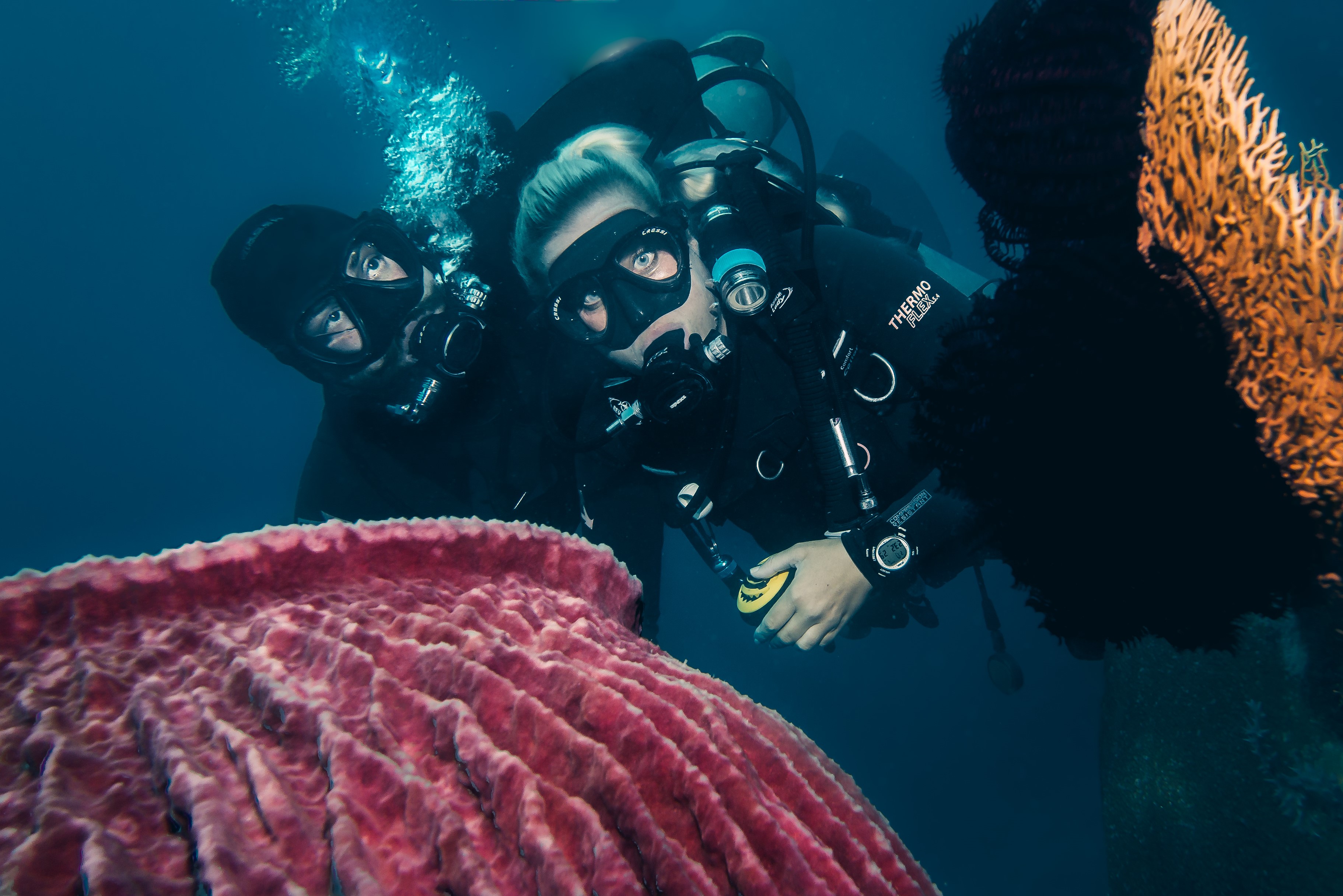 We caught up with new PADI AmbassaDivers™, The Jetlagged, to find out how they have become such passionate and dedicated divers and filmmakers, travelling the world on a mission to protect our oceans.
How did you both get into scuba diving?
Hendrik's underwater passion started early as a kid when he was training snorkeling skills in his parents' bath tub regularly. Around the same time, in a different city, Claudia dreamed of becoming a marine biologist, studying whales and dolphins. When she was a bit older, she found out, that in Germany, marine biology meant you're studying worms living in mudflats and rethought her childhood plan.
But the excitement and fascination for the ocean never left the two of us. Approximately 15 years later, we had finally met each other and were on a holiday on the Spanish coast of the Mediterranen Sea, when a car pulled up next to us. An older couple got out, unloaded and assembled their scuba gear and went into the ocean – leaving us two looking at each other, saying "This is so cool – I wanna do that, too".
Half a year later, Hendrik gave Claudia the PADI Open Water Diver Course for her birthday, and only 4 months later, we were certified! Now, we're both PADI Divemasters and never regretted the life-changing decision we made that day on the coast of the Mediterranean Sea, deciding to explore the underwater world.
What was your inspiration for starting The Jetlagged?
Claudia and me were always travelling to a lot of exciting destinations. Being filmmakers, it was obvious that we were bringing our cameras on each trip, and diving trips were no difference. Soon, we started making films to capture the (underwater) adventures we found all around the world from the polar circle to the equator, and we have never stopped. The Jetlagged was created to share the lifestyle of diving with all the people out there and creating films and stories in and around the sea that inspire others to enjoy, explore and protect our oceans.
Ísland – A Diving & Driving Trip around Iceland
Raja Ampat – Indonesia's Great Diving Adventure
How do two divers from Germany end up travelling the world as videographers and photographers?
We both have a background in media, filmmaking and graphic design. After working in Berlin for several years, we were ready for a change. And it was the ocean that changed us completely. When we first started taking cameras with us underwater, our intention was to create some sort of virtual holidays for everyone to watch, whenever they want, wherever they are, escaping the office or everyday life for a few minutes and let their minds travel to a beautiful beach and into the amazing underwater world.
But soon, some of our films took on more of a documentary character. Diving is fun, but while travelling the world as much as we do, we also saw with our own eyes that the oceans are in peril for so many different reasons. Being divers, we consider The Jetlagged ambassadors of the sea – we are fully committed to protect the world underwater and actively support various environmental projects all over the world. We felt the responsibility to also tell stories about the people who are making a difference, who are putting all their time and energy into the protection of the ocean and the conservation of its inhabitants; and we wanted to make films that give hope and show that every action matters. Our films seemed to catch a nerve, all of them got selected and awarded at international film festivals.
What has been your most eye-opening project to date?
On of our best decisions so far was getting involved with reef restoration. We are spending a lot of time on the Gili Islands, three small islands in Indonesia that have lost a lot of their corals in the past because of dynamite fishing and coral bleaching. But since early in the 2000s, the Gili Eco Trust and the local diving community has been building artificial Biorocks reefs there to restore the marine ecosystem, and with great success. We got involved in 2014, when we decided to build our very own artificial reef. We documented the process and explained the special technology (Biorocks are using an electric field to enhance coral growth and health) in our award-winning short film "We live underwater". Since then, we have constructed and sunk 2 more structures and honestly have developed a really emotional bond to "our" little reefs. It's a lot like planting a tree – and so rewarding to see how fast the corals grow there and quickly become inhabited by all kinds of marine creatures .
We live underwater
Another eye-openener was finding out about how we as divers with cameras can actively contribute to research and conservation through what is called citizen science. That's also the topic of our latest documentary about manta rays in Indonesia, on which we have worked over the last two years. It explains how photographs of the spot patterns on the mantas' bellies, taken by tourist divers, revealed a long distance migration of these iconic marine animals, a new finding that finally led to the establishment of the Indonesian Manta Sanctuary in 2014. It's our first long documentary (45 minutes), called "The Patterns of the Ocean"and it is coming to various film festivals around the world this year.
Trailer – The Patterns of the Ocean:
Do you have any advice for divers wanting to make a difference in the health of our oceans?
We can all be part of the solution by being a responsible traveller and diver. Whenever you're underwater: every dive is a clean-up dive! Just take all the plastic you can find on a dive with you and dispose it properly. Avoid single-use plastic in general, especially when travelling to areas with poor waste management; it's so easy to use alternatives like refillable water bottles, paper/metal straws or food containers.
And don't be afraid of not doing 100% correct. Every little bit matters, every change to be more eco-friendly makes a difference. Start changing something that is easy for you and move on from there. Be an inspiration to others!
What's next?
Our latest aquirement is a 360° degree underwater camera. We are only a few days away from releasing our first 360° underwater short film "Coral Reefs – Life below the Surface" to the public, and it will go live on our Youtube, Facebook and Vimeo channels. We are super excited about this technology and are looking forward to bring a lot of epic 360° underwater videos to our followers on our social media channels, so like, follow, subscribe!
What does My PADI mean to you?
It is The Jetlagged's mission to connect people with the ocean, inspire their respect for nature and make them realize how everything on the planet is depending on healthy marine ecosystems. We feel that PADI shares the same ideals, and by teaching people diving, PADI is enabling a lot of people to see the beauty, but also the fragility of the underwater world with their own eyes. The PADI community encourages all divers to explore, but also to take care about the ocean. As PADI AmbassaDivers, we are proud to be part of the family, and we are looking forward to share our stories with such a large audience.