Of all the scuba diving jobs you could think about, what would be the most incredible and unattainable? To me, it has always been adventurers and explorers. I always wondered how all these incredible men and women could dedicate their lives for our greatest amazement to push further the boundaries of adventure and scientific knowledge. Then one day, as I just moved back from Scotland to France, I met Alban at Hyères International Underwater World Festival. At first, I was impressed and didn't dare to bother him. Having a thing for ice diving since my certification in Switzerland while dreaming about Baikal Lake in Russia and the Shiretoko Peninsula in Japan, I had burning questions. As Alban is just right back from its last Arktic expedition across the Northwest Passage in Canada, two years later I got them answered!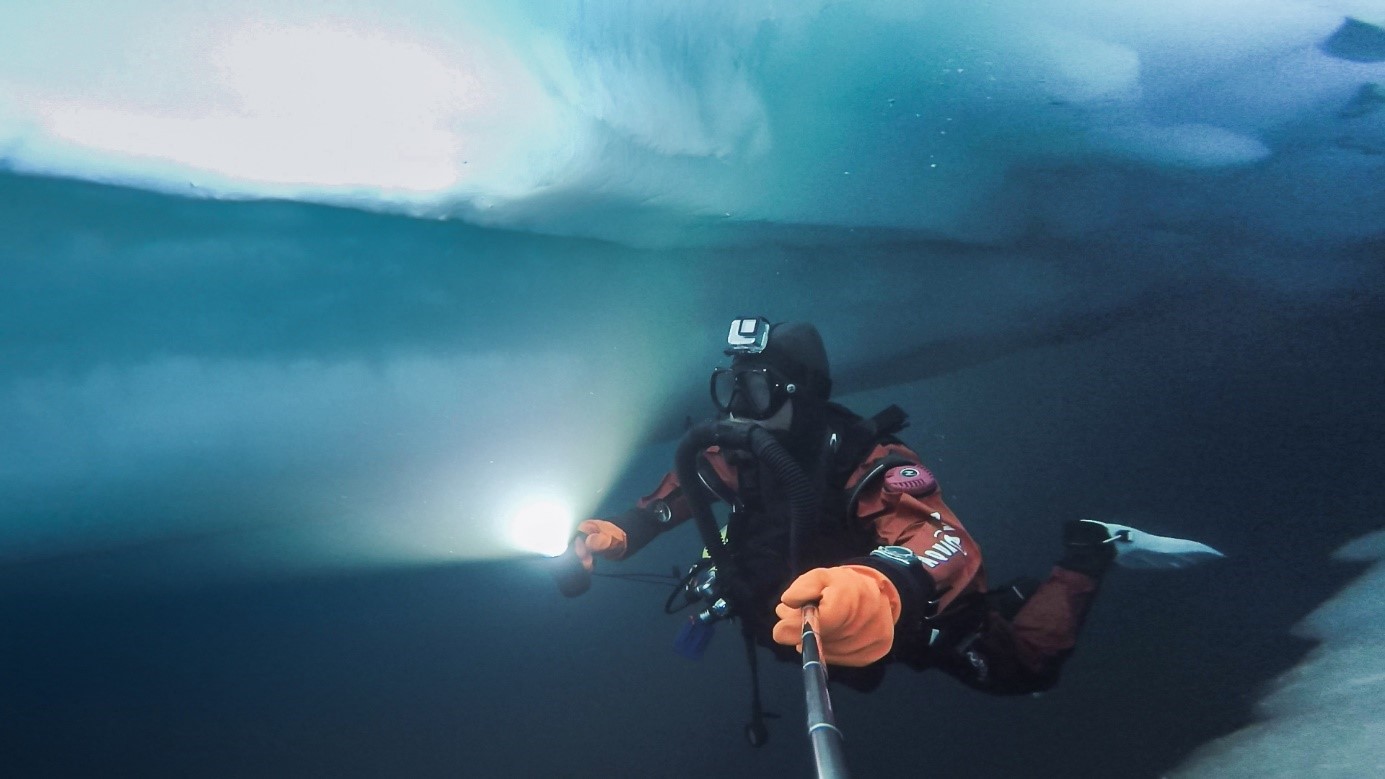 How did you become an ice diving explorer?
At 6 years old, I used to tear off pages of magazines every time I saw scuba divers. I would stay still and captivated watching images of scuba divers on TV especially at the time of Cousteau's show. I would play with my schoolbag imitating a backroll from the couch of the living room.
I passed my first scuba diving level when I was 11, and at that time nothing was adapted for children. Nothing could stop me from then: I would dedicate my life to the underwater world.
I became a scuba diving instructor at the age of 21. I directed an ice diving school in the French Alps for 15 years and a cave diving school in Southwest France for 12 years. Step by step, I headed towards the organisation of polar expeditions with scuba diving below the ice floe as a key point for me.
I'm incredibly lucky to have this job. It is difficult at times but so strong emotionally speaking, rewarding thanks to the people I met, and it brings a unique wellness sensation underwater.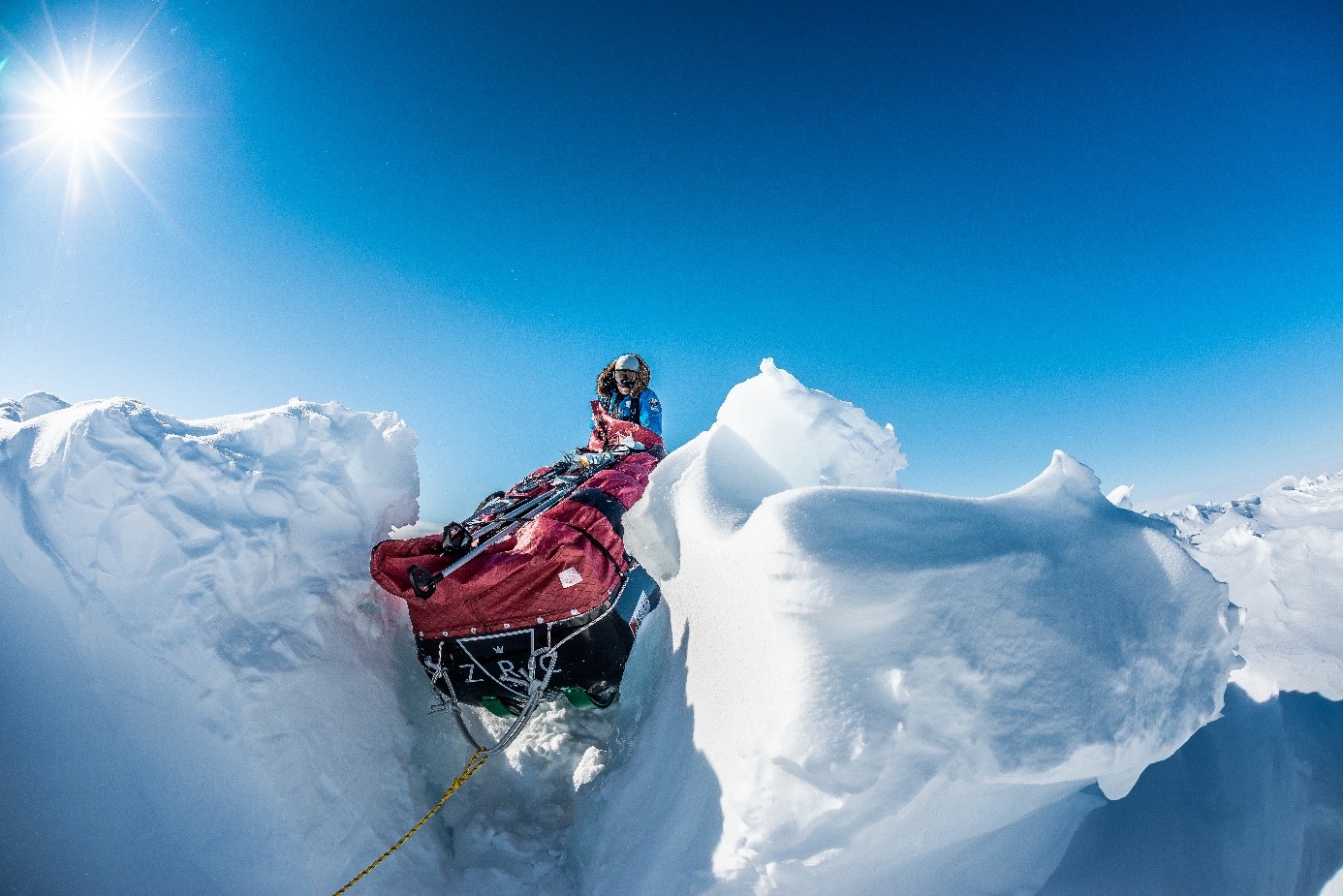 Do you have a personal mission you pursue through your expeditions?
I have a mission, but it isn't a personal one, it is a community-oriented one. There are easier ways to achieve one's quest. Through my expeditions I am thriving to doing my share by helping scientific programs, such as those led by DAN (Diver Alert Network), aiming to improve our knowledge of the world and the human being.
Any personal fun anecdote you would like to share about your last expedition?
One day I contacted my parents with my satellite phone. I reached my father, and he couldn't hear me well. Sound with a satellite phone is very different than with a standard phone. I told him "it's me, Alban!" but he answered it must be a mistake and that Alban is not there anymore. I insisted further it was me. For a few seconds, I had the impression to be disowned after all these efforts to prove my identity!
What would be the key pieces of advice you can share with young divers who would like to pursue a similar career?
You need to learn persistence, respect, love for sharing and customer service. Go for it, dare, try, life is beautiful, and anything is possible for anyone willing to listen.
When I was a little boy, I was terrible at school. I believed what my teachers said "bad", "hopeless", and so on. One day, I met someone who said I had to become an adventurer and to look for the treasure hidden inside of me. I found it; scuba diving is my treasure. I took him at his word, and I became an explorer. This opportunity, not everyone can have it whereas we are all extraordinary people. This is something I want to show with my adventures. Anything is feasible whatever the difficulties, we can do things beyond ourselves, and each of us has a treasure. You need to believe and look for it.
If this has inspired you to find out more about our Ice Diving Specialty then get in contact with your local PADI dive shop now!
Photo credits: Andy Parant – Alban Michon
---
Author Bio
Florine is a PADI AmbassaDiver,  PADI Divemaster and a Dive Travel blogger at World Adventure Divers. She dives in tropical to extreme cold waters, selecting her destinations when both adventure diving and cultural discoveries are part of the journey, and showing you how to do it without breaking the bank.