I often get asked how I could explore more than 80 scuba diving destinations in 10 years with a full-time job. First, I always explain jokingly that I cheat because in Europe the countries are so small and close to each other. More seriously however, even if holidays regulations and customs vary greatly from a region to another (think Europe versus Japan, for example), there are still strategies that can be applied by anyone to do more than you think.
Put as many holidays together as you can and visit a region rich in top dive sites
I know depending on the job you have, asking your boss to take 5 weeks in a row might not be that easy. But if you show dedication at your job and excellent level of organisation, it doesn't hurt asking. This is what I did for the first 5 years of my career. Then you can build an itinerary around the best dive sites in a region where there are many interesting spots and where it is easy to travel between them. Southeast Asia or Central America are maybe the two best areas to do this, but surprisingly thanks to its excellent railway network, Europe is also an excellent destination for an extended scuba diving vacation especially around September.
Dive locally and organise scuba diving weekend getaways
You may ask "but if I put all my holidays together, then the rest of the year is going to be really sad without any diving!". I know many only like tropical diving, but if you live in a region with cooler temperatures, why not trying drysuit diving and discover the underwater wonders of your local waters. Do research and check what is available regionally around you. It might include going on a mini road trip with friends or catch a train to the nearest coast, lake, quarry, flooded mine, etc. The possibilities are surprisingly endless when you start to look for them. In Scotland, I would go diving most weekends, summer and winter, Only a 1-2 hour drive from Edinburgh. In France, I could catch a high-speed train from Paris, and in 3 hours I could be in Marseille to enjoy the Mediterranean Sea. Remember that if you travel using your car, or better taking a train, you don't need to avoid diving on the last 24 hours before heading back home like you would have to do with a flight.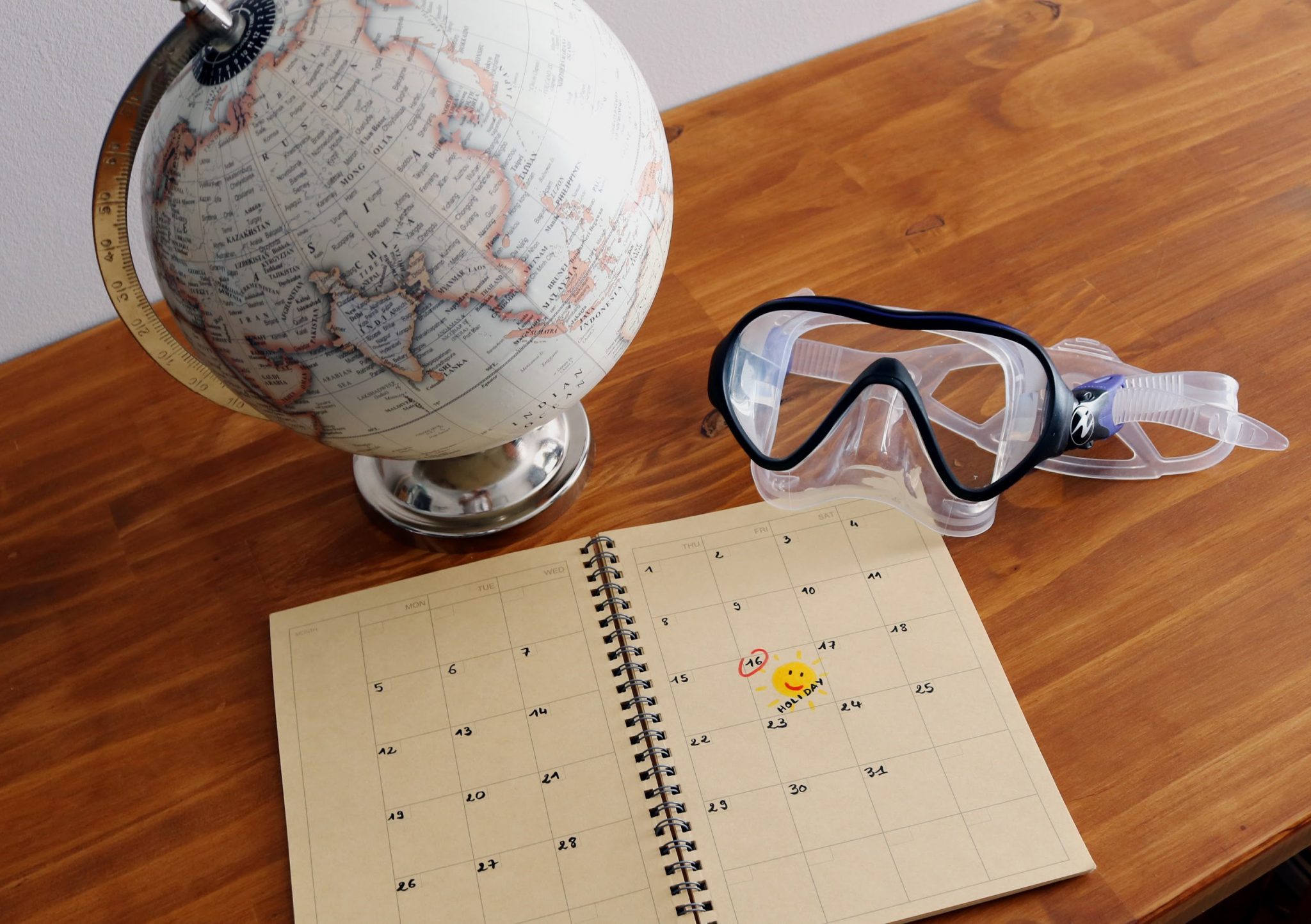 Plan in advance and use the bank holidays smartly through the year
Banks holidays exist to be extended into a long weekend or a mini holiday. Check them well in advance and book a day of vacation smartly if the bank holiday is a Tuesday or Thursday. Make sure then to book any travel and accommodation in advance to grab the early birds fares because tourism marketers well understood this trend and tend to put the prices higher than usual the closer you get to the departure date.
Learn when to dive where
There is nothing worse than travelling to a destination and hear on your arrival that this is not the right season to see the whale sharks you have been dying to see for years! So do you research and plan accordingly. You can always use the PADI Travel scuba guides to help with your planning.
If it's still not enough…
If your thirst for exploring more dive sites cannot be quenched, then you can start thinking about more extreme measures. Do you have any possibilities to apply for a job that makes you travel more? Do you still have the age to apply to one of these work holiday visas that let you stay in countries like Australia, Mexico or Japan for a year while being allowed to work? Any possibilities to become an expat for your current company? Since I explored all these possibilities in the past, I'm now in the middle of a sabbatical year, using Tokyo as my base to explore Japan and the Pacific underwater and beyond!
---
Author Bio
Florine is a PADI AmbassaDiver,  PADI Divemaster and a Dive Travel blogger at World Adventure Divers. She dives in tropical to extreme cold waters, selecting her destinations when both adventure diving and cultural discoveries are part of the journey, and showing you how to do it without breaking the bank.