It's pretty safe to say that the Galapagos Islands are an absolute dream scuba diving destination for divers around the globe. With majority of the surrounding waters protected as a National Park and such a unique diversity of ocean life present there, the opportunity for awe-inspiring interactions with marine megafauna is nearly unparalleled. For Simon J Pierce – world renowned marine biologist, conservationist, and underwater photographer – the Galapagos Islands continue to be a dream dive destination, even after more than five visits. As the Co-Founder and Principal Scientist of Marine Megafauna Foundation, focused on studying whale shark populations worldwide, the Galapagos are a primary study site for conducting his research.
Also being a passionate conservation photographer, he and his camera find themselves snapping iconic photos of a variety of ocean animals while in the Galapagos – like his image of schooling hammerheads that found it's way onto one of our Bucket List Limited Edition PADI Replacement Cards. It's so popular that it's already sold out – but there are several other awesome options to choose from. We had the opportunity to ask Simon some questions about his work in the Galapagos and beyond – a look behind the lens of one of the world's leading whale shark experts!
What do you love most about working to understand and protect whale shark populations worldwide?
Whale sharks are adorable. They haven't got much to be scared of once they grow to a few meters long. If they're not thinking about food – and they usually are, they're basically oceanic labradors – they're often very curious about people, and will follow you around like a puppy. There aren't any other large animals that we can interact with in such total safety. Anyone that can swim can enjoy whale shark encounters.
They're an easy species to fall in love with. Unfortunately, they're in real trouble from fishing, in places like China and Oman, and ship strikes in Mexico and the Gulf region in the Middle East. I'm happy that our work has helped demonstrate that they're globally endangered. That has led to more formal protection for the species in some countries, but there's still a lot of conservation work to be done.
Complicating matters is the fact that, despite our best efforts, we still don't know a lot about their life cycle. Most of the whale sharks that use coastal areas are juvenile males, and the whereabouts of most of the female and adult sharks is still a mystery. Life as a whale shark researcher certainly isn't boring!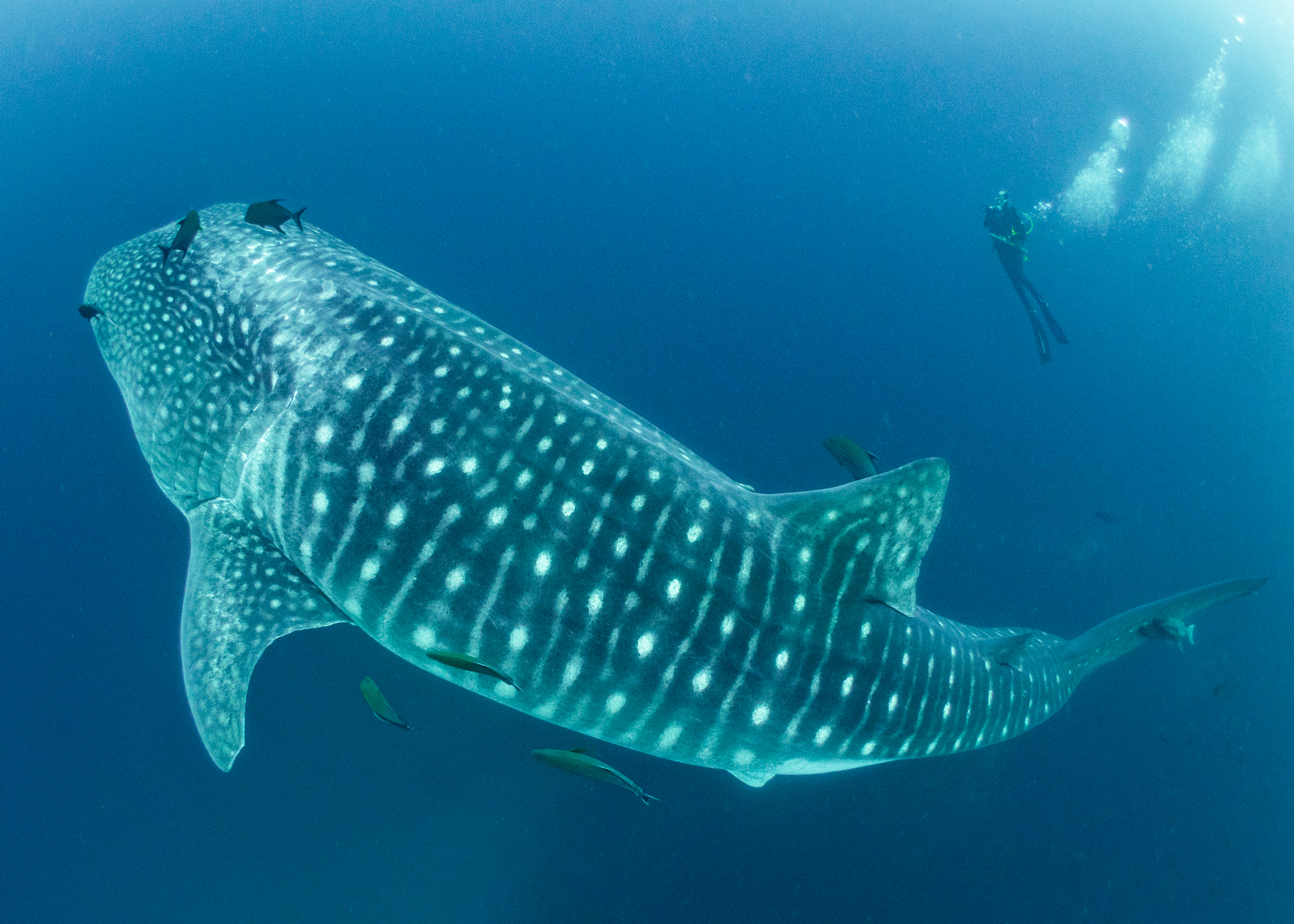 Why is photographing the underwater world and the marine animals you study so important to you?
The ocean is like another planet. Most of its inhabitants are unfamiliar to people, and animals like sharks are often viewed as scary. It's really nice to be able to show people how amazing these creatures are, and to use images to start a conversation. For instance, people often ask me if I was scared taking photos of the schooling hammerheads in Galapagos. They're usually shocked when I explain that the hammerheads are often shy around divers, so I was hiding behind a rock and trying to manage my breathing!
My scientific work is a means to an end – I'm trying to protect and restore threatened species and ecosystems. Managers often need hard evidence to justify their decisions, which is where our research is powerful, but without a public desire for change, the process doesn't begin in the first place. Photos and videos are an excellent means of introducing people to the underwater world, building an interest in marine conservation, and encouraging people to take action to protect the ocean.
Also, underwater photography is super fun, so there's that too.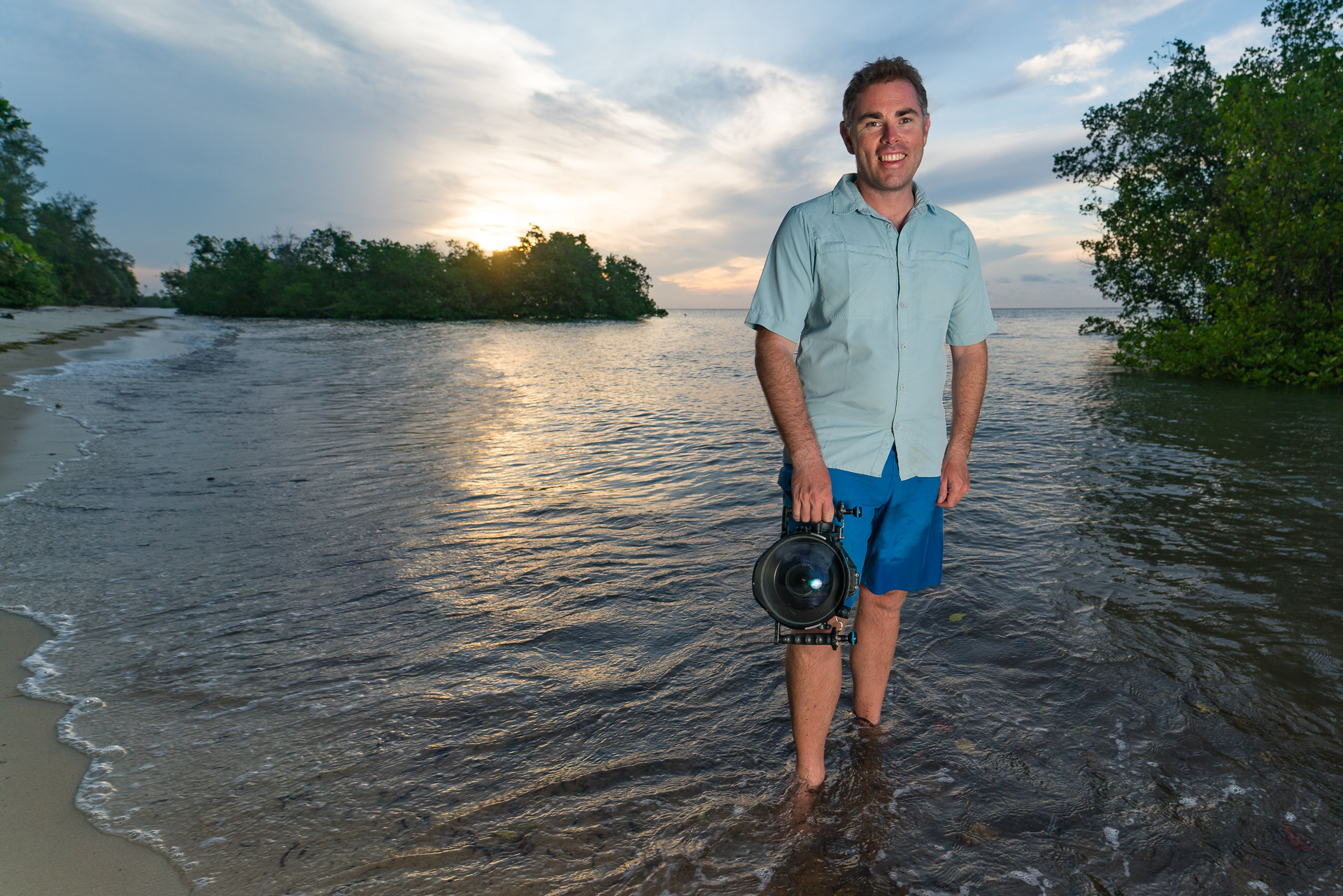 What's the story behind your iconic school of hammerheads photo featured on the limited edition PADI certification card?
I took this photo on my first trip to the Galapagos in 2014. I've been back each year since for research trips, but I've still never had a school swim over me like this again.
There are lots of scalloped hammerheads at Darwin Arch, in the far north of the archipelago. They seem to like volcanic islands and seamounts. During the day, they're chilling out, socialising and cleaning. We were waiting for a whale shark to appear, and enjoying the view, when one of the schools broke off and swam into the shallows. I was lucky to be in the right place with my camera to capture the moment.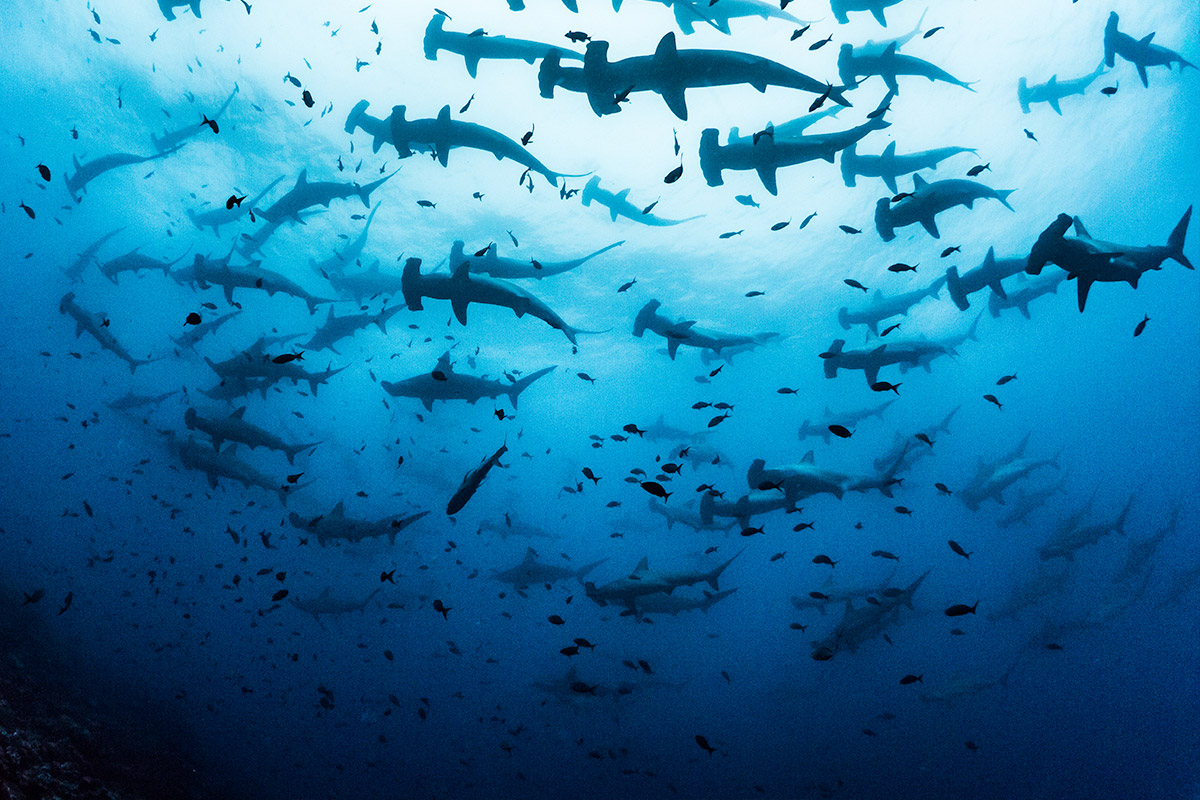 How would you describe diving in the Galapagos?
Well, it's probably ruined me for life. I spend most of my time at Darwin Island, as it's the most consistent area for whale sharks, and it must be the best dive site in the world. Enormous adult female whale sharks, hundreds or thousands of hammerheads, slightly snobbish bottlenose dolphins, with big yellowfin tuna swooping past to scare the schooling fishes. The fish aren't bothered by the sharks but, wow, they're frightened of those tuna.
Thing is, that's just one site – albeit a very good one! Elsewhere in the archipelago you can dive with mola, marine iguanas (which are totally amazing), sea lions, penguins, manta rays and all manner of other iconic species. It's both the diversity and abundance of life that makes the place so special. We're working with the Galapagos Whale Shark Project and the Galapagos National Park on the whale shark research. It's a real privilege to work with such a dedicated team, in such an epic place.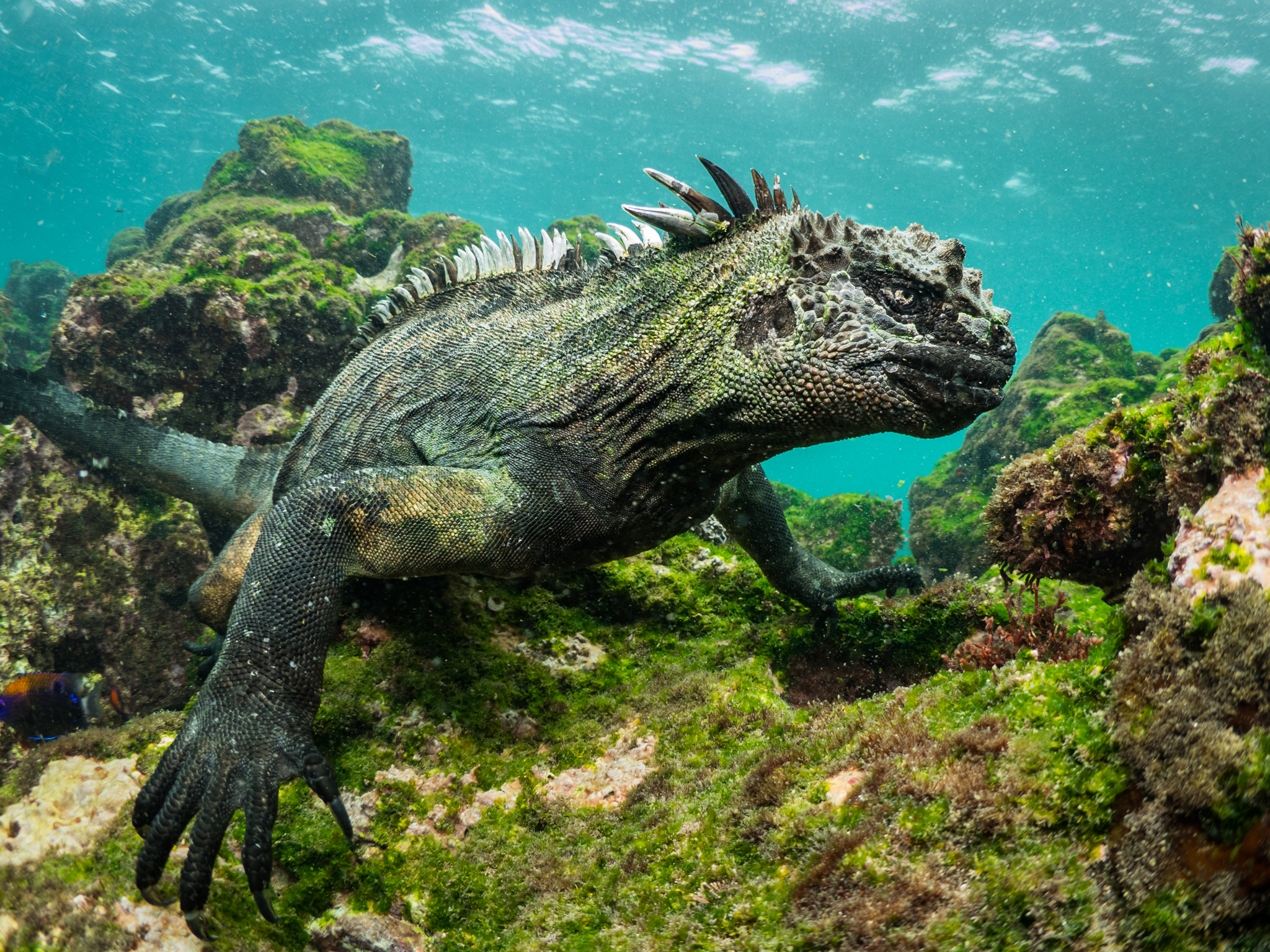 What is your ultimate goal for the ocean, the animals that call it home, and our relationship to it as humans?
Well, I'm always torn between wanting to save the world, and wanting to enjoy it. At the moment, our relationship with nature often seems very transactional – people talk about about the economic benefits of x, or the environmental costs of y. I guess I'd like to encourage a more emotional response. I'm always happiest when I'm out in nature. I know a lot of people feel the same way. If I can use our scientific results, my photos, or dumb jokes to remind people how awesome our planet is, and to help motivate them to explore and protect it, I'll be pretty happy with that.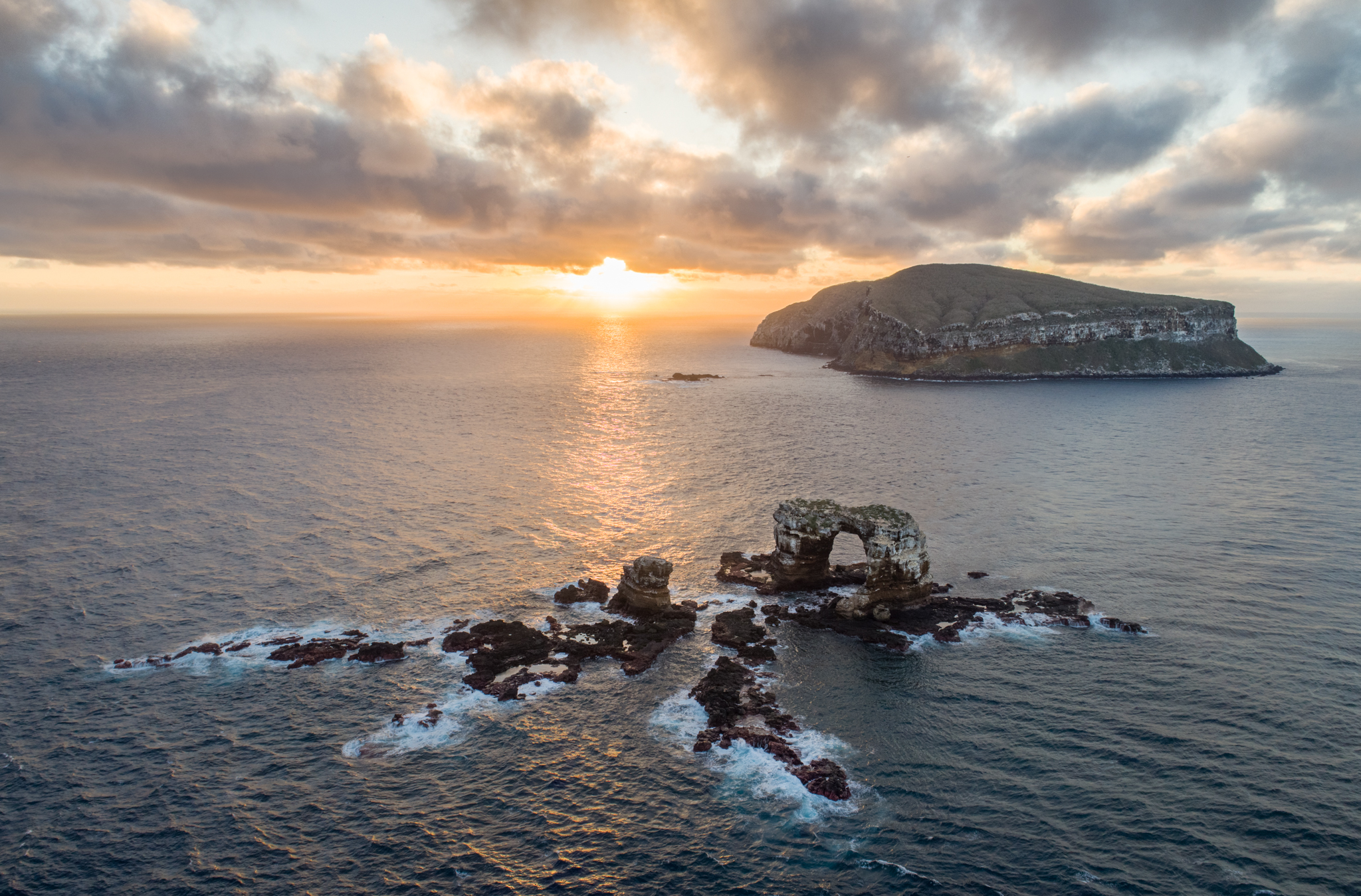 Want to learn more about Simon J Pierce? Follow him on Instagram @simonjpierce for updates on his research, photography, and conservation work in the Galapagos and beyond.
Want to make your dream of Galapagos diving a reality? Visit PADI Travel to plan your perfect holiday to the Galapagos… you might just find yourself face to face with some of the world's most majestic marine megafauna.