Have you heard of the Gili Islands in Indonesia? These three tiny islands have BIG personalities, incredible diving, stunning white sand beaches and offer everything you would expect from the ultimate tropical island getaway. Gili Trawangan, Gili Air and Gili Meno are easily accessible from both Lombok and Bali and offer something for all tastes (and budgets). Whether you want to chill out in a hammock or stay in a luxury hotel, you'll find what you are looking for and a whole lot more in the Gili's.
Dive, Dive, Dive
Regardless of which Gili Island you choose to stay on, you'll be diving vibrant coral reefs teeming with life – and turtles! The Gili Island's really do offer something for every diver and budget. You'll find diverse dive sites ranging from calm, clear tropical waters and shallow coral gardens, through to deeper sites offering exhilarating drifts. For "big fish" aficionados there are passing reef sharks, trevallies, barracuda, turtles and even the occasional manta ray. Wide angle photographers will find no shortage of colourful reefs, sea fans and resting turtles, to keep them shooting for days. If critters and macro marine life are more your thing, look out for ghost pipefish, octopus, a plethora of shrimps, ribbon eels and a host of nudibranch species.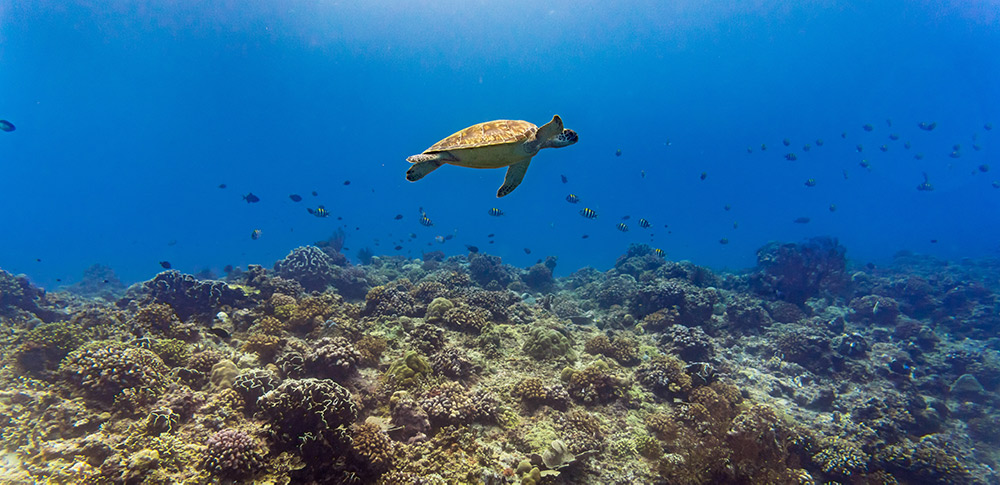 Circumnavigate the Island
Whether you decide to stay on Gili Trawangan, Gili Meno or Gili Air, it's possible to explore the entire island. As there are no cars on the Gili Islands you'll find bicycles for hire on almost every corner as well as many accommodation choices. If you prefer to walk around Gili Trawangan, allow around 2 hours (including refreshment stops). Gili Meno is perfect for exploring on foot – as you follow the coast line around the island you'll discover some of Gili Meno's most beautiful and secluded white sand beaches.
Island Hopping
Why restrict yourself to one island when all three are within such close proximity? Gili Trawangan has plenty of restaurants, bars and places to enjoy live music. Gili Air has more of a rustic vibe and Gili Meno is for those who really want to get off the grid and relax on a remote castaway island. All three are well worth exploring! Public boats are cheap so you can easily travel a couple of times a day back and forth linking all three islands. The public boat from Trawangan to Meno and on to Gili Air is around US $2 one way. So why not splash out and discover all three islands in one trip?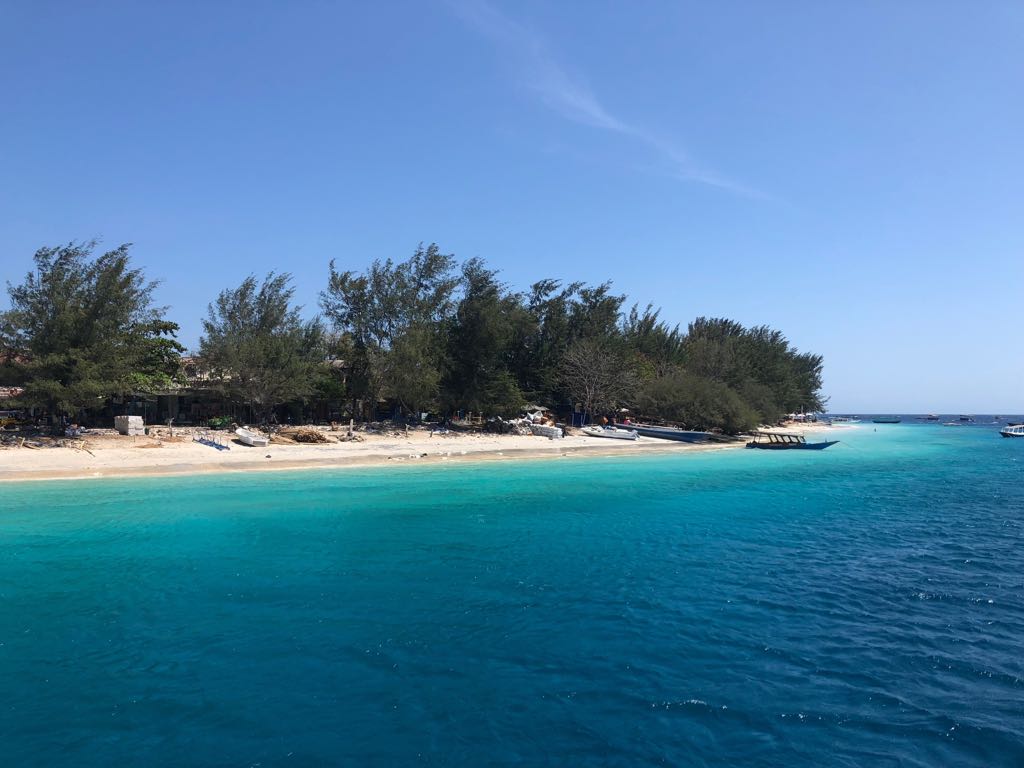 Sunsets, Island Vibes and Trawangan Viewing Point
It's impossible not to soak up the relaxed vibes of these three tropical islands. As soon as you step (bare) foot on the white sand beaches you'll start to feel your stresses dissolve while you become carefree and chilled out. Take a gentle trek to the viewing point on Gili Trawangan and you'll be treated to stunning views over the islands as well as the amazing view of Mount Agung Volcano, across the ocean on mainland Bali.
The viewing point on Trawangan is also an excellent place to watch the sun set at the end of the day. If you are staying on Gili Air or Gili Meno there is no better way to watch the evening sky change through its kaleidoscope of colours, than from a hammock on the beach with a sundowner cocktail. You are on holiday, after all…
Get Involved in Conservation
The Gili Islands are the perfect place to visit for those who want to get involved in conservation efforts. Instead of just reading about what's been going on – why not get hands-on instead!? On all three Gili Islands there are regular beach cleanups, underwater cleanups, coral reef restoration projects and a bio-rock dive site to explore. When booking your dives ask your chosen PADI Dive Centre what's going on during your visit and how you can get involved. Helping with a conservation project is not only beneficial to the islands and the local marine life, it's also rewarding, fun and will give you a feel good factor too.
So are you ready to discover the magic of Indonesia's Gili Islands? Find a PADI Dive Shop on Gili Trawangan, Gili Air or Gili Meno.