Capturing amazing underwater experiences on your GoPro can help you remember some of your best dives for a lifetime. Composition, framing, perspective, and overall beauty and lighting are all elements to consider when getting that perfect shot.
Use these pro tips to start shooting underwater footage that actually looks as good as you see it:
Before You Dive In
Charge up – Start the dive with a full battery and charge any spare batteries so you're ready to dive in again.
Clean the lens – Check the lens of your camera and housing for any fingerprints or debris. The tiniest speck or smudge will be a big blemish on your footage.
Dial in your settings – Here's what GoPro expert Jeb Corliss recommends:
Aspect ratio: 4:3
Resolution: 1440 or 2.7k
Switch on HyperSmooth on for the cleanest, smoothest looking footage.
For your HERO7, lock the LCD screen to ensure your settings stay the same throughout your dive. 

Use the GoPro Super Suit – This protects your camera when diving deeper than 10 metres/30 feet.
Turn off WiFi – WiFi doesn't work underwater and drains the battery.
Anti-fog – HERO7 Black does not require a waterproof housing or anti-fog inserts. If fogging occurs, simply remove the Protective Lens and allow the unit to dry in an air-conditioned and/or low humidity environment (<50% humidity) until traces of fogging have cleared.
Use a GoPro Mount – Your GoPro can capture amazing images, but without the right accessories, even the best underwater videographer in the world can have shaky footage. Mounts are essential accessories you'll find in the gear bag of every professional photographer:

Stabilize your footage by using a mount such as a hand mount (we recommend the GoPro Shorty or floating Handler) and a Head Strap.
The Head Strap allows you to shoot hands-free and helps the viewer see things from your point-of-view. The Shorty and Handler mounts allow you to shoot in front and behind you. No matter which mount you choose, make sure you have HyperSmooth on—it will deliver the most stable footage
Note: HERO7 Black has color-correcting technology built-in so you don't have to worry about using a filter.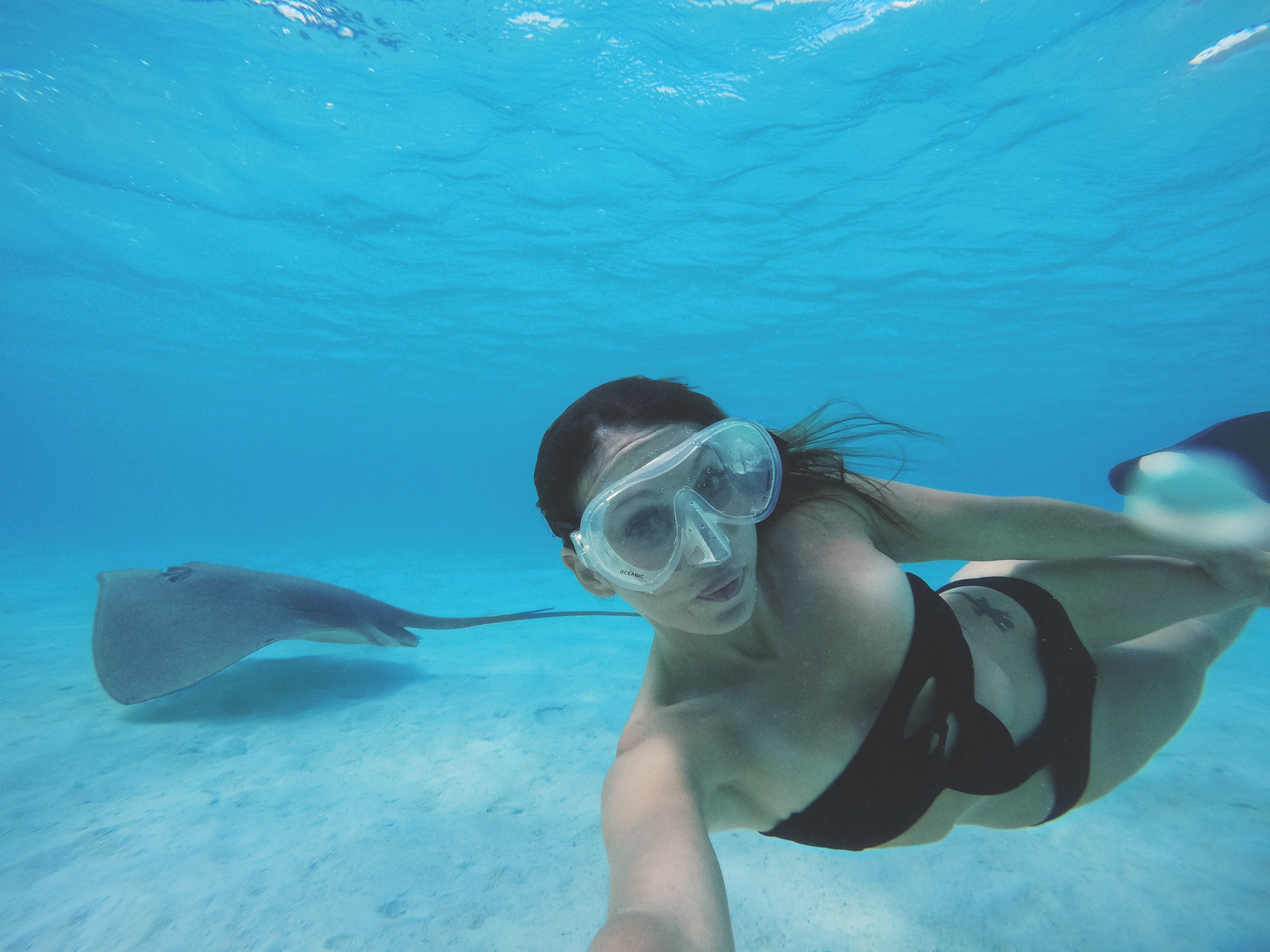 Other Underwater Video Tips
Avoid shooting directly into the sun – Unless you're trying to capture a silhouette, don't shoot into the sun.
Don't miss a magic moment – With a 32GB or 64GB memory card and a spare battery back on the boat or shore, you should be able to film an entire dive. This ensures you'll never miss a magic moment.
Leave some space – Stay at least 30 cm/12 inches away from your subject. This ensures your image will be in focus and shows respect for the wildlife.
Protect your investment – Thoroughly rinse your GoPro's underwater housing in freshwater at the end of each dive day.
Shorten the learning curve – Enroll in a PADI Digital Underwater Photographer specialty (which includes underwater video) to gain expertise and feedback from a PADI Professional.