Did you know that French Polynesia encompasses 118 islands and atolls? This spectacular destination offers phenomenal diving, an abundance of sharks and shark species, as well as manta rays, kaleidoscopic reefs and conditions suitable for all diving levels. Topside, French Polynesia is home to stunning sceneries, white sand beaches, tropical fauna and friendly locals – it's hard not to fall in love with the archipelago's laid back vibe from the moment you arrive.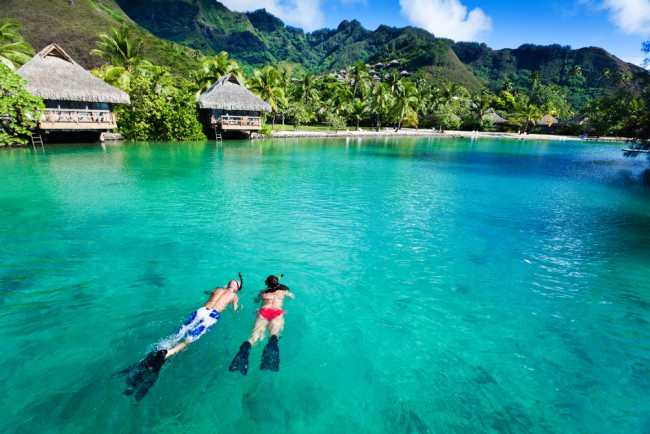 From calm, crystal clear lagoons to exhilarating drift dives in narrow channels and passes with canyons, and a handful of wrecks, the dive sites of French Polynesia are packed with promise – of which they certainly deliver! Here are some of the most iconic dive sites which are bound to have you booking your next flights in no time.
Tahiti: Vallée Blanche (White Valley)
A very popular dive site because of its great fauna, including black tip and grey reef sharks, lemon sharks, maori snappers, schools of jacks and barracudas, eagle rays. A stone Tiki statue dedicated to Dominique Fleurisson (a great technical diving instructor) is watching over the dive site. A few tiger sharks can sometimes be spotted around the site. To preferably dive in the morning.
Tahiti: La Source (The Spring)
Some say that this is the most beautiful dive site on Tahiti's west coast. Other dive sites may also be called that, but La Source is definitely a must-do! Coral reefs, turtles, chevron barracudas, eagle rays, white tip reef sharks, humphead moari wrasse and an underwater spring will make you eager to jump in the water. On your way to or from this dive site, you'll also be able to watch all the surfers riding the famous waves of Sapinus right next to the dive site.
Tahiti: Moana Faa'a (aka The Wrecks)
One of the few wreck dives in the archipelago. You'll be able to explore the Catalina PBY-5A plane wreck, given to RAI (ancestor of Air Tahiti) by the US Navy, that was flying the Polynesian skies in the 50's. In 1960, the plane was seriously damaged during a rough landing in Raiatea, and after being judged useless, it was brought back to Tahiti to be sunk in November 1962. It is now lying on the bottom of the ocean at 20 meters/65 feet. A few meters from there, you can also discover the Orohena wreck, a wooden 45 meter/147 foot long schooner, built in 1944 and packed with an 875CV Fairbanks motor. The Orohena ship did multiple trips in the Polynesian islands and abroad, until it was claimed unfit for navigation. Blown up on the 23th of November 1977 it lies on a 20 to 25 meter/65 to 85 foot bottom depth and offers a great shelter to a rich marine life.
Moorea: Tiki
Named after the stone Tiki statue at 13m depth. Expect to be awed by the sheer number of fish that dart in and out of the reef and stream by in the blue. Such a hubbub of fish often attracts predators such as lemon sharks and grey nurse sharks that are known to patrol this site, as well as black tip, white tip and grey reef sharks that regularly visit their popular 'cleaning station' here.
Moorea: Jardin de Roses (Rose Garden) & Le Mur de Corail (Coral Wall)
Le Jardin de Roses is a stunning reef at 30m depth that is carpeted with flower-like montipora coral that truly resembles a garden of roses (hence this site's name). The gently sloping reef at Le Mur de Corail soon transforms into an impressive scene of dramatic lava structures and alleys. Marine life here is just as impressive as the reef and you'll be rewarded with an abundance of shark, ray, turtle and napoleon wrasse sightings.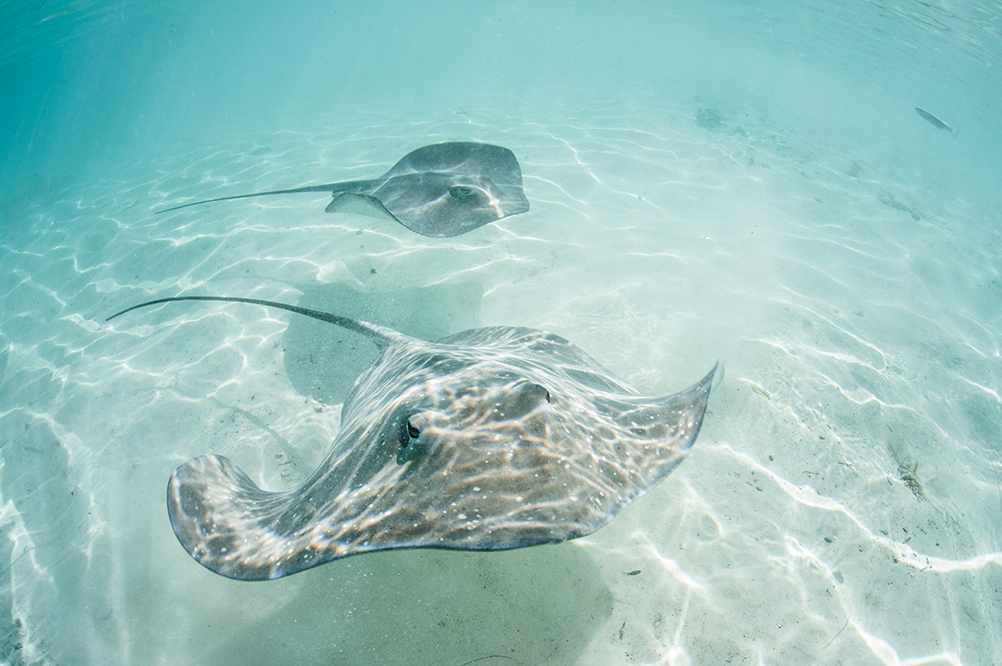 Moorea: Vallée des Requins Citron (Lemon Shark Valley)
Starting a 13m depth, this valley is named after the iconic lemon sharks that like to swim along the rolling coral hills. Green turtle, humphead parrotfish and schools of red snapper also like to frequent this dive site.
Bora Bora: Tapu
Whilst Tapu may not boast the most beautiful corals or impressive reef in French Polynesia, there are a number of good reasons why this site is often deemed one of the best in Bora Bora. Located about 1 kilometer from the western pass, this dive site is probably the one with the most abundance of sharks. Rare are the dives where you don't encounter one or many big lemon sharks. There are a multitude of other marine species to see but the sharks are the stand out reason for most divers visiting this site.
Bora Bora: Anau & Pointe Feufeu
Two well-known sites with depths up to 30 metres/100 feet. Both highlight the manta rays that frequent the area. It's not unusual to encounter numerous mantas on one dive (especially between May and December). These graceful, magnificent rays put on a breathtaking display as they glide effortlessly through the water – they are also often curious to take a closer look at divers.
Bora Bora: Tupitipiti
This world-renowned dive is among the best in the region and although it requires a longer boat trip to the south of Motu Piti Aau it's definitely worth it. Huge boulders make for incredible underwater topography which includes caverns, swim-throughs and overhangs. Although the marine life is not the primary reason for diving here, you can also expect to see white tip reef sharks patrolling, an array of reef fish and the colourful branching corals and sponges that make this a wide-angle photographer's dream dive site.
Tahaa: The Mounts of Ceran
Located on the eastern side of Tahaa lies "The Mounts of Ceran" which is arguably the island's most beautiful dive site. Anyone shooting wide-angle photography will be in their element here – the visibility is excellent and the marine life and reefs can't fail to impress even the most seasoned of divers. Two large pinnacles rise just off the ridge, which leads to a larger seamount where it's possible to stop and observe the fish below. Usual sightings here include white tip reef sharks, angelfish, large groupers and napoleon wrasse. The clear highlights of this dive site are the abundant and varied sea life combined with the spectacular underwater scenery.
Tikehau: Tuheiva Pass
When Jacques Costeau explored Tikehau in 1987 he exclaimed that the atoll was the most species-rich in French Polynesia – so it is no wonder that it attracts scuba divers from around the world!
The Tuheiava Pass is the only navigable passage in the coral barrier reef and it gives divers a unique view of the biodiversity found here. Prepare to be spellbound by the year-round sightings of barracudas, dolphins, turtles, sharks, tunas and even manta rays. Seasonally you will also find hammerhead sharks and eagle rays from November to April and gray sharks from May to June.
Rangiroa: Tiputa Pass
Rangiroa atoll is famous for its huge lagoon, a veritable inland sea, the second largest lagoon in the world. Diving depends on tides and currents, and on diver experience. There are calm shallow dive sites like the Aquarium and then there are exhilarating drift dives over impressive deep drop offs and canyons like Rangiroa's iconic Tiputa Pass. Renowned for its particularly rich marine life, divers may encounter dolphins, grey sharks, barracudas, napoleon and other tropical reef fish, turtles on the outer reefs, eagle rays and even hammerhead sharks (from November to March). Macro photographers will enjoy nudibranchs and other small marine species in the exceptionally clear waters. Avatoru Pass may also be dived, depending on currents and weather forecast.
Fakarava: Garuae Pass
Located in the north of Fakarava, a UNESCO biosphere, the Garuae Pass is the largest pass in French Polynesia that provides incredible dive experiences. Diving on the beautifully biodiverse reef is available for less experienced divers while more experienced divers can also enjoy drift dives. You may be presented with a wall of grey reef sharks, hundreds of other fish species such as tuna, barracuda, parrot-fish, turtles, napoleon fish and the much-loved manta ray.
Fakarava: Tumakohua Pass
Located in the south of Fukarava, the Tumakohua Pass is renowned for its impressive population of grey reef sharks – sometimes seen in schools of hundreds! Along with healthy shark sightings, you'll be accompanied by snapper, parrotfish, wrasse, groupers, an abundance of reef fish and beautiful coral gardens.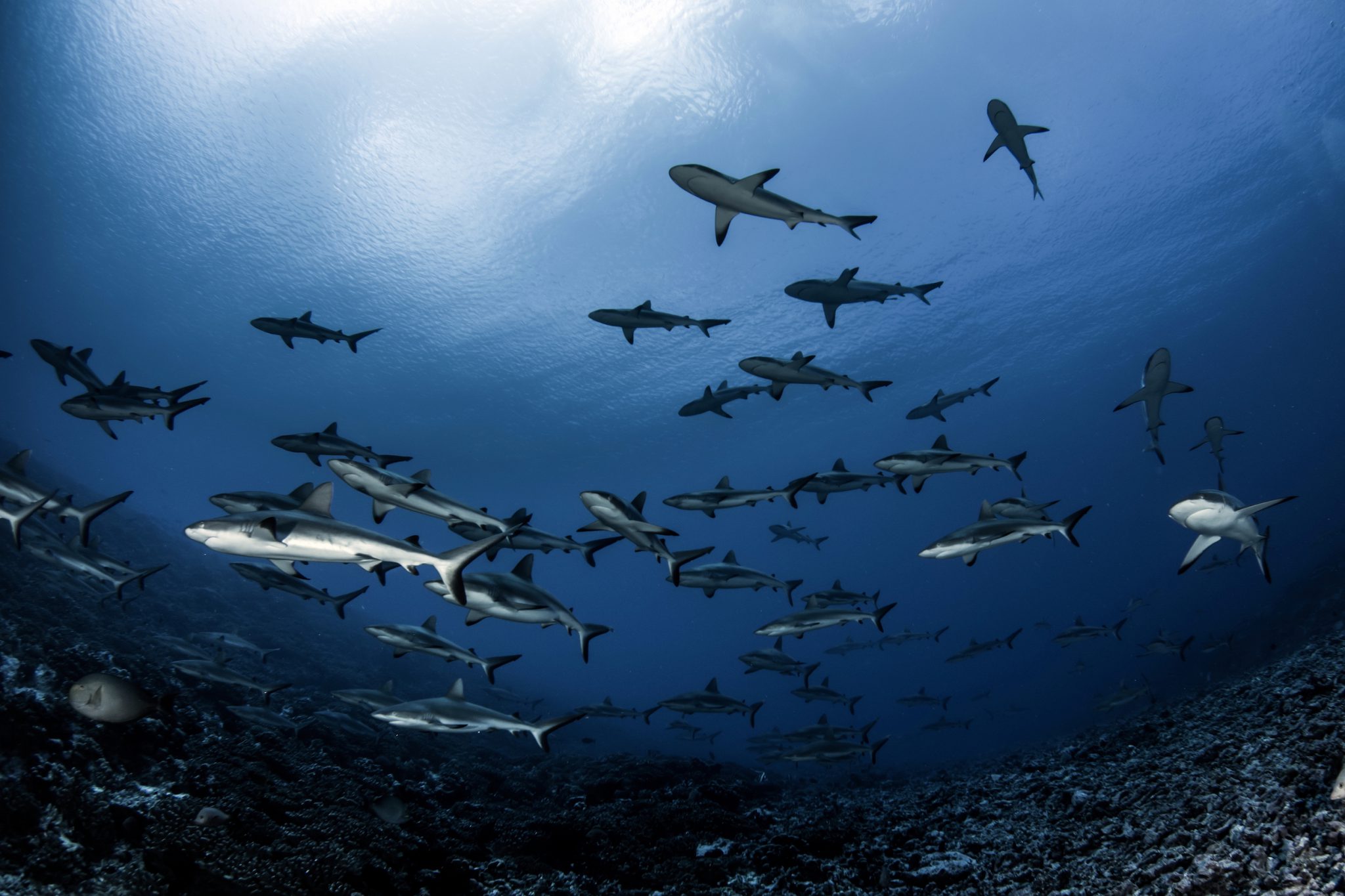 The region is undoubtedly one of the best in the world for shark diving and pelagics, but for those who prefer topographies, reef fish, corals and critters, French Polynesia does not disappoint. Learn more about diving in French Polynesia and locate a PADI Dive Shop