With white sand beaches and turquoise tropical water surrounding these small, idyllic islands it's no wonder that they are such a popular spot. The Gili Islands are car-free zones and the rush hour traffic consists of no more than horse drawn carts and bicycles. The laid back island vibe is contagious and it's easy to see why it's so hard to leave.
Diving in the Gili Islands is a dream come true; the calm conditions, stunning dive sites and crystal clear waters make the Gilis a popular place for all levels of divers from those learning to dive and taking courses through to seasoned professionals.
Turtles are undoubtedly one of the highlights of diving around the Gili Islands – both green and hawksbill species are abundant. Reef sharks are frequently spotted, along with tuna, barracuda, trevally and occasional passing eagle rays. There is wide range of reef fish from sweetlips, pufferfish, angelfish, lionfish, batfish and schooling yellow snappers through to smaller butterflyfish and damsels. For macro lovers and underwater photographers there is no shortage of interesting critters either!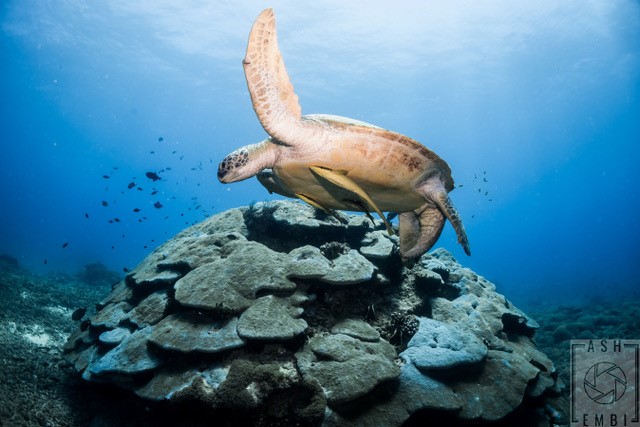 Read on and check out 8 of our favourite Gili Island dive sites.
Shark Point
Located on the west of Gili Trawangan is a firm favourite of many Gili divers. Here you will find larger marine species including reef sharks, huge green turtles, moray eels and occasional rays. Shark Point also boasts some of the best marine biodiversity around the islands. The site is a sloping reef where turtles hang out in the shallows, sharks in the deeper areas and there is a mid-section which is mixed with angelfish, barracuda, snappers, pufferfish, butterflyfish, numerous different triggerfish, critters and much more.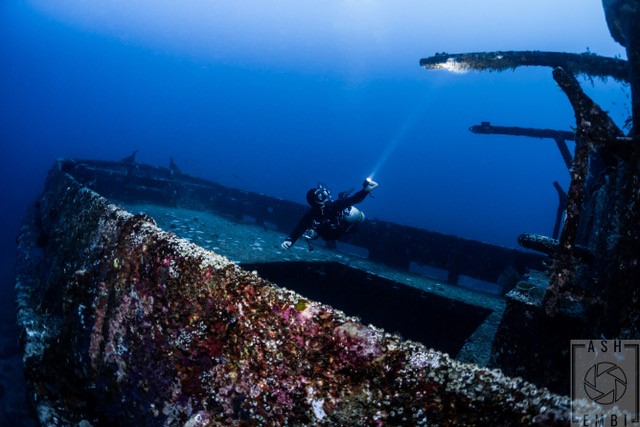 Turtle Heaven
Positioned to the east of Gili Meno, Turtle Heaven certainly lives up to its name – it's even possible to lose count of the number of turtles in just one dive! This sloping reef dive site has a coral encrusted pinnacle which attracts hoards of colourful and diverse reef fish. Look out for moray eels in crevices, schools of damselfish over the corals and nudibranch on the pinnacle.
Manta Point (Also Known as Sunset Reef)
Located on the south side of Gili Trawangan and has diverse corals including hard and soft corals, table corals and bommies – all of which provide shelter for a myriad of fish. This is a great site for those who want to see big fish and although manta rays are occasionally spotted, more reliable sightings include adult white tip reef sharks, sting rays, turtles, moray eels, cuttlefish, octopus, schools of yellow snappers and sea snakes. This is a beautiful dive which will have you reaching for the fish Identification books the moment you return to shore!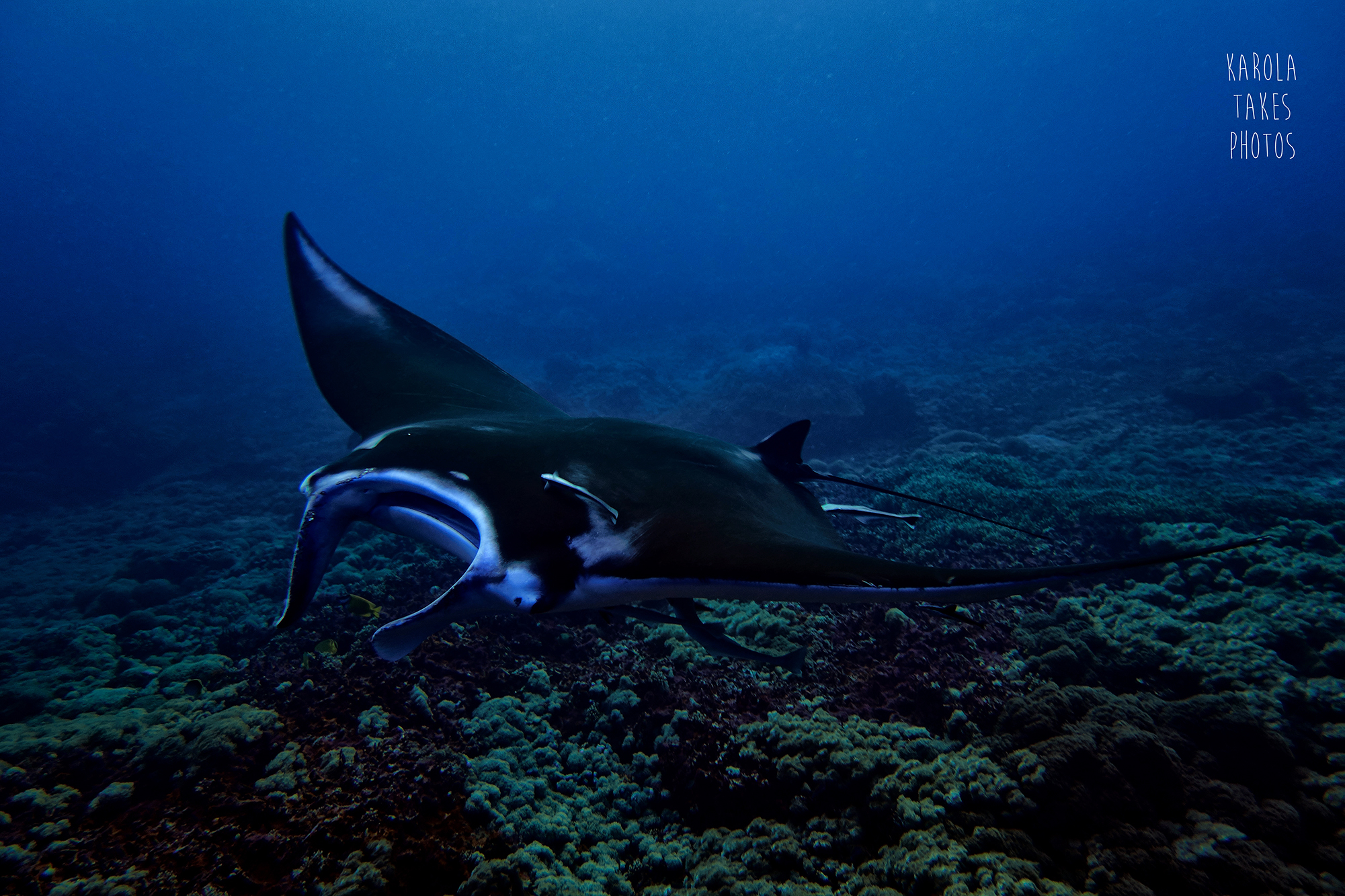 Deep Turbo
This site is positioned in between the islands of Trawangan and Meno and is a sea mount which rises up from a sandy bottom. The top of the mount offers a stunning coral garden which is awash with fish. Common sightings are moray eels, cleaner shrimps (look out for them cleaning angelfish and puffers), Moorish idols, sweetlips and scorpionfish hunkered down on the reef.
In the deeper sections there are interesting canyons where black and white tip reef sharks are often spotted. Corals here are among the best in the area with colourful soft corals and large gorgonian fans.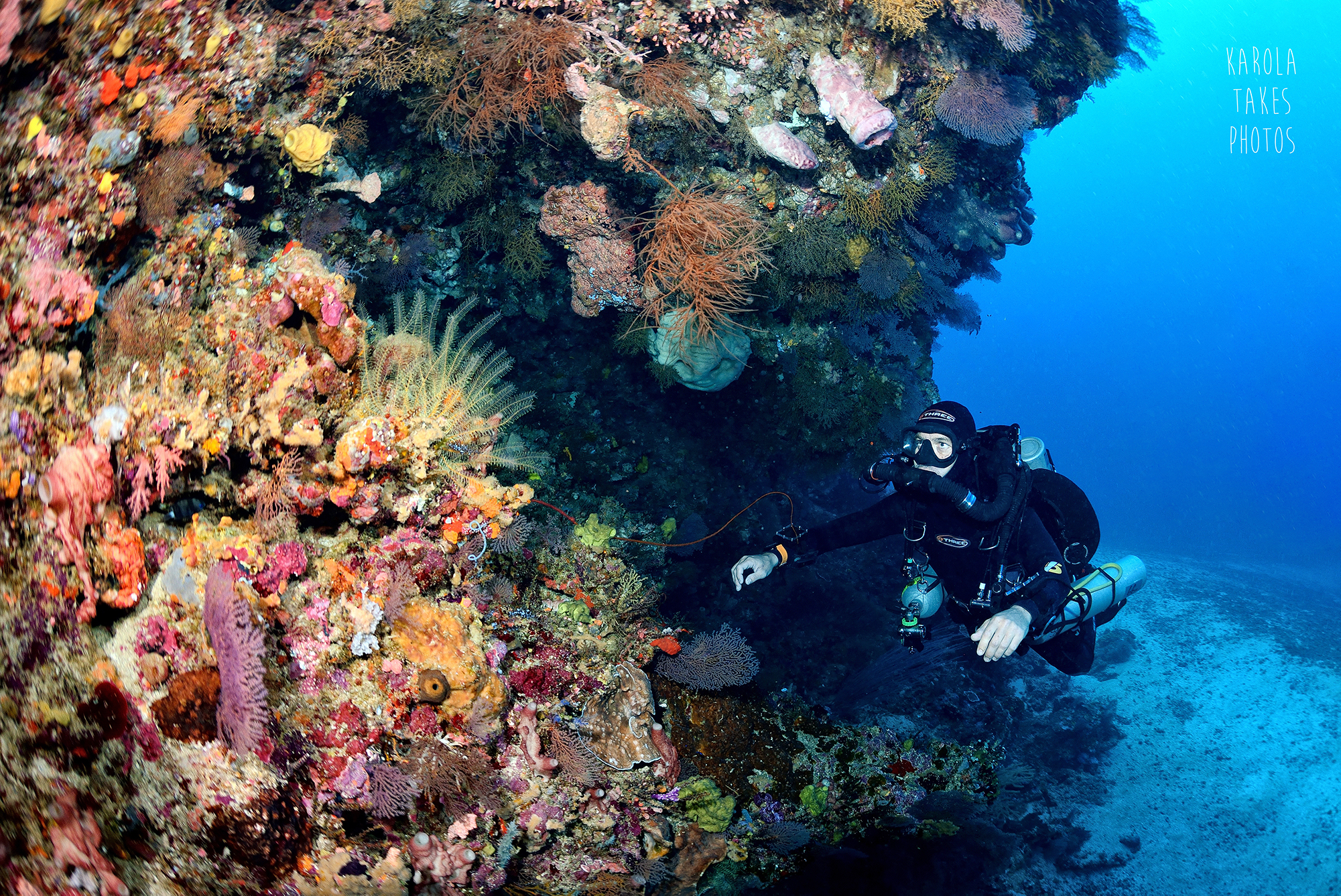 Hann's Reef
Macro photography and muck diving aficionados stand by, this is the site for you! Critters abound at Hann's Reef and you should always expect the unexpected. Go slowly and inspect everything you see – an innocent looking stone on the sand can easily be a camouflaged frogfish. The critters change from season to season here but some of the most commonly spotted species include a variety of frogfish (warty, painted and giant), leaf scorpionfish, mantis shrimps, pipefishes, cleaner shrimps, decorator crabs, seahorses, pipefish, ribbon eels, octopus and cuttlefish.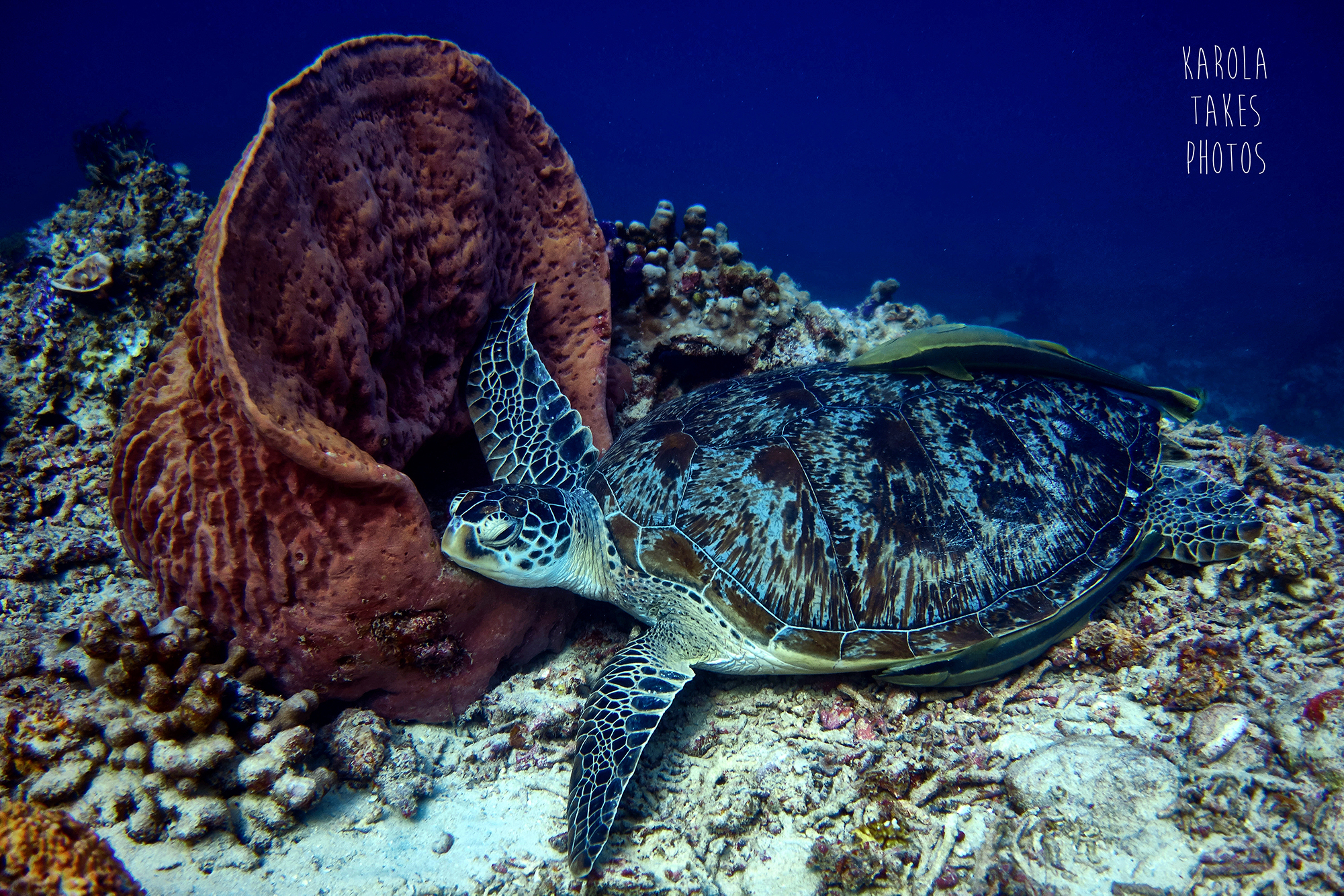 Meno Wall
This is one of the best dive sites in the Gili's for night diving. Laying just off the west of Gili Meno, this wall dive site is packed with crustaceans which come out at night. From tiny coral crabs to the ridiculous looking sponge crab, shrimps, slipper lobsters and spiny lobsters there are always plenty of critters to entertain divers. When you shine your flashlight at the wall, don't be surprised to see shimmering eyes looking back at you! Other night diving highlights here include sleeping parrotfish in their spit bubbles, scorpionfish, cuttlefish, octopus and hunting moray eels.
Simon's Reef
This site offers a series of sea mounts to the north of Gili Meno and boasts a healthy mix of hard and soft corals. Large barrel sponges are a highlight as are gorgonian sea fans, which are often harboring tiny pygmy seahorses – although you need good eyes (or a good guide) to spot them! When looking out to the blue, fusiliers cruise by in ribbon like formations, large groupers hover in the water column and look out for occasional eagle rays and turtles. You never know exactly what to expect at Simon's Reef but it rarely disappoints.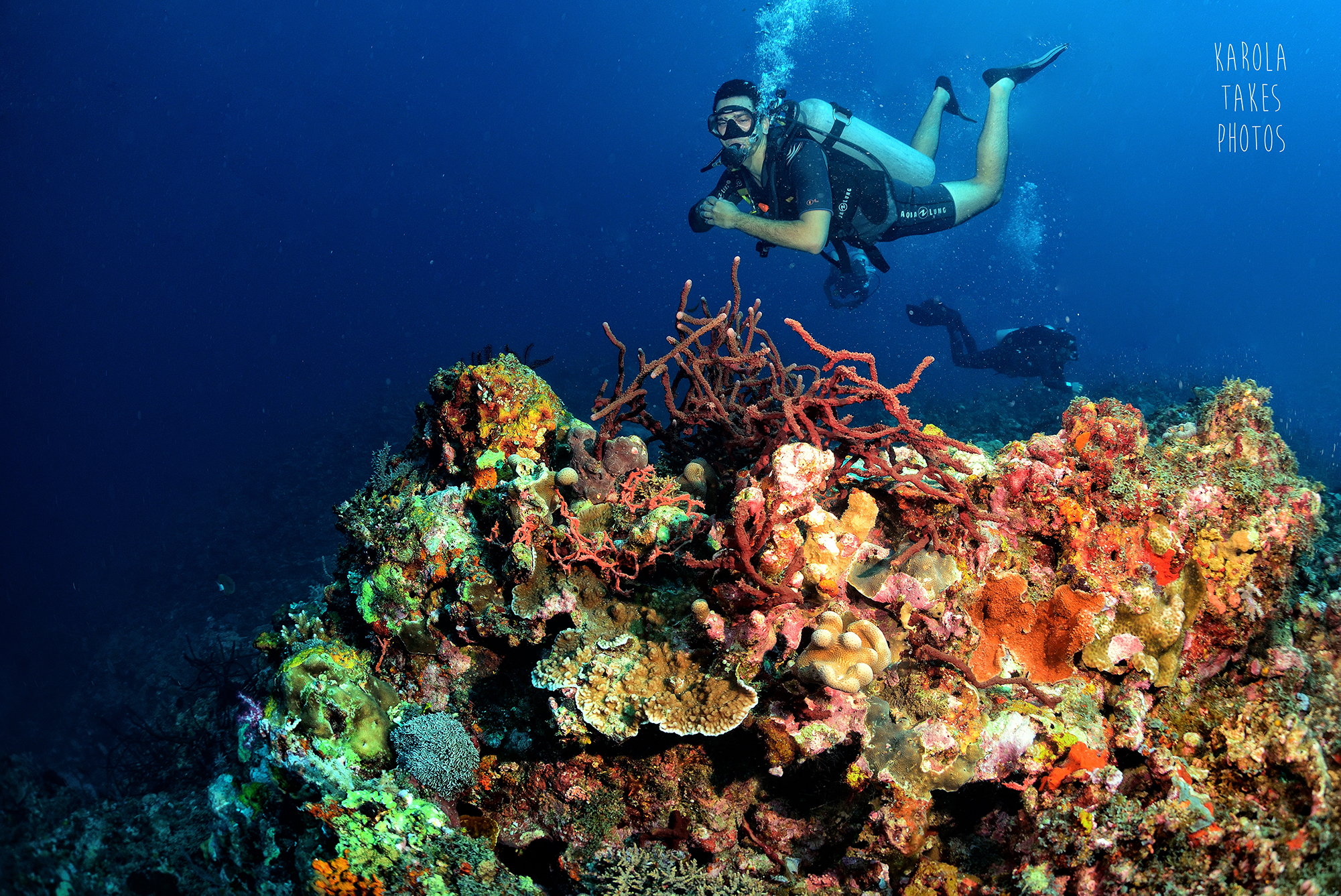 If you are seeking a tropical island getaway with incredible diving to boot then the Gili Islands might just be what you are looking for. The Gilis can be accessed from mainland Lombok and neighboring Bali, making it easier than ever to go off the grid, kick back and relax in a hammock without spending valuable days travelling. But be warned, once you've arrived, you might not want to leave!
Locate a PADI Dive Shop on the Gili Islands and start your next tropical adventure!