Every day, more and more scuba divers join the effort to protect our oceans. While this is excellent news, are all actions divers can get involved in always as helpful as we've been led to believe?
There is one trend that's started to fill my social media feed recently: coral reef restoration programs. Many non-profit organisations, scuba diving centres and ecotourism agencies now offer divers the chance to participate in their reef conservation program or receive training about coral propagation techniques. But is coral gardening the solution that can save the richest ecosystem on Earth from pollution, climate change or overfishing threats?
To go beyond the lovely images of underwater gardeners, I took the opportunity at Paris Dive Show 2020 to interview Martin Colognoli, the co-founder and director of Coral Guardian, to uncover what is truly at stake.
"We learn to fragment and transplant, but this is not enough."
Martin Colognoli is a 34-year-old French marine biologist. After studying aquaculture and marine ecology in Montpellier, in the south of France, he worked with public aquariums where he learnt to grow corals. He later joined a marine species import/export business which took him to Indonesia. Exporting wild species of tropical fish and coral for publicly or privately owned aquariums shocked him, and he quit after only a year. However, this experience taught him everything he needed to know about growing coral in the wild, and was the springboard to coming up with the idea of Coral Guardian.
The Coral Guardian project wasn't an overnight success. Created eight years ago, after two projects in Indonesia, Bali and Gili Trawangan, the Coral Guardian team learnt the hard way the challenges of coordinating a coral reef restoration program. First of all, you need to have compatible environmental conditions, away from any pollution. But the key was, first and foremost, working with local fishermen.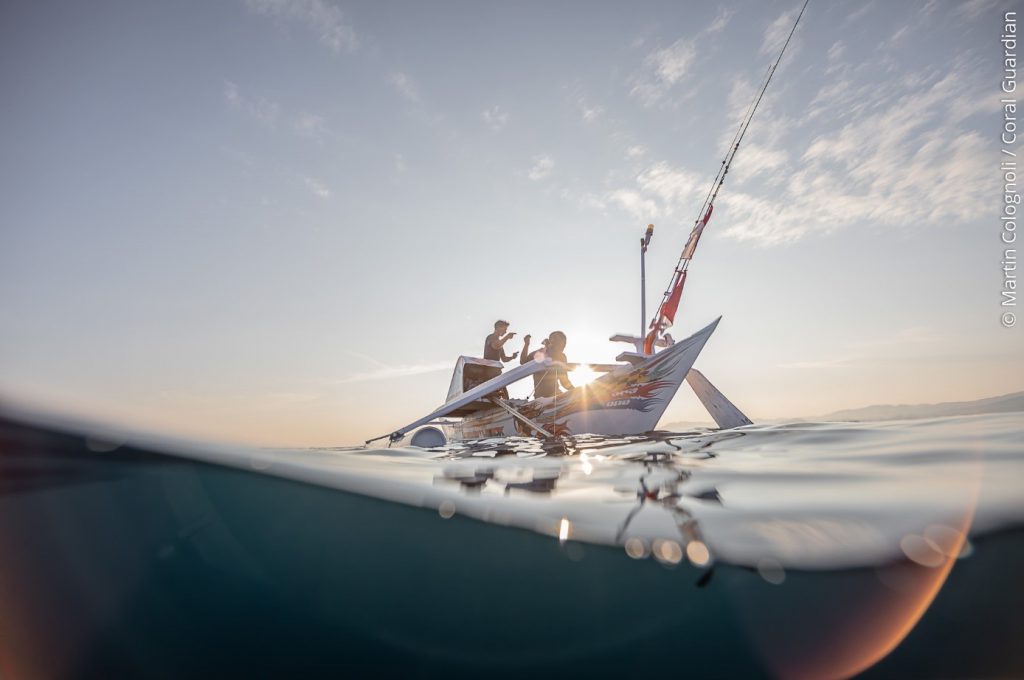 "Involve the community who directly depends on the ecosystem it protects".
When fishermen understand how a healthy coral reef can dramatically improve their livelihood, they will do anything in their power to make it a success. This is what happened in Labuan Bajo, near Komodo National Park.
In 5 years, the success of Coral Guardian's third project is not only measured in the total surface of restored corals (500m²) but most importantly, in the return of the biodiversity; 4 to 5 times more marine species, and the total number of fish; an impressive growth of more than 1,000%.
"A tool that accelerates awareness."
Like many, I hoped that coral restoration programs were the solution to protect our favourite dive sites. Indeed, they are part of the solution but not the ultimate means to restore all damaged coral reefs on Earth.
Martin Colognoli concedes that marine protected areas, and especially LMMA (Locally Managed Marine Areas) are the best way to protect our reefs, and recognises that it takes time to see meaningful results; a minimum of 5 to 10 years.
Coral restoration programs show positive results in only 1 to 2 years, recovering reefs that have been damaged due to human intervention or climate change. However, Coral Guardian's ultimate goal is not to continue recovering reefs in this way but to convince the traditional fishermen and locals to protect the reef by showing that reef conservation can ensure their families a brighter future.
In 2020, Coral Guardian will reinforce the role of the Labuan Bajo project as a training centre in the South East Asia region. In the meantime, they will be launching two new projects in the Caribbean and in Europe to help to spread their know-how, while taking into account local fishing cultures.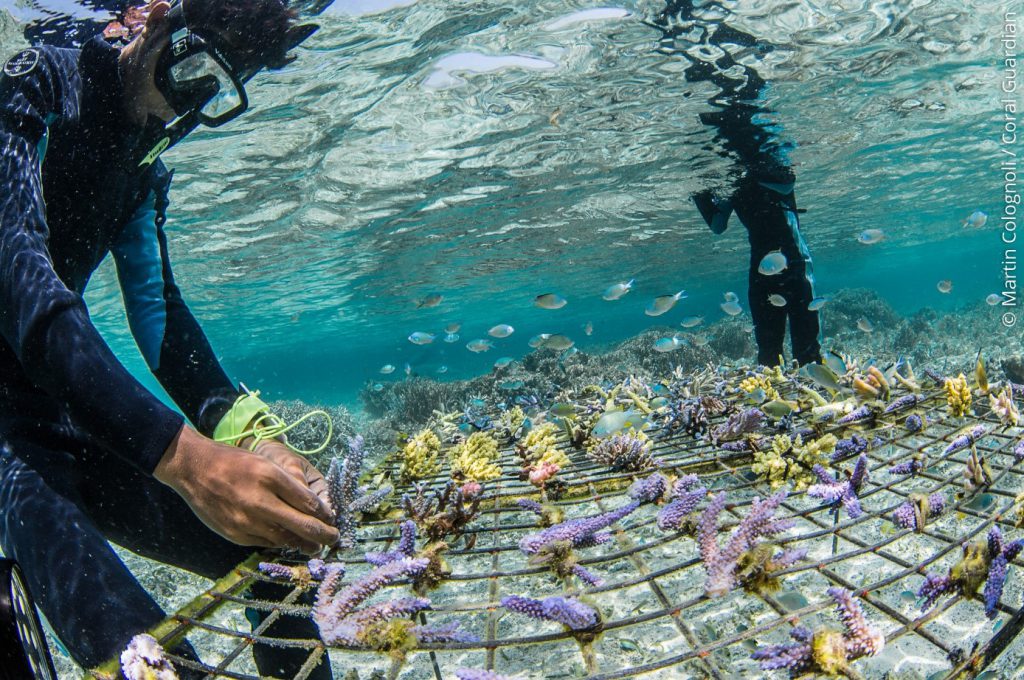 "Be curious."
You may ask, what can you, as a passionate diver, do to help? Martin Colognoli recommends to research on the Internet the places we travel to. Get a preliminary understanding of the local living conditions and challenges the community faces. While doing so, you may read about local non-profit projects that you can decide to visit and support.
Coral Guardian offers its own "Adopt a coral" program to finance their actions, but they also want to be a resource for small projects who lack visibility and financial resources. If by travelling to a scuba diving destination you stumble upon a small coral conservation project you like, you can tell them about Coral Guardian. Local NGOs can apply to receive financial support, training and scientific follow-up for three years to help them become autonomous through an ecotourism model.
---
Author Bio
Florine is a PADI Divemaster and a Dive Travel blogger at World Adventure Divers. She dives in tropical to extreme cold waters, selecting her destinations when both adventure diving and cultural discoveries are part of the journey, and showing you how to do it without breaking the bank.