As the sun set on the last day of Total Submersion at Sunset House in Grand Cayman, guests sipped rum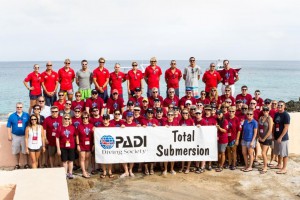 punch and the local Caybrew lager while sharing stories and laughter reminiscing about their experiences over the past week. Some were bragging about the incredible boat and shore diving, others were trading email addresses with new dive buddies turned friends.
Guests celebrated 15 years of Total Submersion with special guests Rachelle Deal, Vice President of Marketing and DAN, Brian Wake Director, DAN Education and Events, Ted Foreman, Aqua Lung Regional Sales Manager, South Florida & Caribbean, Patricia Wuest, the Editor In Chief of Sport Diver and Scuba Diving magazines. Craig Dietrich, photographer for Sport Diver Magazine, was on hand to capture smiling faces above and below the surface during the cocktail parties, catamaran cruise, rescue challenges and Total Submersion duck hunt where guests search for toy ducks in exchange for prizes.
For the first time ever, attendees participated in the week long rescue challenge that put their rescue diver skills to the test. "The ability to assist a diver in need is so important that PADI and DAN wanted to partner to introduce some fundamental diver assist skills to the participants," says PADI Diving Society Director, Theresa Kaplan. "The goal was to make these challenges fun while teaching some very important skills, such as how to correctly administer CPR or ways to assist a tired diver back to the shore or boat." Tom and Nancy Linek emerged the rescue challenge victorious by taking first place in the DAN/PADI sponsored CPR challenge, Rope-in-a-bag toss and timed gear removal exercise in the Sunset House sea pool. Both of them walked away with the challenge grand prize of two Aqua Lung Mikron Regulators, plus individual challenge prizes such as Aqua Lung Impulse Free Flex snorkels, DAN Rope-in-a-bag sets, DAN pocket masks, matching Aqua Lung dive team hats and more. Others who participated in the rescue challenges walked away with DAN student handbooks, Grab & Go First Aid Kits and a multitude of DAN and PADI swag. All participants also walked away with a new found interest in earning their PADI Rescue Diver certification, along with the confidence and knowledge that they have the ability to conquer this course.
Total Submersion alumni member, Karen Upchurch, was the other big winner for the week. Karen won an Aqua Lung mask, fin and snorkel set for having the best had of poker during the Underwater Poker Run. Each participant navigated to specified locations on the Sunset House reef to receive a playing card and Karen was lucky enough to end up with the high hand of three Kings!
Even after 15 years, Total Submersion continues to unite the diving community above and below the surface. Don't miss out on Total Submersion next year, join PADI Diving Society today! Stay tuned to Sport Diver for dates and details on next year's Total Submersion event.
PADI Diving Society would like to give a special thank you to our sponsors:

#padidivingsociety