Mountain Lake Diving in Switzerland
Living in a land locked country like Switzerland doesn't mean you can't get your underwater fix.  In fact Switzerland offers a vast amount of Lake and River diving (more on the river side in future post)
Switzerland is graced with many lakes, from Lake Constance to Lake Geneva. But its the mountain lakes that were the top of my list, as a fan of mountains and diving, what better way to indulge both my passions then the PADI Altitude Diver specialty course!
PADI Altitude Diver Course
Any time you're diving at 300 to 3000 metres/1000 to 10,000 feet above sea level, you're altitude diving.  As part of this you'll need to learn about using special procedures for your RDP and how the altitude affects your gauges and general physiology.
The Lake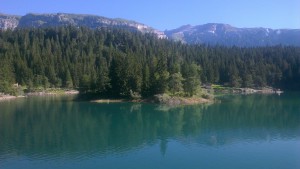 Caumasee in the canton of Graubünden was the location for my qualifying dives, and what a special lake this turned out to be.  Nestled in woods just below the ski resort of Flims, it was a picturesque Alpine setting.
Created by a prehistoric rock slide, and only reached by footpath (though we had a permit to drive!) or by a funicular railway built in 1939.   The lake is unusual in that it is fed from underground sources rather than being fed by river or rain fall.
It is located approx 997m above seas level and has a max depth of 30m
The Dive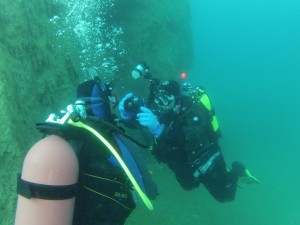 [googleplusauthor]