Having freshly completed my recreational sidemount course and with a week of dive time still ahead of me, I decided why not take the next step and do my PADI Tec40 course.
I'd already learnt and felt comfortable with gas management on my sidemount course and with these skills still fresh in my memory and being in the company of the Tec gurus at Team Blue Immersion in Dahab I decided it was an opportunity not to be missed.  So after a day off after my birthday it was straight back into learning.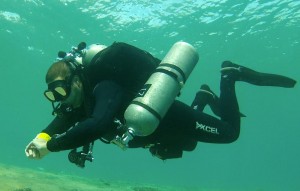 It was with some trepidation that I opened the PADI Tec Deep diver manual and flicked through its pages.  What have I let myself in for I wondered, some of my university texts books were shorter.  It was only after my instructor Erik Brown explained to me that the manual actually covered Tec40, 45 and 50 and I only needed to concentrate on certain chapters for this course – phew!
Tec diving isn't just about two tanks or more, its about redundancy of the whole system, so we started looking at the equipment requirements.  What does redundancy mean in simple terms?  Two of everything.  Two BCD bladders, two low pressure inflators, two regs, two computers and a spare mask and of course twin tanks (with an additional stage tank added later)
So over the following 5 days of the course we completed 8 dives in total, each one building, reinforcing and perfecting skills. Each evening was then spent nose in the manual and completing the knowledge reviews.
Dive 1 – Trim & Positioning.
Dive 2 – Trim & Positioning, Out of Air, Buddy checks –  more like  self check routines confirmed with Buddy.
Dive 3 – Out of Air, Shut down Drills – identifying which manifold the issue may be.
Dive  4 – Stage tank introduced, Shut Down, Deco NOTOX* drills at 12m, 9m, 6m, 3m.
Dive 5 – Shut Down, Deco NOTOX Drills at 12m, 9m, 6m, Deploying Marker Buoy for ascent line, Low pressure inflator failure.
Dive 6 – Simulated Deco dive on 21% EANx (Enriched Air Nitrox) NOTOX drills.
Dive 7 – Final training dive recapping on all skills learnt.
Dive 8 – Qualifying Dive 14mins @ 40m
(*NOTOX – Note, Observe, Turn, Orient, eXamine)
The theory included learning about Surface Air Consumption (SAC) rate and Maximum Operating Depth (MOD) and diving planning using desk top decompression software (V Planner) and writing my 1st dive plan on my slate.
After the final Dive came the theory exam, which turned out to be a lot easier then I thought, as everything you need to learn is in the course materials and with great instruction from Erik putting the theory into the practices during the water sessions it was amazing recalling facts so easily.
Even if you have no interest in becoming a Tec diver, I would recommend this course to you.  Why?  Well personally it has given me so much confidence in my ability and has improved my general diving skills beyond anything else I have done to date.  My eureka moment came on dive #7 after spending 5mins at 3m perfectly still and only ever having a 0.1m change.  Doing nothing never felt like a bigger achievement.
If you're interested in taking a Tec course then contact your local PADI center to see if they offer Tec courses or just a discover Tec taster, I'm sure you won't regret it.