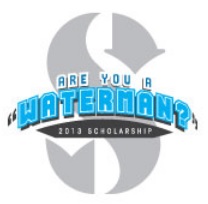 Webster's Dictionary defines a waterman as: a person who makes his living from the water; but the word has evolved into much more than that. First off, watermen can refer to a man or women it is a neutral and commonly accepted term to refer to people of both genders.
Watermen are divers, swimmers, sailors, photographers, filmmakers, and all-around underwater ambassadors.  They have a special ability to understand, learn from and listen to the oceans and have committed hobbies – or even careers – revolving around the sea.
…and then there's The Waterman
Stan Waterman is one of the most influential and certainly one of the best-known scuba divers in the world. The recipient of numerous honors and awards including five Emmys, two Gold Medals from the U.K. Underwater Film Festival, four Golden Eagles, Lifetime Achievement Awards from the Miami Expo and Boston Sea Rovers, he was a the Cousteau Diver of the Year, and most recently has been named to the International Scuba Diving Hall of Fame. The Discovery Channel produced and broadcast a two-hour biographical special about Mr. Waterman, The Man Who Loves Sharks. Read more about Stan Waterman.
Want to be a bit more like Stan Waterman? Tell us why you are a waterman in the making and PADI / SCUBAPRO will hook you up with a full set of scuba gear and dive training!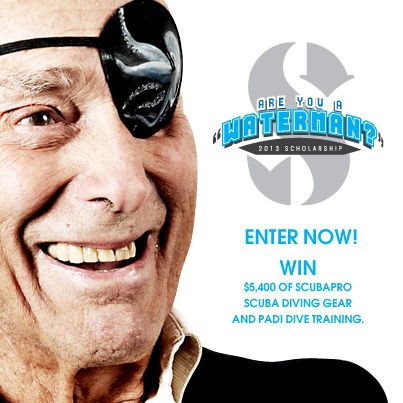 How to Enter:
Tell us why are you a waterman in 300 words + a single photo and share on SCUBAPRO's Facebook page. Submit your entry between 1-30 April 2013 before midnight PST.
Please note: This contest is open to US Residents 18 or older.
Winner Selection:
The Waterman Award will be awarded to the person who, like Stan, best displays their creativity and a youthful, contagious passion for diving, exploration, adventure, conservation and/or the oceans. It is intended to help a waterman develop their career or passion. Ten finalists will be chosen based upon popularity, creativity and how well the submission answers the question "Are you a Waterman?" So, the more likes – the more chance you have to win! The public will then vote on the 10 finalists; a panel of qualified judges will also pick a winner. Final winner will be determined by a combined public vote and panel decision.