Ecuador's Galapagos Islands rank high on the bucket lists of many divers. But while you're saving up for that ultimate experience, Google is providing a unique way to get an underwater look at the sights that make the islands such a diver's paradise.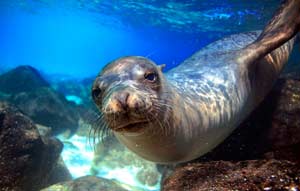 Hikers and divers worked for 10 days to collect images of the Galapagos, both on land and underwater, using cameras that take 360-degree views. The images are then then "stitched" together to provide an immersive virtual tour. Users will be able to log on Google Maps and see the Galapagos images in the coming months. Until then there are six incredible destinations to explore with this technology.
In a place that gained notoriety for shaping Charles Darwin's theory of evolution, one of the main attractions will always be wildlife – and you'll get to see it on Street View. The team met with some of the islands' famous inhabitants, like giant tortoises and blue-footed boobies, and swam with playful sea lions as they documented the underwater landscape.
Google's famed Street View mapping function started exploring new territory last year when it debuted underwater images of coral reefs in a number of worldwide locations. Working in a partnership with the Catlin Seaview Survey, the Google team took specially designed cameras underwater to document the health of reefs, but also give anyone a chance to see the beauty of the environment.
Want more information the Galapagos Islands or how you can actually dive in this incredible destination? Check out the Galapagos Islands Vacation Spotlight and locate a PADI Dive Shop.