Introducing Puerto Lopez, the town on the coast of Manabí, Ecuador where, every year, the biggest manta ray aggregation arrives looking for cleaning stations.
Just by taking a look at underwater photographer Micaela Stacey's portfolio, you will find oceanic manta rays, humpback whales, turtles, shark whales and many of the ocean creatures every diver has ever dreamt of encountering in the wild.
When looking at the photographs she has taken in Ecuador, the first thought that comes to mind is "Galápagos", due to the diversity of life in the oceans surrounding that archipelago. Amazingly, these images weren't taken in the Galápagos. Rather, they were captured in Puerto Lopez, a continental town in the province of Manabí. Although Puerto Lopez doesn't share the reputation among divers given to the Galápagos Islands, the biggest oceanic manta ray aggregation in the world can be found here.
"The first time I saw a manta was in 2010 when I did my PADI Open Water Diver course in Puerto Lopez, and it was love at first sight. After that first encounter I  came to dive here as often as I could. I was studying biology at that time, and my dream was to study them," recalls Micaela. The love she felt for these creatures was such that, years later, she bought a dive center called Exploramar with some friends, with the aim of offering sustainable tourism.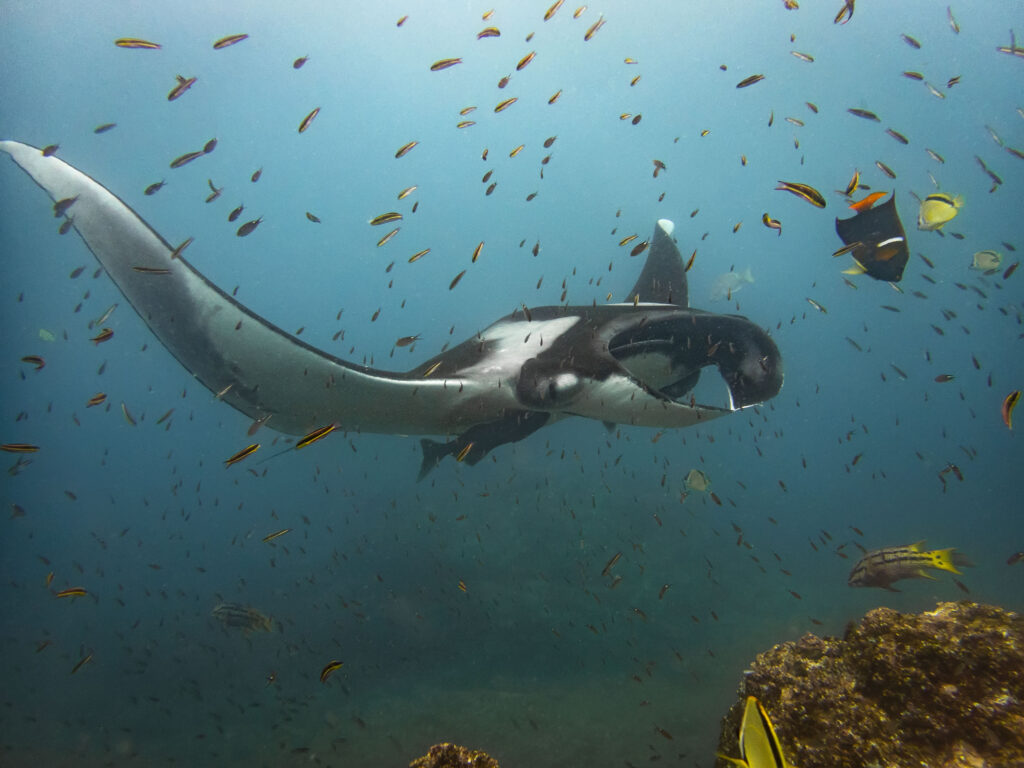 Each year between June and September, hundreds of oceanic manta rays arrive at La Plata Island in Machalilla National Park thanks to the cold Humboldt cold current which is full of nutrients for the rays.
The oceanic manta ray is the biggest manta species in the world. They belong to the shark family and can measure six to eight meters (20 to 26 feet) from fin to fin. They feed on plankton and give birth to one offspring a year, and individuals can be recognized by the markings on their belly.
Years ago, Andrea Marshall, a renowned marine scientist, came to Puerto Lopez to study this phenomenon and to gather information. Andrea was invited by Michel Guerrero, the previous owner of Explomar, who called her to let her know about the surprising number of oceanic manta rays that were being seen.
In 2022, after various studies, an investigation was published. It was demonstrated that the largest population of oceanic manta rays (Mobula birostris) in the world is found off the Ecuadorian coast. This population has risen to approximately 2,800 individuals over 14 years. Moreover, it is calculated that the entire population could actually be more than 22,000 individuals.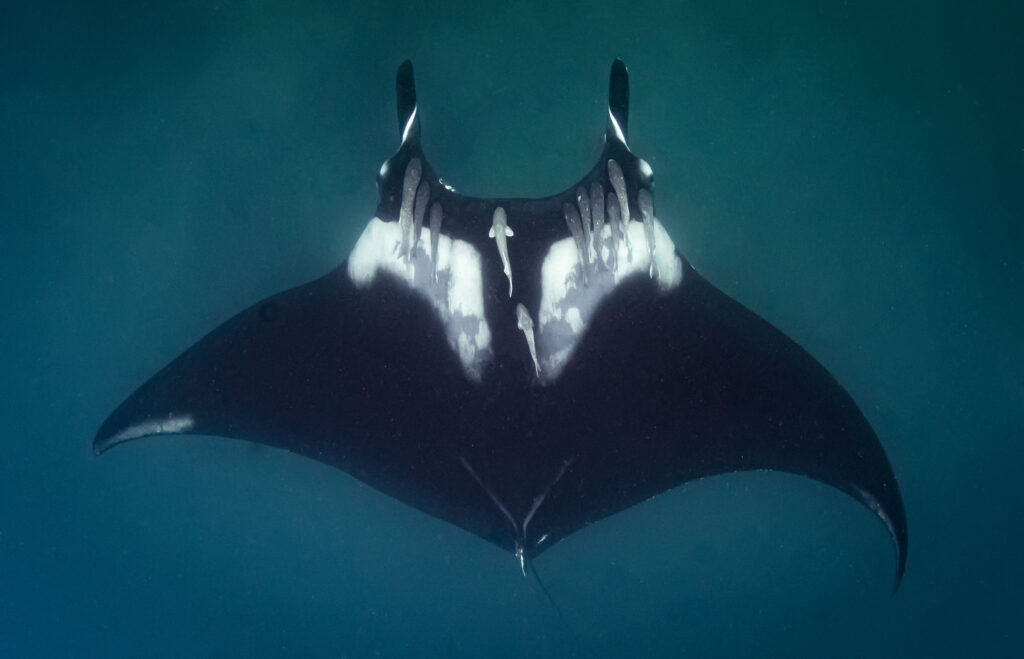 "Diving with the mantas in Ecuador is amazing; the mantas come here looking for cleaning stations. When you see them, it's like they are on a spa day, a relaxing day, so they swim super smooth," says Micaela. She adds, "I have never seen a wild animal look so much for an interaction with humans as they do, you can be diving and see the manta come right up to you and look you in the eyes. I've seen mantas stay there for 40 minutes with you. It is really special."
One of the main reason manta rays come to this part of Ecuador is to be cleaned. In Puerto Lopez in particular, there are many pinnacles and reefs that are home to cleaning fish, like the butterfly fish. These fish clean the mantas when they arrive.
"I hadn't realized that there were so many rays until the experts arrived and said this was not normal," states José Solís, another of the owners of Explomar and a PADI Instructor. "Besides working here, I am also a guide in the Galapágos, which is where I grew up. I came to Puerto Lopez to do my Instructor course. I met the mantas, and they conquered me, so I stayed".
As divers we usually hear Ecuador and think of the Galápagos, but Puerto Lopez shows that on the Ecuadorian coast, there is more to be enjoyed underwater.
"I hope that the visit of the mantas lasts long. For that to happen, I would like to invite people to come and dive with them, because if more people know about them, it will be easier to join forces to protect them and to raise more funds to do so," Solis says firmly. Micaela adds, "Everyone should experience diving with them, they are incredibly sensitive animals and being with them changes your perception of life."
---
Ready to dive into the largest oceanic manta ray aggregation on Earth? Click the button below to learn more about diving around Isla de La Plata, Puerto Lopez and to book your adventure in Ecuador.