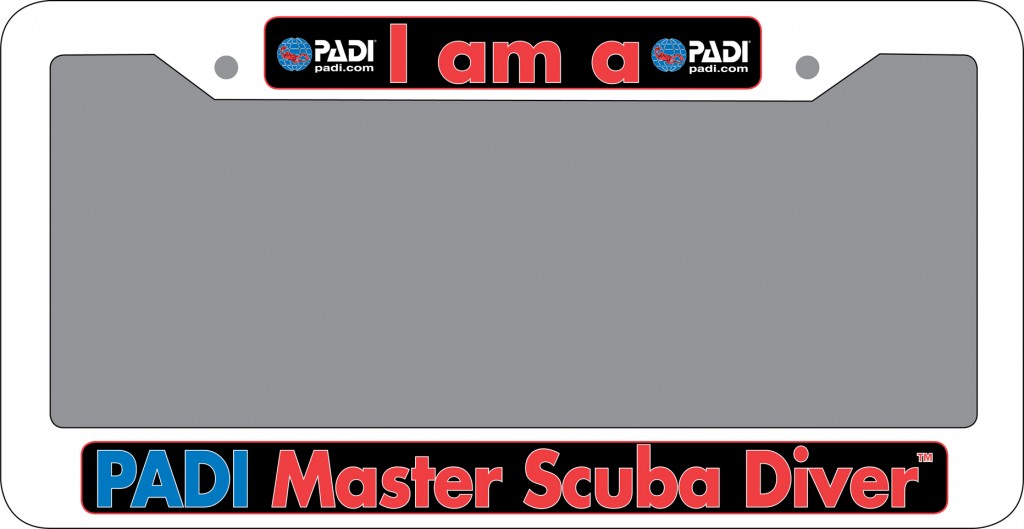 Earn your Master Scuba Diver™ rating and get a free license plate frame
Show off your prestigious PADI Master Scuba Diver™ rating to friends, family or the driver behind you with a Master Scuba Diver license plate frame. For a limited time, PADI Diving Society members can redeem a Master Scuba Diver license plate frame by earning the Master Scuba Diver rating in 2014.
Important Details:
Offer valid for applications received between 1 January 2014 – 31 December 2014 from an authorized PADI Dive Center or Resort in the United States, U.S. Territories, Canada, Caribbean, Central and South America only.
To receive your Master Scuba Diver license plate frame, print and mail this page along with the information below to:
PADI, ATTN: MKTGMSD
30151 Tomas
Rancho Santa Margarita, CA 92688-2125 USA
On a separate sheet of paper, include your full name, Society membership number, Society membership expiration date, mailing address, telephone number, email address and date of birth (so we may verify your certification). All claims must be received by 31 January 2015. Limit one license plate per PADI Diving Society member. Original coupons only, photocopies and other facsimiles will not be accepted. PADI and Bonnier Corp. are not responsible for any late, lost or undelivered coupons. Please allow 2-3 weeks for delivery.