Peninsula Malaysia
Geographically divided in two, Malaysia is a country of contrasts, adventure and intrigue. Spilt by the South China Sea, Peninsular Malaysia to the west features exquisite islands filled with lush tropical jungles and some of the most breathtaking and pristine beaches that give way to thriving coral reefs. Make sure to add one of these dive-adventures to your itinerary when next traveling to Peninsula Malaysia.
Explore tranquil Tioman above and below the surface
Color abounds on this picturesque island, with a mix of both postcard perfect views topside, and stupendous sites to marvel at below the crystal clear waters. Shallower dive sites makes this the ideal location to learn to dive whilst combining a relaxing getaway to rejuvenate the soul. There is also plenty to offer the more advanced scuba enthusiast, with an array of caves, canyons and giant granite boulders to swim through, as well as an explosive variety of hard and soft corals that cover the varied underwater terrain. During your surface intervals why not dabble in jungle trekking, rock-climbing, or even a round of golf at the 18-hole golf course found on the island.
Locate a PADI Dive Shop in Tioman
Revel in the turquoise waters of the Perhentian's and Redang Island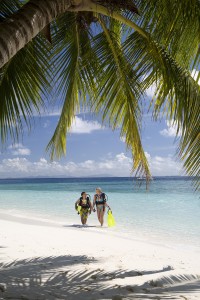 Simply translated Perhentian means 'place to stop', and you would be wise to follow this sound advice. Relatively untouched, these islands offer a place of solitude and serenity whilst at the same time enticing travellers with their 'other-worldly' charm. The surrounding diving is home to many species of turtles, sharks, corals and fish. Popular dive sits include the Sugar Wreck and the Pinnacle.
A day trip to Redang Island comes highly recommended. Forming part of a marine park, the archipelago is home to a wide variety of enchanting sea life just waiting to be stumbled upon. Conservation is a prevalent issue on the island, ensuring that fishing from the reef is strictly prohibited.
Locate a PADI Dive Shop in Perhentian
Experience Kuala Lumpur
As the gateway to the many hidden diving gems in Malaysia, this big city destination is a fantastic place to stock up on all your dive gear needs. With over 20 PADI Dives Shops located in Kuala Lumpur itself, there is ample opportunity to hunt down a bargain. From KL it's easy to reach any of the over 200 islands that form part of Malaysia. You can book a dive trip and head north – close to the border of Thailand – to experience a hearty mix of fantastic food, white sand and sensational sunsets. Palau Payar Island, south-east of Langkawi, has varied and exotic coral gardens as well as an assortment of tropical fish, and is well worth the visit.
Locate a PADI Dive Shop in Kuala Lumpur
Not a diver yet, looking to continue your dive education, want to GoPRO, or just keen to jump in the ocean and explore? Malaysia has you covered, no matter which side of the country you're heading to.
Escape, Explore Experience all that Malaysia has to offer.
Log on to ScubaEarth to learn more, or Locate a PADI Dive Shop today.