Lately, I've been connecting with old dive buddies that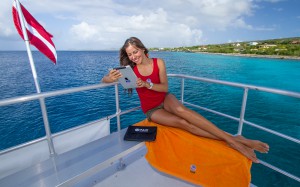 I haven't seen in years. Looking through their pictures, I see a lot of memories — date nights, wedding shots, kids' birthday parties or even photos of them on family weekend getaways. What I don't see are a lot of dive shots and it's pretty clear that diving has taken a back seat to other important milestones in their lives. As we reminisce about that exotic trip to the Philippines and chat about our first encounter with a whale shark in Mexico, I realize their passion for diving is still there. The spark hasn't left, it just needs a nudge to re-connect with the underwater world.
I'm sure someone in your group of friends has a similar story. In fact, 59 percent of respondents in a PADI Diver survey haven't had a chance to go diving because of their busy schedules. But nearly 98 percent of them also said they wanted to dive again at some point. I want to help my friends get back into diving so I'm telling them about PADI ReActivate™. With ReActivate, divers that have been out of the water for a while can conveniently review scuba concepts on their tablet or mobile device. They can also opt for an inwater review with a PADI Professional* to regain more confidence. For most of my friends, it'll be an easy way to refresh their dive knowledge while everything else in their lives continues. I'm recommending it to my friends. So should you. For more information on ReActivate, visit your local PADI Dive Center or Resort or visit padi.com.
* PADI certification does not expire. Participation in PADI ReActivate is not mandatory, but recommended as an easy way to refresh dive knowledge and skills. Divers who complete both the knowledge and inwater skill refresher receive a replacement certification card with a ReActivated through date on it.