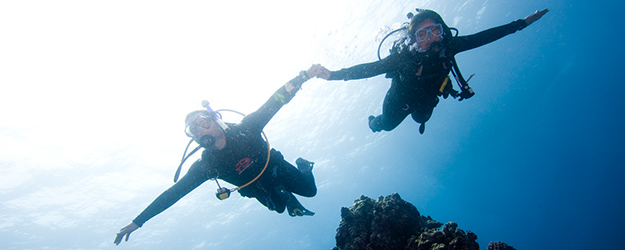 When scuba diving, are there times when you just want to let go and let the current take you? There's a name for that, and it's called drift diving. Drift diving offers an incredible experience for scuba divers and many who've tried it before say it feels like flying underwater.
Not only do you get to glide underwater, but drift diving also provides the opportunity for you to learn new dive skills and use different equipment, such as floats, lines and reels. If drift diving sounds like a fun adventure you want to try, consider these four awesome locations to learn how to drift dive, or simply dive for fun.
Santa Rosa Wall, Cozumel, Mexico
Cozumel is all about drift diving so wherever you go here, you'll find some great dive sites for it. Santa Rosa Wall is one of the most popular dive sites by the island Cozumel, and it's especially amazing for drift divers. When gliding through the water, you'll see incredible coral formations, vibrant sponges and marine life like sea turtles and eagle rays.
Ulong Channel, Palau
Considered one of the best drift dives in the world, the Ulong Channel offers an amazing experience for both new and experienced drift divers. Beautiful coral gardens, grey reef sharks and trigger fish are just some of the amazing things you'll see. How long the dive takes depends on how fast the current is, but on average the journey should last about 20 minutes.
Waikato River, New Zealand
This incredible freshwater drift dive spot is home to large boulders, as well as an abundant amount of rainbow and brown trout. The river's current will speed up and slow down as you go, allowing you to experience different paces.
Orestone, United Kingdom
Hold on tight because this drift dive is a fast one! Orestone is a reef dive and offers plenty to see as well as a fun ride. As you fly through the water, you might see large spider crabs, anemones and starfish.
Want to know what it feels like to fly underwater? Contact your local PADI Dive Shop and ask about the PADI Drift Diver Specialty course.